ಟೊಯೋಟಾ ಗ್ಲ್ಯಾನ್ಜಾ 2019-2022 ಬಳಕೆದಾರರ ವಿಮರ್ಶೆಗಳು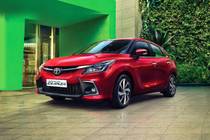 Rs.7.70 ಲಕ್ಷ - 9.66 ಲಕ್ಷ*
ಈ ಕಾರಿನ ಮಾದರಿ ಅವಧಿ ಮುಗಿದಿದೆ
ಟೊಯೋಟಾ ಗ್ಲ್ಯಾನ್ಜಾ 2019-2022 ಬಳಕೆದಾರರ ವಿಮರ್ಶೆಗಳು
ಎಲ್ಲಾ (194)
Mileage (43)
Performance (17)
Looks (47)
Comfort (35)
Engine (30)
Interior (15)
Power (9)
ಹೆಚ್ಚು ...
ಇತ್ತೀಚಿನ
ಸಹಾಯಕವಾಗಿದೆಯೆ
VERIFIED
CRITICAL
The worst car is the Toyota Glanza mild-hybrid model. Toyota can't solve the sound problem inside the car. After the fourth day of buying the new car, the problem occurred. I was told it to Toyota for continuous 1 year 6 months the problem can't be solved and they said we can't solve this problem. Even they can't treat well with customers. Now...ಮತ್ತಷ್ಟು ಓದು

No car at this price can match the features and comfort. I own the hybrid model and earn a fuel efficiency of 17kmpl in the city. Could have had a better build quality though.ಮತ್ತಷ್ಟು ಓದು

I have purchased Glanza G CVT on Jan 2020. I have faced mileage issue (I got 13.6 kmpl max.) and clutch not engaged nicely. Auto clutch engaged late and engine speed increased idle. Better you go for other companies.ಮತ್ತಷ್ಟು ಓದು

I own this car for nearly 1.5 years, it's a hybrid g variant. The odometer reads 34500 km. Overall nice car to drive with good space, very fine engine, superb mileage 20kmpl in city and 30kmpl on the highway in winters. Milage depends on driving style. Low service cost. On 30000 km service paid RS6200 only problem lies is it's very light build...ಮತ್ತಷ್ಟು ಓದು

Nice and stunning looks car and especially blue color look like luxury and richness appear and Toyota gearbox is smooth than Maruti.

It's a very bad car with poor build quality, never buy Glanza, if you bought it, then you will get frustrated.

Overall good performance, Spacious and comfortable. Safety is not up to the mark it could be better.

Toyota is a company which is providing the best cars so. I would like to purchase the Toyota Glanza it is an amazing car.

Not advisable to buy a Toyota Glanza. It's not worth the money. Better for you to buy a car from some other company.

Good all-rounder car for the family. Great on Highway mileage of 20 to 22kmpl. In the city, however, expect 12 to 14kmpl.

The first question is why should you buy a Glanza over a Baleno then 1st. Cheaper (g hybrid and g variant ) 2nd lesser waiting period, rest the car on its own is spacious, comfortable, fuel-efficient, good for city runabout and the maintenance thanks to Toyota e-60 service and app you get the exact amount you have to spend on the servicin...ಮತ್ತಷ್ಟು ಓದು

The car is good in all aspects but on mileage point, a bit on the lower side initially especially the CVT variant. Hopefully, it increases but overall comfort, style, looks, maintenance wise Glanza is on par with Baleno. After-sale service of Toyota is bang on as usual. Expecting more and more Glanza on road in the future.ಮತ್ತಷ್ಟು ಓದು

I bought this car a month ago. It was my first car and the best car ever. The performance was too good. Great car at this price range.

Good car in Toyota middle segment. Good average, fully comport, good car feature, and the best thing is easy to drive.

Glanza v manual awesome performance very good handling super ride quality best in class millage simply superb.

This is my first car and it is excellent. The space inside the car is very good and suspension and style are awesome.

Best in the segment, value for money vehicle, few drawbacks like the lightweight, nonadjustable armrest, no rear ac vents.

I had covered 14000 km running still its performance is young and good as it was on day one. I am traveling across North India on Hills, Burst roads, and it's going on an on.ಮತ್ತಷ್ಟು ಓದು

I am very satisfied with Glanza and it is excellent in performance, comfort and it's maintenance. But I think they should really increase the overall weight of the car for better performance because when we touch. The car slightly feels like it's getting out of control. Other, than that the car is outstanding.ಮತ್ತಷ್ಟು ಓದು

It's the Maruti Suzuki Baleno with the Toyota logo. The engine and body parts manufactured by Maruti Suzuki.

It is the best car ever I have purchased in my capacity. It is not like Baleno but it is far better than that. Look wise, mileage-wise, and interior wise, it is very impressive by all.ಮತ್ತಷ್ಟು ಓದು

It has been a superb model for Toyota. Toyota Glanza has superb mileage and it is working nice and the features are excellent. Toyota Glanza's body and Maruti Nexa Baleno body is the same but in Glanza it specifies the space and it looks beautiful and seat adjustable is very good. Toyota Glanza is a heavy body more than Baleno. The shape of Toyota ...ಮತ್ತಷ್ಟು ಓದು

Glanza G variant, I have purchased in Jan 2020 and refined engines good. Overall experience is very good and built quality is not much good. Rest of all and get plenty of features are really amazing. Great mileage and I hope Toyota improve its built quality in the next generation.ಮತ್ತಷ್ಟು ಓದು

It's a good car and value for money It's just a replica of Suzuki Baleno but Toyota gives extended warranty for Glanza but Suzuki didn't this is the major difference between these two.ಮತ್ತಷ್ಟು ಓದು

Best car, good mileage, good looks. Design is good, Toyota, after service is a quite good price, is nominal, let us go for it.

Toyota Glanza is best to perform car and best in the segment. Good car in price but interior material is not good.

Awesome car with all the luxury feature and it has best screen features

Glanza is a very awesome car. It has good mileage, performance, maintenance etc. I really liked this car.

This is the best car in the segment and great engine performance.













Not Sure, Which car to buy?
Let us help you find the dream car

Are you Confused?
Ask anything & get answer ರಲ್ಲಿ {0}
ಟ್ರೆಂಡಿಂಗ್ ಟೊಯೋಟಾ ಕಾರುಗಳು
ಜನಪ್ರಿಯ car insurance companies
ನವ ದೆಹಲಿ ರಲ್ಲಿ *ಎಕ್ಸ್ ಶೋ ರೂಂ ಬೆಲೆ
×
We need your ನಗರ to customize your experience