ಫಿಯಟ್ ಲೈನ್ Emotion
Fiat Linea Emotion
Look and Style : This is a design that is still not dated after so many years. With its sharp lines and curves and chrome, it seems to belong to a higher segment. Comfort: From a comfort standpoint, this car has one of the best driver's seats and equally good back seats. With its suspension setting,ride and handling are best in class. Pickup: Pickup is a little sluggish. It touches 100km in 14.5 seconds, but this is due to the heavy body panels which add to the safety of the passengers. Mileage: Mileage is in the region of 15-16km per litre. Best Features: It is a very feature rich car with a Blaupunkt music system, iPod connectivity, Blue & Me technology from Microsoft, Tiptronic, 500-litre boot etc. Needs to improve: Very few areas which need improvement. Overall Experience: On overall experience, I would rate it 9 on a scale of 10.
Write your Comment on ಫಿಯಟ್ ಲೈನ್
ಫಿಯಟ್ ಲೈನ್ ಬಳಕೆದಾರರ ವಿಮರ್ಶೆಗಳು
ಆಧಾರಿತ
92 ಬಳಕೆದಾರರ ವಿಮರ್ಶೆಗಳು
ಎಲ್ಲಾ (92)
Mileage (46)
Performance (19)
Looks (52)
Comfort (50)
Engine (37)
Interior (28)
Power (23)
More ...
ಇತ್ತೀಚಿನ
ಸಹಾಯಕವಾಗಿದೆಯೆ
VERIFIED
CRITICAL
I was given with this beauty by my father when I was in the final year of my College, Back in 2010, I found its styling and it's electrical equipment, like the stereo, th...ಮತ್ತಷ್ಟು ಓದು

Linea is not a car it's virtually a tank on road it is so impressive as a sedan. The mileage is very good and it gives positive vibes it looks cool when we park it also h...ಮತ್ತಷ್ಟು ಓದು

I have a 10-year-old 2009 Emotion Pk Petrol. A brilliant car that never lets me down. She has a luxurious and quiet cabin. I drove a BMW while in the US and the comfort o...ಮತ್ತಷ್ಟು ಓದು

My Linea is excellent and doing a great job even after 7 years. I still get 20+ mileage and the engine is superb after using 1.3 lakh km It has great safety features and ...ಮತ್ತಷ್ಟು ಓದು

I bought the Fiat Linea in 2012 and the performance to date is very good. No rattling sound at 100 Km speed. No vibrations due to excess speed on highways. The engine is ...ಮತ್ತಷ್ಟು ಓದು

I got lenia multijet 1.3 emotion diesel and it's very nice on average. And it is very comfort too. Big space and No.1 in pick up. 

It is nice, strong, beautiful and rouble free car. It is very good for family travel. Good model and designe of the car.

ಎಲ್ಲಾ ಲೈನ್ ವಿರ್ಮಶೆಗಳು ವೀಕ್ಷಿಸಿ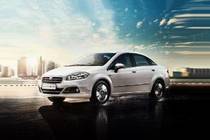 Rs. 7.22 ಲಕ್ಷ - 10.76 ಲಕ್ಷ*
ಈ ಕಾರಿನ ಮಾದರಿ ಅವಧಿ ಮುಗಿದಿದೆ
ಬಳಕೆದಾರರು ಕೂಡ ವೀಕ್ಷಿಸಿದ್ದಾರೆ