Great package
Great package
Look and Style - is better than other suv(s)except Scorpio Comfort - looks good in the pictures as I just saw its launch on cnbc awaaz 'overdrive ' & jumped on internet to see its other detail Pickup - can't say unless I take a test drive but it should be good with mercedes benz 2.2litre engine Mileage - looks very good as other suv(s) in the segment are not that good on mileage Best Features - is like it gives you a feel of much more expensive suv Needs to improve - on its exterior looks,shoud introduce 4x4 model also in the future Overall Experience - should be great with having Merc benz 2.2engine ,good interiors, more passenger capacity, Spacious & great price positioning.Best thing is that only only one variant to get the customer focus.
Write your Comment on ಬಲ ವನ್
1
s
sundar
Aug 26, 2011 11:27:57 PM
s its correct.....
ಪ್ರತ್ಯುತ್ತರ
1
s
suban
Aug 24, 2011 6:17:02 PM
my self is waiting to buy this vehicle in red metallic color overall it look great with good ground clearance on Indian roads huge like rover price at Goa should be less and maintenance & service should be good than many customers are waiting not yet in Goa Demand is more because of mining roads here....good to see.
ಪ್ರತ್ಯುತ್ತರ
1
m
mani
Aug 22, 2011 7:30:14 PM
if it sells 100 pieces i ll give my scooter away for free to the company....
ಪ್ರತ್ಯುತ್ತರ
ಬಲ ವನ್ ಬಳಕೆದಾರರ ವಿಮರ್ಶೆಗಳು
ಆಧಾರಿತ
40 ಬಳಕೆದಾರರ ವಿಮರ್ಶೆಗಳು
ಎಲ್ಲಾ (40)
Mileage (26)
Performance (5)
Looks (34)
Comfort (33)
Engine (18)
Interior (14)
Power (9)
More ...
ಇತ್ತೀಚಿನ
ಸಹಾಯಕವಾಗಿದೆಯೆ
CRITICAL
Force One SUV was launched 7 years back with the notion to give a new and unique offering in the space. The maker of Traveller and Trax utility vehicle took a whole new a...ಮತ್ತಷ್ಟು ಓದು

Force is well know renewed brand in india with it's most successful model in olden days are the matador and still popular model like tempo traveller the brand it self is ...ಮತ್ತಷ್ಟು ಓದು

Look and Style - Very impressive. Looks pretty much like Fortuner and XUV 500. Comfort - Very comfortable seats, good enough for long journeys. It is equipped with the fe...ಮತ್ತಷ್ಟು ಓದು

It looks very nice and attractive, looks like a Fortuner. It is really very comfortable, offers suitable seating comfort and sweet music system with decent sound quality....ಮತ್ತಷ್ಟು ಓದು

It looks very nice and attractive, looks like Fortuner. It is really very comfortable for suitable seating and sweet music system with decend sound quality. Many thanks t...ಮತ್ತಷ್ಟು ಓದು

Don't ever buy this car...I have never seen any car lie this...407 or lorry is better than this...No break in this car...the time of sales they will say this is the besto...ಮತ್ತಷ್ಟು ಓದು

The most trusted utility vehicle maker has recently launched a sports utility vehicle with high performing engine. I have been waiting for this SUV since long time, becau...ಮತ್ತಷ್ಟು ಓದು

Exterior Exterior is decent looking and that?s a personal choice. Interior (Features, Space & Comfort) Only good part is space as it beats everything else here, but r...ಮತ್ತಷ್ಟು ಓದು

ಎಲ್ಲಾ ವನ್ ವಿರ್ಮಶೆಗಳು ವೀಕ್ಷಿಸಿ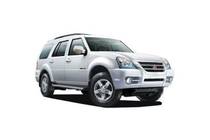 Rs.9.59 ಲಕ್ಷ - 16.33 ಲಕ್ಷ*
ಈ ಕಾರಿನ ಮಾದರಿ ಅವಧಿ ಮುಗಿದಿದೆ
×
We need your ನಗರ to customize your experience