5897 Kms real time driving experience with Amaze.
5897 Kms real time driving experience with Amaze.
Look and Style Honda Amaze looks little bolder and smaller then all other sedan cars, It is well designed with an aerodynamic shape and its rear view is similar to Honda City, which makes the car luxurious. Comfort Honda Amaze has a very good space which is equal to that of Maruti Swift Dzire. I have driven this car with 5 people on a very comfortable journey for 870kms, Honda has done the great job with their designing in the comfort level and the leg room does not have any impact anywhere in the driving comfort and other convenient features further enhanced the relaxation for the long drive. Pickup The pickup of this Honda Amaze is amazing 100Ps output is excellent for this car, but everyone might think it has only 100ps output what can it perform on highways, it is actually a big mistake if people think in that sense. The top speed of the car is 138kmph (when I have driven it) and the pickup is too good, which I have seen, but I didn?t notice in how many seconds it has reached from 0 to 100 Kmph. Mileage Honda Amaze really performed well in terms of Mileage, I maintained 90 to 100 kmph and this car produced the average mileage of 23.8 Kmpl, the same I have taken the car up to 110 to 120 Kmph and it has produced the mileage of 18 to 19 Kmpl. When I was driving this car in the Ghat Roads of Hyderabad to Srisailam where I got a mileage of up to 20.1 Kmpl. Guys to be frank, I never seen this mileage in small cars also. Best Features The Eco is best feature which shows you how you're performing in driving experience, Driver height adjustable seat and more comforts in the seating capacity. Needs to improve The interior design of the car is not that good, the company has used the same things of Honda Brio dashboard and seats. But the people need to get a feel that they are driving a sedan car not a hatchback car and moreover the interior dashboard has to be at least in comparison with the likes of Swift or Swift Dzire. Overall Experience It is a budget car, value for money and best class car in terms of mileage. I am fully satisfied with the performance and mileage of this car, I will always suggest to go with the Honda BECAUSE THEY ARE NO 1 CLASS IN TERMS OF QUALITY.
ಹೋಂಡಾ ಅಮೇಜ್‌ 2016-2021 ಬಳಕೆದಾರರ ವಿಮರ್ಶೆಗಳು
ಆಧಾರಿತ
1018 ಬಳಕೆದಾರರ ವಿಮರ್ಶೆಗಳು
ಎಲ್ಲಾ (1017)
Mileage (326)
Performance (156)
Looks (294)
Comfort (344)
Engine (235)
Interior (176)
Power (157)
More ...
ಇತ್ತೀಚಿನ
ಸಹಾಯಕವಾಗಿದೆಯೆ
VERIFIED
CRITICAL
perfect buy. Mileage is an issue in CVT. Rest is a smooth driving, comfort is good. The look is awesome, performance is best

Very good car, compared to other cars at the same price. Style, mileage, comfort are all decent.

Honda Amaze the big move supports best in a class spacious cabin and legroom which is comfortable for a family of 4 -5. Boot space is best in the segment and very us...ಮತ್ತಷ್ಟು ಓದು

I want to share my views about the Honda Amaze VX CVT petrol, top model, purchased on Jan 2021. Pros- 1. Good looking cars in this segment, 2. The end of t...ಮತ್ತಷ್ಟು ಓದು

Please do not buy Honda Amaze - any words are less to criticize this fraud car - the average mileage is only 12 kmpl. The company says the city average is low. The m...ಮತ್ತಷ್ಟು ಓದು

I have purchased Honda Amaze 2021 petrol auto transmission. I am very much disappointed after the purchase, previously I have used Hyundai fluidic Verna. Minus points in ...ಮತ್ತಷ್ಟು ಓದು

Perfect sedan for city and highways mileage, better than teen box Dzire and ugly Aura. Easily touches 165kmph in petrol

Good sedan with premium exterior and interior look .refined petrol engine with mileage up to 22 in the highway with 5th gear..amazing

ಎಲ್ಲಾ ಅಮೇಜ್‌ 2016-2021 ವಿರ್ಮಶೆಗಳು ವೀಕ್ಷಿಸಿ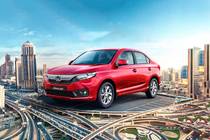 Rs.5.41 ಲಕ್ಷ - 11.11 ಲಕ್ಷ*
ಈ ಕಾರಿನ ಮಾದರಿ ಅವಧಿ ಮುಗಿದಿದೆ
ಬಳಕೆದಾರರು ಕೂಡ ವೀಕ್ಷಿಸಿದ್ದಾರೆ
Write your Comment on ಹೋಂಡಾ ಅಮೇಜ್‌ 2016-2021
1 ಕಾಮೆಂಟ್
1
s
sampatreddy
Sep 21, 2013 8:18:28 PM
Honda claims 25.8 kmpl on highways and here its giving only 23.8 at speeds 90kmph ? my VW Polo returns 27 mkpl with AC on on highways while VW claims 22 mkpl
Read More...
ಪ್ರತ್ಯುತ್ತರ
Write a Reply
2
n
nek khan
Mar 21, 2015 8:46:57 AM
Bhai dubara dekho 27 nhi 17 hoga :-P
Read More...
ಪ್ರತ್ಯುತ್ತರ
Write a Reply
3
a
anez
Jun 2, 2015 12:05:20 AM
He he.. Nice reply
Read More...
ಪ್ರತ್ಯುತ್ತರ
Write a Reply
2
a
anez
Jun 2, 2015 12:04:34 AM
Ur polo is 75 bhp model..extremely noisy engine too...amaze is 98 bhp..am not saying its silent..but...lil sound does come inside cabin...but...there is no other car in the market at this price tag..with this mileage and bhp..:p
Read More...
ಪ್ರತ್ಯುತ್ತರ
Write a Reply
×
We need your ನಗರ to customize your experience