Worst ಕಾರು ಹೋಂಡಾ ಅಮೇಜ್‌
Worst Car Honda Amaze
Worst Car Honda Amaze is the worst ever car in the compact Sedan Segment. Guys, I'm not sure how would someone rate the car 4 out of 5 whereas U don't have an option to choose 0 here. First of all the car has got the poor build quality. People fall on it's look especially the front bonnet. The car does not have the stiff/quality suspension. You will see the suspension crashes even at the small path holes in the road and you will feel it in the cabin (annoying isn't it?). Poor noise insulation as you can almost hear every road noise that is where the car manufacturers like Volkswagon/Ford stands out. The seat does not have enough cuff to hold you. It does have the poor sound system even though the paper specification looks 90 PS power, the car literally struggles to make a move at 2nd gear and it lags which is not suitable for city ride at all. The gear and engine silencer vibrate if you put the reverse gear on and even at the first gear which you can feel it in the gearbox. The car does have some cosmetic attraction like the chrome finished AC vents, good quality plastic in the dashboard and good seat cushioning. Guys remember, you are buying a car and it should be sensible for your money. To summarize things poor suspension, poor noise insulation (infact nil), poor mileage, less featured, poor sound system, not so good steering feedback, not so good clutch and Gearbox setup, more importantly, 175 mm tyres even at the top trim so you compromise a bit of the ride quality as well. The above review is for Amaze Petrol who claims as the leading petrol car manufacturer. It totally iterates me that they are still the piston manufacturers for car manufacturers like Toyota or Ford. There are so many options available at this price range with a quality build. Exterior of the car can be showcased like Amaze or Dzire but all it matters is the build where Ford/Volkswagon and even Tata is stand out. But I'm sure the proud Honda customers will make all the promotions here even for the peanuts they have got. I suggest you go and try test driving Ford Aspire(facelifted), Tata Nexon or even Ameo if your budget permits.
ಹೋಂಡಾ ಅಮೇಜ್‌ 2016-2021 ಬಳಕೆದಾರರ ವಿಮರ್ಶೆಗಳು
ಆಧಾರಿತ
1017 ಬಳಕೆದಾರರ ವಿಮರ್ಶೆಗಳು
ಎಲ್ಲಾ (1017)
Mileage (326)
Performance (156)
Looks (294)
Comfort (344)
Engine (235)
Interior (176)
Power (157)
More ...
ಇತ್ತೀಚಿನ
ಸಹಾಯಕವಾಗಿದೆಯೆ
VERIFIED
CRITICAL
perfect buy. Mileage is an issue in CVT. Rest is a smooth driving, comfort is good. The look is awesome, performance is best

Very good car, compared to other cars at the same price. Style, mileage, comfort are all decent.

Honda Amaze the big move supports best in a class spacious cabin and legroom which is comfortable for a family of 4 -5. Boot space is best in the segment and very us...ಮತ್ತಷ್ಟು ಓದು

I want to share my views about the Honda Amaze VX CVT petrol, top model, purchased on Jan 2021. Pros- 1. Good looking cars in this segment, 2. The end of t...ಮತ್ತಷ್ಟು ಓದು

Please do not buy Honda Amaze - any words are less to criticize this fraud car - the average mileage is only 12 kmpl. The company says the city average is low. The m...ಮತ್ತಷ್ಟು ಓದು

I have purchased Honda Amaze 2021 petrol auto transmission. I am very much disappointed after the purchase, previously I have used Hyundai fluidic Verna. Minus points in ...ಮತ್ತಷ್ಟು ಓದು

Perfect sedan for city and highways mileage, better than teen box Dzire and ugly Aura. Easily touches 165kmph in petrol

Good sedan with premium exterior and interior look .refined petrol engine with mileage up to 22 in the highway with 5th gear..amazing

ಎಲ್ಲಾ ಅಮೇಜ್‌ 2016-2021 ವಿರ್ಮಶೆಗಳು ವೀಕ್ಷಿಸಿ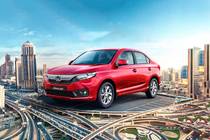 Rs.5.41 ಲಕ್ಷ - 11.11 ಲಕ್ಷ*
ಈ ಕಾರಿನ ಮಾದರಿ ಅವಧಿ ಮುಗಿದಿದೆ
ಬಳಕೆದಾರರು ಕೂಡ ವೀಕ್ಷಿಸಿದ್ದಾರೆ
Write your Comment on ಹೋಂಡಾ ಅಮೇಜ್‌ 2016-2021
×
We need your ನಗರ to customize your experience