Buying ಹೋಂಡಾ ನಗರ ಝಡ್ಎಕ್ಸ್ CVT
Buying Honda CITY ZX CVT
My first Vehicle Honda Brio VX AT 2013 was running good without any complaints with all mechanical, electronic and non-functional parts intact. The car was excellent in terms of handling and looks. The car is ample spacious for its segment in front and rear row but less boot space which is apt as per Honda philosophy of maximum man minimum machine. However, I needed an upgrade because of two reasons. 1. Vehicle already aged for its looks and driving experience was no more exciting as per changed driving habits (Frequent short trips on highways) 2. Needed a segment upgrade to compact SUV or C segment sedan as well due to long time (5 plus years) and new features cars already in market. The search for new vehicle was primarily forced on the above two aspects, apart from my requirement of automatic transmission system. The budget I had in mind was around 15 lacks on road. The vehicles long listed were 1. Hyundai Creta Petrol AT 2. Ford Ecosport Petrol AT 3. Mahindra XUV 4. Nissan Kicks 5. Skoda Rapid TDI DSG 6. VW Vento TSI GSG 7. Honda City Petrol CVT Out of the above, I eliminated Mahindra XUV, Nissan Kicks as there were no updates on the automatic variants to be offered anytime soon. I had to drop Creta as there were no exciting offers and hence was out of my budget. Eco sport was exciting but was not feeling like an upgrade in terms of interior space and AT variant was missing on some features as large size Multi Information Display (MID), sunroof, 17-inch wheels that was on offer on manual variants. Therefore, the feel good factor was missing though the car is priced competitively. So with all compact SUVs out of options, I was left with one diesel and two petrol sedans. Skoda Rapid TDI DSG ONIX Special Edition: Though the car engine was noisy, it had a nice sporty feeling with good throttle response. The price was matching to my budget and I almost made up my mind to buy this car. I was ready to sacrifice the features such as sunroof, LED lamps, rain sensing wipers and even cruise control because I was very happy with torquey punchy engine and DSG gearbox response. I was also ready to ignore the expert advice on high maintenance costs and poor resale value. However, the response at dealership was not very enthusiastic. Perhaps they sensed my excitement and hence did not responded properly on negotiating a deal. They even evaluated my used car Brio exchange price 80K less than what was quoted elsewhere. The story at Volkswagen (VW Vento TSI DSG) dealership was not better as they could not offer a test drive as car was not available. Skoda and Volkswagen need to improve on customer relations a lot. They are making good car and have appointed wolves to market their product. It was utter disappointment. My advice to Skoda buyers is that you should never show your interest upfront at any point of negotiation. Get your own insurance, financing, never exchange used car and then bargain for discount. If you can negotiate tough with patience and get a deal in your favour, go for it, as it is an excellent car for an enthusiast. I should be honest that I had a justified bias towards Honda as existing Honda user. Honda simply spoils its customers with best in class after sales service. I had absolutely no issue and hassle free car usages. The iVTEC engine was refined and handling manoeuvring of car on city roads was best experience, I had as first time car user. This time the deal was breeze, I planed to buy the vehicle by end of April and luckily, both the OEM and dealers had running offers on City. The sales person made every possible option clearly. The best deal was coming from exchange offer, which helped me to get the best price of my BRIO than anywhere including open market. They offered every assistance including if we want to get the financing done form any bank or branch of my choice. The test drive was good. The cabin had much premium feel than Skoda however, I liked the Skoda TDI DSG better. I also liked the fact that Rapid has bigger fuel tank (55L) than City (40L). However, on comparison, Rapid Onix (Ambient) was costing me almost same City ZX CVT (top trim). Features, user-friendliness, safety, luxury feel and personal uses patter weighed much in favour of City. Moreover, I had a good sporty feel with City CVT on S mode with paddle shifters. Considering all the above condition, I decided to purchase Honda CITY ZX CVT in Orchard White Pearl colour My buying experience at Honda dealership was happy one. Everything we agreed upon was well documented in written and adhered to. The vehicle was not readily available and dealership asked for a week time, which was okay as I need that much of time to complete my paperwork for financing as well. Upon dispatch sales execute provide VIN number on request, as I wanted to confirm the month and year of manufacturing. They also arranged a PDI on request a day before delivery, as I wanted to check it before putting up accessories. Here I would like to mention that we must have a good friendly relationship with sales person, as he is an important link when it comes to your vehicle buying experience. The complete process from booking the vehicle to delivery and registration and putting HSNP took 10 days which was completely hassle free
ಹೋಂಡಾ ನಗರ 4th generation ಬಳಕೆದಾರರ ವಿಮರ್ಶೆಗಳು
ಆಧಾರಿತ
810 ಬಳಕೆದಾರರ ವಿಮರ್ಶೆಗಳು
ಎಲ್ಲಾ (816)
Mileage (222)
Performance (129)
Looks (241)
Comfort (324)
Engine (190)
Interior (134)
Power (114)
More ...
ಇತ್ತೀಚಿನ
ಸಹಾಯಕವಾಗಿದೆಯೆ
VERIFIED
CRITICAL
It is a very comfortable car, and its driving quality is great. The mileage is a bit low. It is value for money car.

Best in the Segment. The Interior feels sporty. Smooth Driving. Mileage is also good. The space is nice.

Stylish look, fully comfortable with low maintenance, and other features are great in this price range it is a great option.

Great car and great mileage.Fully purified engine with a good amount of power. Zero engine noise in the cabin when the car runs at high RPM. All services are quite g...ಮತ್ತಷ್ಟು ಓದು

Perfect sedan for perfect person .honda's engineering is best in class no compromise. Once you drove Honda cars you loved ivtec engine . Honda makes the best car but sale...ಮತ್ತಷ್ಟು ಓದು

HONDA CITY 2016 is a great car in terms of comfort, mileage and low maintenance. There is good space in the interior but it lacks a bit of ground clearance.

If you are looking for a comfortable car with decent mileage then go for it. The engine is very smooth and Honda never disappoints with the engine.

It's a very nice value-for-money sedan. Super Comfortable and luxurious. Absolutely perfect for long drives!

ಎಲ್ಲಾ ನಗರ 4th generation ವಿರ್ಮಶೆಗಳು ವೀಕ್ಷಿಸಿ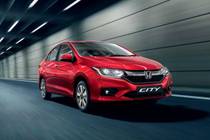 Rs.9.50 - 10.00 ಲಕ್ಷ*
*ಹಳೆಯ ಶೋರೂಮ್ ಬೆಲೆ ನವ ದೆಹಲಿ
Rs.9,49,900*ಎಮಿ: Rs.20,262
17.4 ಕೆಎಂಪಿಎಲ್ಹಸ್ತಚಾಲಿತ
city 4th generation ಪರ್ಯಾಯಗಳು ನಲ್ಲಿ ಬಳಕೆದಾರ ವಿಮರ್ಶೆಗಳು
Write your Comment on ಹೋಂಡಾ ನಗರ 2017-2020
1 ಕೊಡುಗೆ
ಹೋಂಡಾ ನಗರ 4th Generation :- ಹೋಂಡಾ Cust...
25 ದಿನಗಳು ಉಳಿದಿವೆ
×
We need your ನಗರ to customize your experience