Excellent & Economical car
Excellent & Economical car
Mid compact segment redefined !!! the luxuries & power of big cars now in compact cars. the new I-10 delievers on its promises. our family owns 8 cars at present & we've owned most succesful compact cars like santro, indica, wagon -r, swift & now I-10. we've owned 2-3 models of each of the above cars. we've also had honda city zx & corolla. of all the mid-segmnt cars, we've felt santro very best so far. indica had lots of maintainance costs & broke down quite oftn. swift guzzles up petrol like a army tank. wagon-r has little better fuel efficiency than santro but is very cramped for space & lacked driving pleasure with poor gear transmission. whereas santro had good space, powerful manoevuring for gd driving pleasure & a satisfactory fuel economy. with I-10, evrythg's improved, the interiors r in class of big sedans, the new power steering & gear transmissn are just a little behind the honda's & corolla's. the car is spacious enough for 5 person to sit comfortably evn whn the front seats r fully stretched back. the new engine is very smooth & noiseless. the ERA model has cost me 4,17,191 on road in ahmedabad. i got a loan for 3 lakhs for 3 yrs with 36 EMI of 9480 from HDFC being a preferred customer & an additional discount of 2000 for bookg thru them. i took 32% premium discount in insurance & 1500 voluntary discount for letting go claims below rs 5000. tht way the car cost me 4.59 lakhs with interest, process fees, insurace & RTO, without any accessories. its premature to say about mileage, because the true mileage is checked only after the first service, but i drove approx 265 kms. in 21 litres of petrol with ac on, which works out to 12.5/ltr, considering highly conjugated Ahmadabad city driving & driving around by many members of the family. my santro gives me 11.5 in similar conditions. but this car has tubeless tyres, new engine & after 1st service, i expect this mileage to pick upto 14 something..hyundai has said its mileage is apprx 2 kms more than santro. i have covered most parts of my experience to give a indepth review. i m sure it will b very helpfull to everybody.
Write your Comment on ಹುಂಡೈ ಐ10
ಹುಂಡೈ ಐ10 ಬಳಕೆದಾರರ ವಿಮರ್ಶೆಗಳು
ಆಧಾರಿತ
158 ಬಳಕೆದಾರರ ವಿಮರ್ಶೆಗಳು
ಎಲ್ಲಾ (158)
Mileage (99)
Performance (46)
Looks (103)
Comfort (107)
Engine (72)
Interior (61)
Power (48)
More ...
ಇತ್ತೀಚಿನ
ಸಹಾಯಕವಾಗಿದೆಯೆ
VERIFIED
CRITICAL
I purchased i 10 Magna model in 2010 and switched over to i10 from Tata Indica Petrol, which I used for almost 3 years. I drove i10 for almost 7.5 years before I went for...ಮತ್ತಷ್ಟು ಓದು

All the tyres are recently replaced by new tyres. Engine oil is also recently changed. Gear oil is also changed. It gives a mileage of 19 KMPL.

I own a hyundai i10 2010 model. Its been more than 6 years i am using this car, and till date other than regular servicing, I have spent only 20,000 on servicing (becuase...ಮತ್ತಷ್ಟು ಓದು

i am a proud owner of this car for last 7 years. i am 67 years old retired professional. this is the 7th car i am using now. i get a very happy sense of driving a safe ca...ಮತ್ತಷ್ಟು ಓದು

Hyundai i10 is proved to be very reliable car during my 6 years of ownership. For me this is top most priority and I dont like to get stranded on a road or leaving my car...ಮತ್ತಷ್ಟು ಓದು

What to say and where to start. i10 is my first car, on which I have started learning driving in 2014. Best thing about the car is its Steering module. It is effortless a...ಮತ್ತಷ್ಟು ಓದು

A little city car that has got plenty to live up to. Sharp looks and a sweet but old 1.1-litre engine is still the drivetrain in this car. It's all about quality here - t...ಮತ್ತಷ್ಟು ಓದು

Hyundai i10 has cool car the hatchback market in India since it's launch. I am quite satisfied with its performance. The entry level hatch i10 is decent in terms of comfo...ಮತ್ತಷ್ಟು ಓದು

ಎಲ್ಲಾ ಐ10 ವಿರ್ಮಶೆಗಳು ವೀಕ್ಷಿಸಿ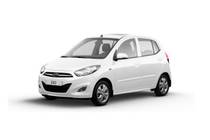 Rs. 3.79 ಲಕ್ಷ - 6.55 ಲಕ್ಷ*
ಈ ಕಾರಿನ ಮಾದರಿ ಅವಧಿ ಮುಗಿದಿದೆ