It's not a right time to buy Nissan ಕಾರುಗಳು
It's not a right time to buy Nissan cars
When I started looking for a new car, I had following basic requirements: - Automatic Hatchback - Good performance, comfortable, good looks, fair mileage and less than 8L - All new features Nissan Micra matched all these requirements, was happy with the test drive and decided to buy Micra. Dear friends warned me about the after sales support and service quality of Nissan cars, I completely ignored their suggestion by thinking that at max you will service the vehicle twice a year and all the new age cars will come with great technology and there will not be much a problem and requirement for service and finally bought Nissan Micra CVT from Shahwar Nissan, Bangalore. Now I am regretting my decision within 2 months of purchase because of below experience with Shahwar Nissan: - It took weeks and several follow-ups to get back the additional 5k that I paid during sales - I had a situation to call the 24/7 number and service helpdesk number the 3rd day of my car delivery. The 24/7 number provided in Shahwar Nissan's emergency card had changed and no one picked up on the changed number. Had to take a help of a local mechanic. Now the worst experience, a two-wheeler brushed my Micra and dented the front bumper which had to be replaced + Service consultant assured he will deliver the fixed Micra in 3 days and it took 12 days to get the delivery.The worst part was that every day the service consultant used to say he will give my vehicle tomorrow and that tomorrow came after 12 days. And I had to call him at least 3 to 4 times a day get an update + About the service job done, the car was delivered at 8 pm and in dark could not notice much. The paint job was poor, could see white paint stains on the black grill, the chrome border in the bottom grill is missing, and the front number plate is broken. Now I have to go back to them to get this fixed and have to go through the pain again. With this experience, I strongly suggest anyone on the edge thinking to go with Nissan to NOT TO CHOOSE Nissan now when they have only two service centers in Bangalore and their service and commitment is pathetic. Shahwar Nissan has taken the joy of owning a car away from me.
Write your Comment on ನಿಸ್ಸಾನ್ ಮೈಕ್ರಾ
1
s
sunny bhai
Jul 24, 2015 1:31:15 PM
Should have purchased maruti alto atleast hard earned money wouldn't have wasted.. All the best
ಪ್ರತ್ಯುತ್ತರ
ನಿಸ್ಸಾನ್ ಮೈಕ್ರಾ ಬಳಕೆದಾರರ ವಿಮರ್ಶೆಗಳು
ಆಧಾರಿತ
122 ಬಳಕೆದಾರರ ವಿಮರ್ಶೆಗಳು
All (185)
Mileage (47)
Performance (24)
Looks (41)
Comfort (35)
Engine (22)
Interior (24)
Power (21)
More ...
ಇತ್ತೀಚಿನ
ಸಹಾಯಕವಾಗಿದೆಯೆ
VERIFIED
CRITICAL
Good car but high in maintenance cost with a great mileage but the problem is lower ground clearance.

It's packed with the necessary features right from the base variant. The ride quality is amazing. Clutch is a little tight. It's hard to engage 1, 2.

I am fully satisfied with my Nissan Micra car. It is a family-friendly car easy to drive in cities. And ladies also can drive this car easily. My car is a diesel car and ...ಮತ್ತಷ್ಟು ಓದು

One of my best choices ever. Wonderful driving experience. Ergonomics are amazing. Pure driving joy and amazing performance. Spacious, smooth, nice suspension, amazing ha...ಮತ್ತಷ್ಟು ಓದು

Nissan Micra diesel car is very good, comfortable and has good safety features. Car's mileage is amazing and also has some issues with bumper lock and maintenance cost is...ಮತ್ತಷ್ಟು ಓದು

Good experience and latest model.Nice color and good mileage, balloon facility.

Nissan Micra is a power-packed car. It is strongly built and comes with decent features. According to me, the main drawback is that the height of the driver seat is not a...ಮತ್ತಷ್ಟು ಓದು

ಎಲ್ಲಾ ಮೈಕ್ರಾ ವಿರ್ಮಶೆಗಳು ವೀಕ್ಷಿಸಿ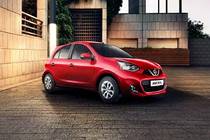 Rs. 5.99 ಲಕ್ಷ - 8.12 ಲಕ್ಷ*
ಈ ಕಾರಿನ ಮಾದರಿ ಅವಧಿ ಮುಗಿದಿದೆ
ಬಳಕೆದಾರರು ಕೂಡ ವೀಕ್ಷಿಸಿದ್ದಾರೆ
ಟ್ರೆಂಡಿಂಗ್ ನಿಸ್ಸಾನ್ ಕಾರುಗಳು