ನಿಸ್ಸಾನ್ ಟೆರಾನೋ Excellent ನಗರ Rider with Smashing Looks
Nissan Terrano Excellent City Rider with Smashing Looks
Let me start this review from delivery of my Nissan Terrano. Contrary to the popular opinions about Nissan dealership, I got my car on time as promised by the dealer. So, there is unnecessary uproar in terms of dealership and negligence in delivery. I decided to purchase this SUV after a lot of thought process as there are other popular options available in the market in the form of Hyundai Creta and Renault Duster. I had a series of discussions with my friends and people who are expert in this field. But since I was mesmerized by the smashing looks of this car, the decision to buy came instantly. I purchased the Sports Edition of Terrano which is altogether a different approach from the regular one. The white coloured vehicle gets unique LED daytime running lights placed vertically near the headlamps, red and black body graphics, contrasting black roof and new cladding on the wheel arches. And the stunning set of alloy wheels takes its outer appeal to a whole new level.
Inside too, the story is different. The car has been given dual tone scheme; black and brown for the dashboard and red and black for the seat and floor mats. The comfort features in the car are truly commendable. The 7-inch touch screen does misses the Android Auto and Apple CarPlay, however there are features such as Bluetooth, USB, Aux, Navigation and Voice Recognition system which does make my on and off-roading job quite easy. Finally, I got to see the cruise control which was missing in the previous models. And this also brings me to the performance section. I took the 85PS diesel version to quench my thirst for mileage and I am totally satisfied with the 16kmpl mileage in mixed conditions. The car performs stunningly within city premises and I never feel any turbo lag with minimal effort on gear changes. I can't tell about the off-roading experience much since I have taken this for a couple of small trips only. The steering, clutch and gearbox all are meant for returning perfect feedback. The 205mm high ground clearance is a boon for cities like Mumbai as regular undulations without good ground clearance can result in frequent repairing trips. Overall, driving for 6 months I think I have made a good decision by buying this car.
Write your Comment on ನಿಸ್ಸಾನ್ ಟೆರಾನೋ
1
L
laimayum brajagopal
Jul 17, 2019 3:21:16 PM
It is a very attractive in fuel efficient, and comfort in dumping roads, and good control in driving, say good and affordable price,
ಪ್ರತ್ಯುತ್ತರ
ನಿಸ್ಸಾನ್ ಟೆರಾನೋ ಬಳಕೆದಾರರ ವಿಮರ್ಶೆಗಳು
ಆಧಾರಿತ
70 ಬಳಕೆದಾರರ ವಿಮರ್ಶೆಗಳು
All (70)
Mileage (20)
Performance (12)
Looks (13)
Comfort (20)
Engine (10)
Interior (10)
Power (9)
More ...
ಇತ್ತೀಚಿನ
ಸಹಾಯಕವಾಗಿದೆಯೆ
VERIFIED
CRITICAL
The vehicle is very powerful, really it's good for the family usage, compared to Duster. It shows the class of Nissan. Mileage is good up to 16 you can expect in the good...ಮತ್ತಷ್ಟು ಓದು

Nissan Terrano is comfortable driving and driving direction is easy to drive. It has good space as in seating capacity, it should be at least 7 but it is an good car.

The after-sales service is the worst, there is always a shortage of parts. The staff is not up to the mark. 

It is a very comfortable and awesome car, I have a Diesel AMT top End version. Very good fuel economy of 14kmpl in city to 16kmpl on highways. Poor Speakers with high end...ಮತ್ತಷ್ಟು ಓದು

The awesome car made by nissan. The power and the wheelbase gap is high so you can drive at the terrain.

I have been using this car since 2013, touchwood the car is perfect, safe and very good at driving. Safety-wise it has 2 airbags, EBD, ABS, so overall it's a good package...ಮತ್ತಷ್ಟು ಓದು

This car is excellent in comfort and good at the performance I like this car as an SUV and it is the best SUV.

It is an amazing machine. Quality is proved by this model. There is an excellent space inside the car.

ಎಲ್ಲಾ ಟೆರಾನೋ ವಿರ್ಮಶೆಗಳು ವೀಕ್ಷಿಸಿ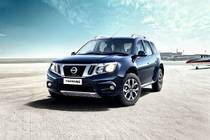 Rs. 9.99 ಲಕ್ಷ - 14.64 ಲಕ್ಷ*
ಈ ಕಾರಿನ ಮಾದರಿ ಅವಧಿ ಮುಗಿದಿದೆ
ಬಳಕೆದಾರರು ಕೂಡ ವೀಕ್ಷಿಸಿದ್ದಾರೆ
ಟ್ರೆಂಡಿಂಗ್ ನಿಸ್ಸಾನ್ ಕಾರುಗಳು