Good vehicle by design
Good vehicle by design
I am using KWID RXT Easy R (AMT) for the last two years and 5 months. I opted for full option, at that time Climber was not released & this was the appealing option for an AMT vehicle. Still, Kwid leading the segment by these aspects. 1. Aesthetics (None to compare ) 2. Cheapest AMT ( None to compare) 3. Milage (Celerio CNG) 4. Price ( lowest in this segment) 5. Good ground clearance But all these pros comes with below cons. 1. Reliability 2. Quality 3. Comfort I will explain the above cons with by these experiences. 1. This comes with a 3 cylinder engine. All other vehicles in this segment with a 4 cylinder which is mechanically more balanced hence produce less vibration so less noise too. 2. Renault Kwid offers the least cost AMT (Automated Manual Transmission). Believe me gearless is the future. You can experience this because in the future all vehicles will be electric. But Kwid AMT is just ok, meet requirements. Easy to use and give comfort. But beware if you give for wallet parking because if you won't operate it properly, Kwid ECU locks the car thinking it as a car theft :). So use it carefully, I called roadside assistance (good service, in city limit technician, reach you within an hour), two times to rectify an issue with AMT. Also gear change you could feel. Crawl feature added for the new version, which is good for city drive. 3. Horn got damaged while I was returning from Chennai to Bangalore at 7 pm. So not so reliable for the long journey. Even though for comparison - I took the risk and drive this for at least 10 trips which long 7 hours of continuous run, without any noticeable issues. 4. Fuel gauge goes wrong if you tilt the vehicle sideway by approximately 35 degrees while passing trough slops - Say parking. 5. Milage varies between 14 to 18 in the city based on drive condition & 20 for highways. 6. Engine oil sump made up of some material having similar properties compared to the hard plastic, so easy to get damaged. Unfortunately, it got damaged for me, service says I have to pay for it from insurance :( So overall a good vehicle by design, good looking & best suited for city drive if you choose an AMT.
Write your Comment on ರೆನಾಲ್ಟ್ ಕ್ವಿಡ್ 2015-2019
1
A
aditya atholi
Jul 31, 2019 6:43:26 PM
I own RXT(O), So far all good, performance, design, space, comfort, loaded features all plus points in this segment at this price you can not ask for more, if you want all the features, no issues.
ಪ್ರತ್ಯುತ್ತರ
1
R
rajesh kumar
Jul 30, 2019 8:36:56 AM
Iam using KWID from 2016 Jan for me it's common man's SUV
ಪ್ರತ್ಯುತ್ತರ
ರೆನಾಲ್ಟ್ ಕ್ವಿಡ್ 2015-2019 ಬಳಕೆದಾರರ ವಿಮರ್ಶೆಗಳು
ಆಧಾರಿತ
1350 ಬಳಕೆದಾರರ ವಿಮರ್ಶೆಗಳು
ಎಲ್ಲಾ (1350)
Mileage (380)
Performance (191)
Looks (445)
Comfort (303)
Engine (223)
Interior (170)
Power (166)
More ...
ಇತ್ತೀಚಿನ
ಸಹಾಯಕವಾಗಿದೆಯೆ
VERIFIED
CRITICAL
I am having Renault KWID 2017 model. Its the worst car ever made in history. The body is so weak that if you press the bonnet slightly a dent will appear instantly. ...ಮತ್ತಷ್ಟು ಓದು

Hi, I purchased the Renault KWID RXT model in Oct 2015. Its been four years. Initial 2 years went very smooth. But after that, I started to get it to know why i...ಮತ್ತಷ್ಟು ಓದು

Purchased Renault KWID 0.8 RXL in March 2018 and drove around 9000 Kms. Simple features like auto wipe with screen wash, intermittent wipers, fresh Air mode of AC, Pillio...ಮತ್ತಷ್ಟು ಓದು

Renault KWID /2019 Had my 2019 Renault KWID for 4 months and very impressed. Looks small but once you get in its bigger then you think. Also was amazed at the power it ha...ಮತ್ತಷ್ಟು ಓದು

Renault KWID is an excellent car at the price range which is offered. The finer features provide great convenience for the drivers and passengers. Some of the finer featu...ಮತ್ತಷ್ಟು ಓದು

Renault KWID gives super performance, mileage and has excellent ground clearance. The car is value for money. It has awesome features like a large boot space, wheelbase, ...ಮತ್ತಷ್ಟು ಓದು

Maruti Swift is a one-car that fulfills all the requirements: low cost, internal features, mileage, look, and performance. An all-in-one car that one can wish for in...ಮತ್ತಷ್ಟು ಓದು

Renault KWID : My car which I call my mini SUV, is one of the best in its class of vehicles..it gives ample ground clearance and excellent mileage. The comfort which I ge...ಮತ್ತಷ್ಟು ಓದು

ಎಲ್ಲಾ ಕ್ವಿಡ್ 2015-2019 ವಿರ್ಮಶೆಗಳು ವೀಕ್ಷಿಸಿ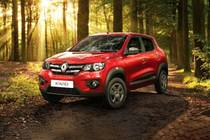 Rs. 2.66 ಲಕ್ಷ - 4.94 ಲಕ್ಷ*
ಈ ಕಾರಿನ ಮಾದರಿ ಅವಧಿ ಮುಗಿದಿದೆ
ಬಳಕೆದಾರರು ಕೂಡ ವೀಕ್ಷಿಸಿದ್ದಾರೆ
ಟ್ರೆಂಡಿಂಗ್ ರೆನಾಲ್ಟ್ ಕಾರುಗಳು