ಐ would say it IS ಸೂಪರ್‌ ಮತ್ತು great value money ಗೆ
I would say it is superb and great value for money
When I started looking for mid sized sedan with following requirements in priority: 1. Built strong 2. cabin comfort great NVH level to considerably insulate the outside noise 3. a good powerful engine with more practical features to make driving more pleasure. As usual with many others I also have a budget constraint. I targeted to look for a car of less than 12L. I test drove CITY, SCALA, VERNA, RAPID, CRETA, Ciaz, Baleno. Baleno was straightaway ruled out because of build quality, and driving comfort. Scala was built strong however the driving comfort is not great. CITY is relatively better than the above. Though it ticks most of my requirements, I kept it on hold for 2 reasons. Cost and the ground clearance. VERNA is relatively better than above 3. However I have kept it on hold for the same above reasons. CIAZ is close to CITY, VERNA in terms of driving comfort and cabin space. However I did not consider it for build quality and the less powered engine. CRETA is happily marking all my requirements except the price. More than me, my wife fall in love with CRETA at the first sight itself. I had no choice but to rule this out because of budget. RAPID has satisfied me in all aspects. On top of that the price offerings during this festive season, and the ground clearance makes me to stick to this choice. I have made the booking and then I heard about RENAULT's offer. So I have called up for DUSTER. As my budget is fitting to the basic model, I test drove the base model. I felt very sad with the interiors and the plastic quality it has. The gear box is also not anyway close to most of the hatchbacks that we have in offering at far less price. The only good things about DUSTER is, it looks stunning from outside. The engine is robust. The suspension is great. Since I am expecting more comfortable cabin and the premium feel of cabin as well, I ruled it out. Though I have decided to get delivery during Diwali, due to some calculations I have changed my decision and asked the dealer to arrange delivery on Dusshera itself. Finally the day comes to get the Rapid (Style plus petrol) in my hands. The very first long drive I went with my Rapid is from Pune to Kolhapur. The highway is really good and anyone can easily speed to the max very comfortably. However I do not want to drive more than 100Km/h due to several safety reasons. I decided to experiment with cruise control as the highway is comfortably good to experiment. Initially I though the cruise control feature may not be useful as I am not used to it. However I felt it very comfortable and also I am constantly checking the mileage impact with this. SKODA claims a mileage of 12Km/L in city and 15Km/L in Highway. In every other review I read, it was mentioned that the RAPID petrol give a maximum of 17Km/L mileage. During my drive I am surprised to see that MID showing the mileage of 19.1Km/L. This confirms that Rapid is giving better mileage. And for city drive I noticed that I am getting around 13Km/L which is more or less fine and I did not expect more because of city traffic. Though there are several reviews mentioning that the looks of the car are more outdated and doesn't appeal for the current market. However I feel that looks are very subjective. Personally I do not like the fluidic designs much that are currently prominent in most of the cars that are being launched. I prefer the European classic design with simple elegant looks. Also for the interiors, I am more happy to have less equipment and buttons. So I am very much happy with all the features, equipment. The most useful features I am currently enjoying are as below: 1. Cruise control 2. Reverse parking sensor. I needed it the most as my flat parking is too narrow that I need to carefully park it to be safe from scratching the corners. 3. Climatronic AC control 4. Fog lights front and back. Though I did not use them yet. 5. Automatic rain sensing wiper 6. Automatic dimming of rear view mirror. This has been very useful for my daily run. 7. Spacious cabin with sufficient leg room 8. Decent and precise music system 9. Arm rests - front and back 10. Height adjustable driving seat. 11. Adjustable steering. 12. Bluetooth connectivity 13. Steering mount music, phone controls. 14. visiting card/receipt holder 15. Remote boot lid opener, All windows UP/Down with remote. 16. One touch UP, Down for windows. 17. Electrically fold able ORVM. 18. Sufficient boot space 19. Sufficient ground clearance 20. Dead pedal 21. Sufficient cup holders - front and back And most important safety features - Airbags, ABS. Of all these joyful, practical features, the driving pleasure is the one that makes me to drive the car almost every time and for every need.
ಸ್ಕೋಡಾ ರಾಪೈಡ್ ಬಳಕೆದಾರರ ವಿಮರ್ಶೆಗಳು
ಆಧಾರಿತ
300 ಬಳಕೆದಾರರ ವಿಮರ್ಶೆಗಳು
ಎಲ್ಲಾ (296)
Mileage (94)
Performance (64)
Looks (85)
Comfort (97)
Engine (74)
Interior (50)
Power (53)
More ...
ಇತ್ತೀಚಿನ
ಸಹಾಯಕವಾಗಿದೆಯೆ
VERIFIED
CRITICAL
Skoda Rapid remains identical to the previous model in terms of design and dimensions but has been styled to make it look a bit sportier. The Monte Carlo edition particul...ಮತ್ತಷ್ಟು ಓದು

It is a good experience with Skoda Rapid. Just I like this Skoda Rapid feature. It is also good looking. So I am happy with this car.

Very nice driving experience, or smooth driving. Low maintenance cost, or very good diesel engine and mileage.

Excellent and robust car. Gives good mileage on the highway. I bought it in mid-2021 and drove around 60km, This gives a comfortable ride and good mileage of around 22kmp...ಮತ್ತಷ್ಟು ಓದು

At this price, it's the first choice. Skoda provides all high-level quality in this car. Like safety, power, etc. Nobody beat you with other cars, like Hyundai Verna, Hon...ಮತ್ತಷ್ಟು ಓದು

Classy and Punchy. No vehicle in this segment can match the performance. It's a bit high maintenance as the spares are costly.

I have a 2016 diesel model. After 5 years of running, also it works like new and mileage is better than they say. On the highway, this car can give up to 25-26kmpl a...ಮತ್ತಷ್ಟು ಓದು

Super satisfied fun to drive with the safety of a tank, superb fuel efficiency and awesome styling.

ಎಲ್ಲಾ ರಾಪೈಡ್ ವಿರ್ಮಶೆಗಳು ವೀಕ್ಷಿಸಿ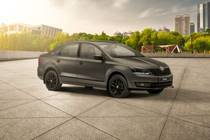 Rs.6.99 ಲಕ್ಷ - 13.49 ಲಕ್ಷ*
ಈ ಕಾರಿನ ಮಾದರಿ ಅವಧಿ ಮುಗಿದಿದೆ
ಬಳಕೆದಾರರು ಕೂಡ ವೀಕ್ಷಿಸಿದ್ದಾರೆ
Write your Comment on ಸ್ಕೋಡಾ ರಾಪೈಡ್
3 ಕಾಮೆಂಟ್ಗಳು
1
v
v kalaivanan
Oct 26, 2017 2:05:57 PM
whatever it is. But the issue has to be addressed.
Read More...
ಪ್ರತ್ಯುತ್ತರ
Write a Reply
1
D
dn pathak
Apr 22, 2017 9:28:45 AM
This is not a review by a real user of Skoda but by Skoda itself. Such reviews are misleading and should nit be published.
Read More...
ಪ್ರತ್ಯುತ್ತರ
Write a Reply
1
M
mohan reddy
Dec 9, 2016 12:06:28 PM
I have a very bad experience on service and response with TAFE access, Hosur rd, Bangalore. Staff doesn't have a troubleshooting experience and they will do experiments by replacing some parts and charging us heavily. They will make temporary arrangements and vehicle will be handover without addressing the core issues. For all spare parts we need wait for min. 10days. This is not professional approach towards the customer the org. like TAFE. Even for service appointme we need to beg. very bad
Read More...
ಪ್ರತ್ಯುತ್ತರ
Write a Reply
ಟ್ರೆಂಡಿಂಗ್ ಸ್ಕೋಡಾ ಕಾರುಗಳು
×
We need your ನಗರ to customize your experience