ಹುಂಡೈ ಗ್ರಾಂಡ್ ಐ10 ಬಳಕೆದಾರರ ವಿಮರ್ಶೆಗಳು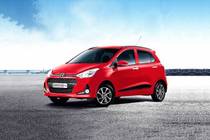 890 ವಿರ್ಮಶೆಗಳು
Rs. 5.91 - 5.99 ಲಕ್ಷ*
*ಹಳೆಯ ಶೋರೂಮ್ ಬೆಲೆ ನವ ದೆಹಲಿ
ಹುಂಡೈ ಗ್ರಾಂಡ್ ಐ10 ಬಳಕೆದಾರರ ವಿಮರ್ಶೆಗಳು
ಎಲ್ಲಾ (890)
Mileage (253)
Performance (135)
Looks (175)
Comfort (296)
Engine (148)
Interior (115)
Power (108)
ಹೆಚ್ಚು ...
ಇತ್ತೀಚಿನ
ಸಹಾಯಕವಾಗಿದೆಯೆ
VERIFIED
CRITICAL
Hyundai Grand i10 is overall a good car in the price range . Pickup is good. It gives a smooth drive on the roads. It has enough space at the backseat , very comfortable for 3 persons and can accomodate 4 as well . If you are looking for a hatchback that has premier look , then this is the best affordable car in this price range. ಮತ್ತಷ್ಟು ಓದು

I am using this car for the past 5 years. The car's clutch is so hard that I am unable to drive it. Maintenance is difficult too.

Hyundai Grand i10 is an excellent car and best in its segment too. The car is very good economically too. It is very spacious too. The engine is powerful. The sports variant is quite good. In this model the Infotainment system is also great, the looks are also very nice. ಮತ್ತಷ್ಟು ಓದು

The car is good in its segment and the pickup is also very good. The interior seats are also very comfortable and the sound while driving is also clear.  

The feel and finish of the vehicle makes you feel that you are also part of the car. Refined engine, plush interiors, solid build quality makes it necessary have for a family of 4, even 5 can be accommodated but can be tiring on long journeys. Add to that good service support pan India and easy availability of spare parts at affordable price makes ...ಮತ್ತಷ್ಟು ಓದು

Hyundai Grand I10 is a very good and excellent budget car with extraordinary features. The car design is great, Seating is comfortable, built quality is super, nice pick-up, only the mileage is low and it's ground clearance is not good. Overall, It is a value for money car. ಮತ್ತಷ್ಟು ಓದು

Hyundai i10 such a great car of Hyundai association. This car is perfect for the person whose budget is of 5 lakhs to 8 lakhs, under this price they are offering a great value car. In this car, the sound system, the boot space, and the steering is a great deal. It comes in different colours but the white colour is amazing and the top model is super...ಮತ್ತಷ್ಟು ಓದು

This car has a superb engine and provides a lot of features. This is one of the best cars in the market for this range. But, the seats do not give a good ride experience. ಮತ್ತಷ್ಟು ಓದು

Excellent driving comfort with good interior and easy to handle, smooth on high speed and engine smoothness is so good,with lots of features which really work very good to handle while driving, quality of infotainment system is wow, safety features like ABS and dual Airbags really give you more safety while driving with your loved ones. ಮತ್ತಷ್ಟು ಓದು

I own a Grand i10, been using it for almost one year now. The car has features like Air conditioning, spacious interior, powerful infotainment system ad pickup, a nice dashboard, beautiful interior, good ground clearance, nice road grip at high speeds, enough space for luggage. ಮತ್ತಷ್ಟು ಓದು

The car is a great value for money product. Still, there are places for improvement.

This car gives a mileage of 17kmpl in city and 21.5kmpl on Highway. The car is very good as far as reliability is concerned. No minor breakdowns too, but the car has no Airbags. ಮತ್ತಷ್ಟು ಓದು

Absolutely refined engine and best in class performance in its segment. Build quality is poor and makes it look like a budget car. Fuel consumption is high but justified with performance and air conditioning capacity. Value for money car. I expect an improvement in engine efficiency. ಮತ್ತಷ್ಟು ಓದು

Hyundai Grand i10 is an awesome car, the car design is great. The new updations have good features like push start button and keyless entry, sitting is very comfortable and it has just one drawback it gives a low mileage but at the end overall the car is value for money. ಮತ್ತಷ್ಟು ಓದು

It is a very nice car with smooth driving and performance. The interior and exterior of the car are great.

Hyundai is known for its cars with low maintenance. Hyundai i10 is the best car I would suggest as it is small in size and compatible in the cities with heavy traffic and gives you a good average. Even you can find many buyers at the time of resale. The smoothness of the car is like the cherry on top.  ಮತ್ತಷ್ಟು ಓದು

It is a budget friendly car with great looks and features. It is a car which comes with great ideas and comfort.

Hyundai Grand i10 is a great budget car. Good looks with excellent features. The manual car is the best car for driving.

It is the most comfortable hatchback car to drive. The performance and mileage are superb with great handling. The built quality is nice. 

Safety and great comfort for the long drive, good music system, rearview camera work fine, touch screen ( great interface, easy to use ) soft-touch staring wheel, voice command and enough space ( great for family members and friends. ). I love you with all my life, but it is not like you will ever know. ಮತ್ತಷ್ಟು ಓದು

Drove over 8000 km in just 6 months. This car was my first choice while making a purchase. Very much comfortable even in long drives. I took this car to Himachal from Jaipur. Best car in the urban areas. Top speed is 160km/h. Mileage is 12 in the city and 15 on Highway for petrol. Suspensions and build quality are good. I love to drive this car. ಮತ್ತಷ್ಟು ಓದು

Its an extraordinary car for a small family and most importantly its safe and comfortable for both either the person is old or he is differently disabled. Hyundai just provides good work on this car but a simpler advancement needed for more comfortability gives some more safety and security features which may give feel the passenger safer than othe...ಮತ್ತಷ್ಟು ಓದು

Excellent car for a family, good average comfortable seat good in boot space.

Amazing comfort and facilities, It is advisable to take the Sportz version of the car as it almost covers all the amenities which are pertinent to buyers. This car is also available in CNG version if needed.  ಮತ್ತಷ್ಟು ಓದು

I have been using the Hyundai Grand i10 Magna Petrol variant from 2015. It is a value for money car with a very spacious interior, good engine and pickup. The mileage is not very good and looks-wise one of the very best in its class. ಮತ್ತಷ್ಟು ಓದು

Its a very nice and comfortable car, smooth driven and very nice looks with a very powerful body. Overall the best car. 

The car offers smooth driving. The interior seating and inside build of the car is also very comfortable.

Very nice car, very nice shape, and design. Good brake system. seats are comfortable. AC is nice and good cooling

Hyundai Grand i10 is a smooth driving car. the breaking system, interior and safety features are excellent.













Not Sure, Which car to buy?
Let us help you find the dream car
Rs.5,91,699*ಎಮಿ: Rs. 12,345

18.9 ಕೆಎಂಪಿಎಲ್ಹಸ್ತಚಾಲಿತ

Key Features

central locking
rear ಏ/ಸಿ vents
fog lights-front

Rs.5,99,9,90*ಎಮಿ: Rs. 12,513

18.9 ಕೆಎಂಪಿಎಲ್ಹಸ್ತಚಾಲಿತ

Pay 8,291 more to get

reverse ಪಾರ್ಕಿಂಗ್ ಸೆನ್ಸಾರ್‌ಗಳು
adjustable steering column
rear defogger
ಗ್ರಾಂಡ್ ಐ10 ಪರ್ಯಾಯಗಳು ನಲ್ಲಿ ಬಳಕೆದಾರ ವಿಮರ್ಶೆಗಳು
*ನವ ದೆಹಲಿ ರಲ್ಲಿ ಎಕ್ಸ್ ಶೋ ರೂಂ ಬೆಲೆ
ಬಳಕೆದಾರರನ್ನು ಸಹ ವೀಕ್ಷಿಸಲಾಗಿದೆ

Are you Confused?
Ask anything & get answer ರಲ್ಲಿ {0}
ಜನಪ್ರಿಯ car insurance companies