ಆಡಿ ಕ್ಯೂ3 Nice ಎಸ್‌ಯುವಿ But Misses Essential ವೈಶಿಷ್ಟ್ಯಗಳು
Audi Q3 Nice SUV But Misses Essential Features
The new Audi Q3 is an important vehicle from the German automaker in the Indian market. The small SUV aptly targets people who love to have a fun-to-drive vehicle with both luxury and power onboard that too in the reasonable price range. The five-year-old SUV has been receiving timely updates to keep the interest of the buyers intact. But recently, when I was reading about the facelift which was launched last year, I was shocked that the car still misses out many essential aspects. The infotainment system seems to be aging and the user interface is not as slick as that in new models of Audi. It also lacks features such as Android Auto and Apple CarPlay which should have been incorporated in a car of Rs. 35 lakh. Moreover, the omission of push-start button and keyless entry is a sheer disappointment. You can even find these features in 4 times inexpensive cars such as Maruti Suzuki's Vitara Brezza. Rest, the car is a good buy if you are considering a small luxury SUV with a powerful engine which is also fuel efficient. People will argue that for the price of Q3, there are plenty of other options such as full-fledged SUV like Endeavour and Fortuner. However, Audi Q3 does not disappoint on the premium aspects. Other than that, for people who love eye-catching luxury SUV in this class, they can go for Mercedes Benz GLA and also BMW X1, which is certainly a driver-oriented car.
Write your Comment on ಆಡಿ ಕ್ಯೂ3
ಆಡಿ ಕ್ಯೂ3 ಬಳಕೆದಾರರ ವಿಮರ್ಶೆಗಳು
ಆಧಾರಿತ
48 ಬಳಕೆದಾರರ ವಿಮರ್ಶೆಗಳು
All (37)
Mileage (5)
Performance (3)
Looks (10)
Comfort (13)
Engine (5)
Interior (9)
Power (5)
More ...
ಇತ್ತೀಚಿನ
ಸಹಾಯಕವಾಗಿದೆಯೆ
CRITICAL
Throttling diesel engine goes on with power on road. Its very nice to drive the smooth ongoing German Car which is gazing on road like the Elizabeth design. Design must b...ಮತ್ತಷ್ಟು ಓದು

We have Q3 since 2014 and till now the car is in the best conditions, the front bumper is top-notch and the rear bumper is also very good  ( can be better ) you can use i...ಮತ್ತಷ್ಟು ಓದು

This car is great in its segment. The interior and comfort and it offers are nice. The alloy wheels and headlamps are stunning.

This Car's A.C. performance is poor. The A.C. filter is replaced at every service interval of 15000kms, but in spite of the internal air circulation always on, the filter...ಮತ್ತಷ್ಟು ಓದು

I am extremely happy owning the Q3. Such a great car.Great power, great comfort, and this car is very capable for Offroad. The quality of this car, and the pleasure of dr...ಮತ್ತಷ್ಟು ಓದು

It gives you a great ride experience due to the comfortable and safe ride, and it comes with all the needed features. Drives are smooth whether you are driving in the cit...ಮತ್ತಷ್ಟು ಓದು

Value for money, stability for a vehicle, travel in the front, and excellent all over. Stylish interior design.

ಎಲ್ಲಾ ಕ್ಯೂ3 ವಿರ್ಮಶೆಗಳು ವೀಕ್ಷಿಸಿ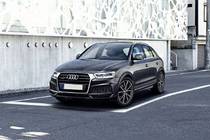 Rs. 32.2 ಲಕ್ಷ - 43.61 ಲಕ್ಷ*
ಈ ಕಾರಿನ ಮಾದರಿ ಅವಧಿ ಮುಗಿದಿದೆ