Hits The Right Chords
Hits The Right Chords
Design It's been almost six years since we first saw the car in the flesh. Still, it looks stylish, although, it has started to feel a bit long in the tooth. An update would do wonders to the car's appeal. Even after owning it for over two years with nearly 50,000km on the road, I still take second glances of the car after locking the doors in the parking lot. The futuristic flair of the exteriors is also carried over beautifully on the insides with a motorbike-inspired console. A glossy applique stretches from one end of the front door to the other, traveling across the entire dash giving a sense of flow. Features It's a bit low on features. Power mirrors and power folding are missing. Keyless entry with push-button start is also not available. A touchscreen infotainment system would've made it even more attractive, although, I don't miss it. It's better to have fewer features that are well-executed rather than a mess of hundred talking points. What's there, works well. Height-adjustable seat, steering, and front headrests make it really easy to find a comfortable driving position. It'd have been nice to have adjustable rear headrests as well. Space Six-footers can fit easily in the cabin as long as they're not sitting behind each other. The back seat is good only for two. Boot space is enough to get a toddler's stroller in and nothing exceptional. Headroom is excellent. What all that means is that space you use regularly is more than adequate while the back seat and the boot can be put to use occasionally. Space hasn't posed a problem for me 99% of the time. Engine The puny, 936cc, three-cylinder diesel engine makes only 57PS of power but its 142Nm of torque kicks in early to give you a good acceleration. Official word is that the peak torque comes at 1750rpm but a usable chunk of that steps in as early as 1600rpm making city-driving very easy. It also helps it attain good fuel efficiency as you're able to upshift at lower RPMs without sacrificing drivability. Fuel Efficiency This is the biggest reason why I chose this car. My Beat hasn't been far off from the official figure of 25.44kmpl. I've seen my real-world FE figure jump to 27kmpl on a highway trip. During regular usage, it stays in the 22-24kmpl range. To get good FE, I don't even have to crawl on the highway. I normally cruise between 80 and 90kmph, staying within the legal speed limits. Full disclosure: 90% of my commute is on the highway where the car enjoys ideal driving conditions. Drive It's not a handler but its relatively smaller height with wheels pretty much on the corners allow it to maintain legal highway speeds without feeling unnerving. Keep your expectations in check, know its acceleration limitations and the car will take you to where you want to go in reasonable comfort. Noise from 165-section tires does penetrate into the cabin but stays within limits considering its price. 175mm of ground clearance is also a boon and inspires confidence while going over potholes and tall speed breakers. Note: 165-section tires and 175mm ground clearance are only available with the diesel variants. Petrol trims get one notch less of both Little Things I've enjoyed owning the Beat and it's mostly because of things that almost always go unnoticed. And there are a bunch of them. 1. The steering is big, thick and contoured perfectly for the thumbs. 2. All the buttons are not only within reach but also ergonomically positioned. So they're exactly where you'd expect them to be. 3. The arm rest on the door pad is long enough to rest my entire forearm while the left hand manages the steering on the highways. 4. The passenger-side visor gets a mirror with a flap making it easy for my better half to check her lashes before exiting the car. 5. Car's height is good enough to not only ensure adequate headroom but also allowing for easier ingress and egress. 6. The front seats are perfectly bolstered to keep you locked in place while you go over bad roads. Even the soft fabric on center and rough patches on the edges of the seat helps in minimizing unnecessary motion. 7. Its compact dimensions allow me to get in and out of tight spaces. 8. Fuel efficiency is impossibly good and the maintenance costs haven't surprised me yet. Each service costs approximately Rs 4-5,000. Value It's the perfect car for me. Nothing else would've suited me better. I just hate the step-motherly treatment General Motors has been giving to its Indian customers with no fresh products for a long time. The company relies on year-long discounts and without those, I'd not even consider a Chevy. I got a good deal and was able to extract Rs 88,000 of flat cash discount. Your mileage may vary. I should take this opportunity to let you know that the dealer who walked the extra mile to make a customer (me) happy ran out of business. Lack of optional safety equipment in lower variants also makes it difficult to recommend. But if I were offered today a Beat diesel LS for Rs 4.7 lakh on-road, I'd pick it again over everything else.
ಚೆವ್ರೊಲೆಟ್ ಬೀಟ್ ಬಳಕೆದಾರರ ವಿಮರ್ಶೆಗಳು
ಆಧಾರಿತ
243 ಬಳಕೆದಾರರ ವಿಮರ್ಶೆಗಳು
ಎಲ್ಲಾ (243)
Mileage (145)
Performance (45)
Looks (175)
Comfort (142)
Engine (77)
Interior (69)
Power (64)
More ...
ಇತ್ತೀಚಿನ
ಸಹಾಯಕವಾಗಿದೆಯೆ
VERIFIED
CRITICAL
I bought beat base model before 2 year in 2016 sep (4.80) with front power window steering very smooth good space, can sit 5 people easily mileage 20 in city with A.c and...ಮತ್ತಷ್ಟು ಓದು

Within a short budget I choose this car. It gave me wonderful mileage. Not very comfortable at the rear seat but with 60:40 split option even in the lower models it gave ...ಮತ್ತಷ್ಟು ಓದು

Purchased in 2010 July, the car has been excellent mate in terms of a single-handed drive. Its been a true companion on highway driving, in 42 degrees temp of Gujarat, wh...ಮತ್ತಷ್ಟು ಓದು

I have BEAT Diesel car and it crossed almost 75000 KM running , But now I have started facing lot of problem 1] Engine is consuming oil , I have to replace it every 5000 ...ಮತ್ತಷ್ಟು ಓದು

I am using Chevrolet beat from past 4 years and was getting it serviced from Bosch service center. Don't know why I got my last service done from Chevrolet dealer on 31st...ಮತ್ತಷ್ಟು ಓದು

I have purchased Chevrolet beat Diesel model LT in Feb 2013, the car is really nice and compact still four persons can easily travel in this car rear seats are also havin...ಮತ್ತಷ್ಟು ಓದು

Our family has always been inclined towards buying Maruti. But I had to buy a diesel car with low budget. Decided to go for Beat LS diesel model. I must say am really imp...ಮತ್ತಷ್ಟು ಓದು

Its the 4th year - perfect hatchback for Indian traffic. Amazing size, powerful engine, best suits for a small family with terrific mileage as promised by the company ( v...ಮತ್ತಷ್ಟು ಓದು

ಎಲ್ಲಾ ಬೀಟ್ ವಿರ್ಮಶೆಗಳು ವೀಕ್ಷಿಸಿ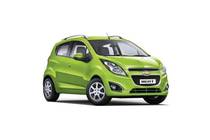 Rs.4.32 ಲಕ್ಷ - 6.57 ಲಕ್ಷ*
ಈ ಕಾರಿನ ಮಾದರಿ ಅವಧಿ ಮುಗಿದಿದೆ
ಬಳಕೆದಾರರು ಕೂಡ ವೀಕ್ಷಿಸಿದ್ದಾರೆ
Write your Comment on ಚೆವ್ರೊಲೆಟ್ ಬೀಟ್
×
We need your ನಗರ to customize your experience