ಅತ್ಯುತ್ತಮ VFM practical & safe car below 10 Lakh price point
Best VFM practical & safe car below 10 Lakh price point
Exterior is overall nice, but bright color options should be given and LED/DRLs/HID should be given as accessories atleast for styling and for modern looks. 4/5 star Interior (Features, Space & Comfort) Interiors are the functional and OK type not so great, funky dash colour doesn't look premium though. Front seats offer excellent comfort, while rear seats offer OK type comfort due to the fixed headrest, no 60:40 split and thigh support is OK type. 4/5 star. Engine Performance, Fuel Economy and gearbox are also excellent and USP of this car. 5/5 star. Safety features: Loaded with tons of safety features like ARP, traction control, Hill hold assist, Electronic Stability Control (an outstanding and unheard feature in this segment ), 6 airbags. Chassis is built well. So good mix of active & passive safety features. ( 6 out of 5 star rating here :) Ride Quality & Handling Outstanding in ride & handling, not stiffer nor soft. Perfect balance of sporty Vs comforts as I observed. Best in class and USP of this car. No other Car from any manufacturer matches in this dept. 6/5 star rating here :) ( polo & punto are other two contenders in this dept ) Service: Ford service costs is cheap unlike earlier but the quality at service centres, interaction with customers is improving but still not in the league of Maruthi or Hyundais. So, you can bear the service with excellency of the car. The product is outstanding but service is OK type. Together still on the +ve side. Final Words overall, this car is 4.5 out of 5, ( exterior styling & interior needs enhancements ) but when you match it with price, its definitely 5 out of 5 star rating. Areas of improvement Fixed rear head-rest, no 60:40 rear split seats, no Sporty Colour options like red, blue, all are plain jane colours. Interior funky colours given, not looking premium. T+ should have given higher tyre size option. No LED/DRLs/HID for styling & looks even as accessories (especially compared with competition).
ಫೋರ್ಡ್ ಫ್ರೀಸ್ಟೈಲ್ ಬಳಕೆದಾರರ ವಿಮರ್ಶೆಗಳು
ಆಧಾರಿತ
671 ಬಳಕೆದಾರರ ವಿಮರ್ಶೆಗಳು
ಎಲ್ಲಾ (671)
Mileage (175)
Performance (110)
Looks (108)
Comfort (138)
Engine (157)
Interior (65)
Power (154)
More ...
ಇತ್ತೀಚಿನ
ಸಹಾಯಕವಾಗಿದೆಯೆ
VERIFIED
CRITICAL
Overall it's good. Or more than good if you need a hatchback to cruise the city. It's safe as a tata, reliable as a Toyota, cheap as a Suzuki and ofcourse beautiful as a ...ಮತ್ತಷ್ಟು ಓದು

I got this car even after Ford quit India. This car is a beast. I would like to give ratings on the things that I have observed to date, and mind you these are my persona...ಮತ್ತಷ್ಟು ಓದು

I'm a proud Ford Freestyle Titanium Plus Diesel owner and I'm sharing my experience with you. So sit back relax and have a look. If you're one who is concerned or lo...ಮತ್ತಷ್ಟು ಓದು

Nice machine with exquisite interior and feature-rich. Fun to drive and lively experience on the road. Adding confidence while cruising

I own Freestyle Titanium Plus Petrol 1.2L. Amazing handling and driving experience. Control is really good and generates good power on highways. Indeed a very safe c...ಮತ್ತಷ್ಟು ಓದು

The petrol engine has some lack, mileage is average, but fun to drive, safety and ground clearance is awesome, good package for the money

A perfect combination of performance, safety, and reliability of SUV segment car in hatchback love driving Ford

What a car, super stable, mind-boggling performance, supreme breaking, steering accuracy.

ಎಲ್ಲಾ ಫ್ರೀಸ್ಟೈಲ್ ವಿರ್ಮಶೆಗಳು ವೀಕ್ಷಿಸಿ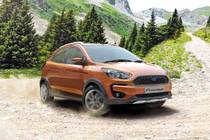 Rs.5.91 ಲಕ್ಷ - 9.03 ಲಕ್ಷ*
ಈ ಕಾರಿನ ಮಾದರಿ ಅವಧಿ ಮುಗಿದಿದೆ
ಬಳಕೆದಾರರು ಕೂಡ ವೀಕ್ಷಿಸಿದ್ದಾರೆ
Write your Comment on ಫೋರ್ಡ್ ಫ್ರೀಸ್ಟೈಲ್
×
We need your ನಗರ to customize your experience