ಅಮೇಜ್‌ not so amazing ನಲ್ಲಿ highway
Amaze not so amazing on highway
Amaze not so amazing on highway Recently I drove the Honda Amaze Diesel from Bengaluru to Gokak. Whatever the review i am giving here is in comparison to Honda Jazz itself as they share the same engine. I got this car from Myles and approx. 35km was driven. Let's start with the appearance. Exterior styling is not at all head turning neither you can live with it. However recent facelift of the Amaze can be accepted. The nose looks blunt and overall look from the front is a big disappointment. Being compact car, for its size, it looks much proportional in ratios. It doesn't seem to be compressed from any angle like Maruti Dzire or Ameo or any other compact segment car. Boot is fit into perfectly and the appearance from the back is seemingly ok. Honda Amaze is clear winner with 510 litres of boot space in its segment. Let's go in and see what it has got in for us. Biggest disappointment is the Honda Amaze's dashboard (Honda got it right with its recent facelift). I hated each and every design on the dashboard. Honda had completely lost its mind when it gave approval for dashboard design for Amaze. Unconventional looks and cheap plastics will never excite you. Driver seat was much comfortable. At long journeys, you never complain anything for seat cushioning or view you get from there. Of course, once you jump to back seat, initially you will feel that it is very comfortable, but once you are on long journeys, you will find that head rest is somewhat awkward. You don't feel comfortable in back seat. There is ample amount of leg space and head space and three can adjust in back seat. You get plenty of space to keep bottles, mobile and food items. I started driving in the evening in Bengaluru and traffic is always a worry here. But i got the best car to handle this. Amaze was really amazing when it came to beat the traffic. Steering is light and gearbox is not rubbery, no need to change gear again and again. Amaze is perfect car in city driving condition specially for the Bengaluru traffic condition. Honda has got very good diesel engine. Once you move out of the city and hit the highways, you will loose all that fun in driving in comparison with jazz. You miss the fun factor which you get on Jazz. Engine becomes bit noisy and there is bit of lag once you reach 1500rpm will remain till 2000rpm. But you can live with this. What Honda carries with all its car is its amazing fuel efficiency. I got 23+kmpl with amaze and truly practical. It stands out when it comes to fuel efficiency in its segment. Safety: It has got dual airbags and ABS and is quite safe to drive amaze. Verdict: If you can live with its design and dashboard then Amaze is good car for city driving. It brings in more practicality. Fuel efficiency and boot space is one of it plus points.
ಹೋಂಡಾ ಅಮೇಜ್‌ 2016-2021 ಬಳಕೆದಾರರ ವಿಮರ್ಶೆಗಳು
ಆಧಾರಿತ
1017 ಬಳಕೆದಾರರ ವಿಮರ್ಶೆಗಳು
ಎಲ್ಲಾ (1017)
Mileage (326)
Performance (156)
Looks (294)
Comfort (344)
Engine (235)
Interior (176)
Power (157)
More ...
ಇತ್ತೀಚಿನ
ಸಹಾಯಕವಾಗಿದೆಯೆ
VERIFIED
CRITICAL
perfect buy. Mileage is an issue in CVT. Rest is a smooth driving, comfort is good. The look is awesome, performance is best

Very good car, compared to other cars at the same price. Style, mileage, comfort are all decent.

Honda Amaze the big move supports best in a class spacious cabin and legroom which is comfortable for a family of 4 -5. Boot space is best in the segment and very us...ಮತ್ತಷ್ಟು ಓದು

I want to share my views about the Honda Amaze VX CVT petrol, top model, purchased on Jan 2021. Pros- 1. Good looking cars in this segment, 2. The end of t...ಮತ್ತಷ್ಟು ಓದು

Please do not buy Honda Amaze - any words are less to criticize this fraud car - the average mileage is only 12 kmpl. The company says the city average is low. The m...ಮತ್ತಷ್ಟು ಓದು

I have purchased Honda Amaze 2021 petrol auto transmission. I am very much disappointed after the purchase, previously I have used Hyundai fluidic Verna. Minus points in ...ಮತ್ತಷ್ಟು ಓದು

Perfect sedan for city and highways mileage, better than teen box Dzire and ugly Aura. Easily touches 165kmph in petrol

Good sedan with premium exterior and interior look .refined petrol engine with mileage up to 22 in the highway with 5th gear..amazing

ಎಲ್ಲಾ ಅಮೇಜ್‌ 2016-2021 ವಿರ್ಮಶೆಗಳು ವೀಕ್ಷಿಸಿ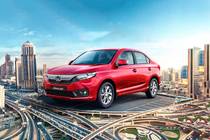 Rs.5.41 ಲಕ್ಷ - 11.11 ಲಕ್ಷ*
ಈ ಕಾರಿನ ಮಾದರಿ ಅವಧಿ ಮುಗಿದಿದೆ
ಬಳಕೆದಾರರು ಕೂಡ ವೀಕ್ಷಿಸಿದ್ದಾರೆ
Write your Comment on ಹೋಂಡಾ ಅಮೇಜ್‌ 2016-2021
×
We need your ನಗರ to customize your experience