Superdependable, Indestructible!
Superdependable, Indestructible!
It is the best off-roader available in India right now. First impression is that it is expensive to own and run for what it offers. The petrol engine is not economical at all, expect 8-9 km/l in the city and about 13 on the highway. It does not have the goodies that the basic entry level hatchbacks offer- no power steering, no power windows, no air conditioner. If you buy the soft top it is a pain to find a safe place to park the car. The suspension is 'bail gadi' suspension. The rear occupants will continuously keep cursing you how much ever carefully you may drive. But then if you consider what it offers, it starts to make sense for a guy like me who wants it for a bit of fun at Goa. The lack of creature comfort features start becoming an advantage- if an equipment is not fitted, it can never break! Uncomfortable it may be but you can seat 8 persons in reasonable comfort and (short!) trips like this one can be great fun. Open the soft top and it becomes a car that everyone wants to get a ride in. Now other benefits- It is very well built. Gear box is superb. Very quiet petrol engine. 4x4 capability is the best in India. Superb ground clearance- if the obstacle is less that 8 inches, you don't even have to look at it just go over. Broken roads, no roads, fields, small waterbodies, beaches, rocks, you cab just take it anywhere! Nothing breaks! Nobody messes around with you as Gypsies are mostly used by police and military. Service is very cheap- around 2k per six months. Summing it up, if you need a second car, Gypsy can be a lot of fun.
Write your Comment on ಮಾರುತಿ ಜಿಪ್ಸಿ
1
G
gosaitse khaneguba
Jul 14, 2020 12:31:20 AM
I too like the car so much, unpaved fun begins
ಪ್ರತ್ಯುತ್ತರ
1
D
dexter a
Aug 14, 2019 3:46:33 AM
Is gypsy parts will be available in India for next 10/7 years?
ಪ್ರತ್ಯುತ್ತರ
ಮಾರುತಿ ಜಿಪ್ಸಿ ಬಳಕೆದಾರರ ವಿಮರ್ಶೆಗಳು
ಆಧಾರಿತ
18 ಬಳಕೆದಾರರ ವಿಮರ್ಶೆಗಳು
ಎಲ್ಲಾ (18)
Mileage (2)
Performance (2)
Looks (3)
Comfort (1)
Engine (4)
Interior (2)
Power (5)
More ...
ಇತ್ತೀಚಿನ
ಸಹಾಯಕವಾಗಿದೆಯೆ
CRITICAL
It is the best off-roader available in India right now. First impression is that it is expensive to own and run for what it offers. The petrol engine is not economical at...ಮತ್ತಷ್ಟು ಓದು

Great SUV, it has the best offroad ability at such a cheap price but the interior could be a little better. Overall it's a great package and its time in 20...ಮತ್ತಷ್ಟು ಓದು

It's an awesome vehicle for Indian terrains with some additional upgrades you can have a smooth and nice offroad drive.

It's the best SUV for offroading and gets higher road performance due to its ground clearance but due to safety norms, it is soon going to be discontinued which would be ...ಮತ್ತಷ್ಟು ಓದು

Gypsy is a standard and popular vehicle in terms of youngsters choice but compared to other 4×4 vehicles mileage probably less and performance is apt for INDIANS.

Maruti Gypsy is an excellent 4WD Vehicle, probably the best in our country.

Maruti Gypsy has good built quality and it is the best offroader as compared to the other cars.

Hi, I am a commando of the Indian army. I felt like the Maruti Gypsy is one, which is the best for all seasons. Thank you.

ಎಲ್ಲಾ ಜಿಪ್ಸಿ ವಿರ್ಮಶೆಗಳು ವೀಕ್ಷಿಸಿ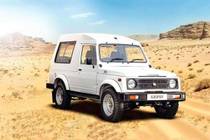 Rs. 4.99 ಲಕ್ಷ - 6.41 ಲಕ್ಷ*
ಈ ಕಾರಿನ ಮಾದರಿ ಅವಧಿ ಮುಗಿದಿದೆ
ಬಳಕೆದಾರರು ಕೂಡ ವೀಕ್ಷಿಸಿದ್ದಾರೆ
ಟ್ರೆಂಡಿಂಗ್ ಮಾರುತಿ ಕಾರುಗಳು