Poor service and defective product
Poor service and defective product
Hi Renault DL XC XX 7054 Duster Diesel I purchased limited edition duster adventure from your dealer Mayapuri Delhi in Jan 2017 through company lease After purchasing it I noticed that there is some annoying noise in brake paddle. After 2-3 weeks of purchase, I went to there service centre, they assured me that issue will be resolved. After repair, I noticed that brake paddle sound has no improvement but there was another sound started coming from front tyres after applying brakes...upon calling the service centre they told me that they have cleaned brake shoes etc. And advised me to visit again.... my office is in Gurgaon and I hardly get time to visit the service centre frequently...but somehow I went again there after few days..weeks, this time they told me that they have ordered some part under warrany and it will take some time and advised me to visit again....after some period I again visited your service centre and told them that regarding difficulty in changing gears...again same story...parts are being orderd please leave your vehicle or visit again... Since I have purchased this vehicleIi found many problems in this vehicle...your service center replaced repaird many things...like clutch plate brake shoe etc....but they are unable to resolve any of the problem so far....as i dont find time to go your service center every other day...i have no choice but to use substandard vehicle with heavy risk... - Gear shift problem still there - brake noise still there - Brakes are not reliable at all - Your technicians do know how to switch on off front fog lamps...do you know where is on off switch? - Airconditioning has some intermittent problem, sometimes during summer it swith off compressor for longer duration and we have no option but to open window. Your service center says everthing is ok with the AC system. - Cabin noise no improvement. Do you think you sold a defective vehicle to me? Or all the above problems are part of the standard product? Or your service center is incompetent.
ರೆನಾಲ್ಟ್ ಡಸ್ಟರ್ 2016-2019 ಬಳಕೆದಾರರ ವಿಮರ್ಶೆಗಳು
ಆಧಾರಿತ
295 ಬಳಕೆದಾರರ ವಿಮರ್ಶೆಗಳು
ಎಲ್ಲಾ (294)
Mileage (76)
Performance (41)
Looks (99)
Comfort (109)
Engine (58)
Interior (56)
Power (40)
More ...
ಇತ್ತೀಚಿನ
ಸಹಾಯಕವಾಗಿದೆಯೆ
VERIFIED
CRITICAL
Good Drive and smooth. If you go on a long drive you feel a better experience on Renault duster 85ps RXS.

Quite satisfied with Renault Duster AMT, the most economic SUV in the Indian market. Better performance than Creta. Looking better than Terrano.

Car is quite good, everything that I expected of it, but the service needs to improve a lot, Renault should look into that.

Very nice car for a long drive...I love it's driving and comfortable sitting and road grip...Thank you, Renault.

Excellent in class.. with stability and 4 wheel drive.. the negative are the advanced features like the small touch screen, 2 airbags only. Still very good car for City d...ಮತ್ತಷ್ಟು ಓದು

I never faced and the problem also the driving experience is fantastic in Renault Duster, much comfortable and has good mileage around 17 to 18 km/hr, the best of the Ren...ಮತ್ತಷ್ಟು ಓದು

Excellent for driving and safety. Lacks premium inner. Decent mileage and low cost of maintenance. Driving duster since 2014 and clocked 100000 km.

I had a dream of purchasing Renault duster as my first car, and it has come true by the help of low-interest scheme of Renault finance.

ಎಲ್ಲಾ ಡಸ್ಟರ್ 2016-2019 ವಿರ್ಮಶೆಗಳು ವೀಕ್ಷಿಸಿ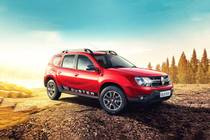 Rs.8.00 ಲಕ್ಷ - 13.89 ಲಕ್ಷ*
ಈ ಕಾರಿನ ಮಾದರಿ ಅವಧಿ ಮುಗಿದಿದೆ
ಬಳಕೆದಾರರು ಕೂಡ ವೀಕ್ಷಿಸಿದ್ದಾರೆ
Write your Comment on ರೆನಾಲ್ಟ್ ಡಸ್ಟರ್ 2016-2019
ಟ್ರೆಂಡಿಂಗ್ ರೆನಾಲ್ಟ್ ಕಾರುಗಳು
×
We need your ನಗರ to customize your experience