ZERO GRADE ವೈಶಿಷ್ಟ್ಯಗಳು ರಲ್ಲಿ {0}
ZERO GRADE FEATURES IN THE VEHICLE ... NON-SUPPORTIVE COMPAN
MY COMMENTS AFTER DISCUSSION WITH GM - AK SRIVASTAVA OF PADAM RENAULT, LUDHIANA, AND RAWAT OF RENAULT INDIA ... To all concerned ... I refer to my various REMINDERS on the very very poor and low-grade processing system provided in the vehicle due to which the below mentioned BIG ISSUES AND PROBLEMS are being faced by me. In this context, Mr.A.K.Srivastava of Padam Renault, Ludhiana arranged a conference call with Mr.Rawat and during our discussion, I have observed a very bad approach by Mr.Srivastava and Mr.Rawat. During our discussion, I could never feel that the approach of the said two persons' is anyway customers' oriented. Now, I am feeling that I have made a blunder by buying Renault product because neither the manufacturing company nor the sales agency is supportive. Though, during our discussion, you have ruled out the issues in the product but once again, I would like to remind and bring the following facts to your knowledge as refreshing drink ... No.1 ... If you go through my earlier correspondence, wherein I have mentioned that your Mr.Karan and Mr.Gaurav including your customer's care executive had a discussion with me on a conference call and during our discussion both of them had agreed that the processing system is little bit slow and told me that they have taken the feedback and get back to me soon. Also, one of these persons told me a very funny thing that Renault doesn't make their products keeping in view that the user is based at Ludhiana. After our discussion till the writing of this e.mail, I have sent 46 reminders but these two persons never came back to me. No.2 ... My vehicle was called in Padam Renault, Ludhiana to examine and express the issues to some of your technical people and per feedback received from Mr.A.K.Srivastava on phone, they have observed the problems and arranged a video for the same. They also informed me that the video clip has been sent to Renault India for observation and solution for the said problems, which mean that they feel the problems/issues are there. Otherwise, there was not need to arrange a video clip. No.3 ... So far, I have made a number of calls to Mr.A.K.Srivastava and every time, he told me that the problems have been referred to Renault India and the solution is only with the manufacturing company because the same can be cured at manufacturing end only. The sales agency can't do anything with the said issues/problems. No.4 ... Mr.Srivastava along with Mr.Gurdeep visited me to examine the vehicle. Both of these persons thoroughly checked, examined the vehicle and told me that the processing system is slow and only because of the same all the mentioned features connected to navigation system/screen are working slow . Mr.Gurdeep made a video clip and told me that they will forward it to Renault India for solution. They again admitted that there are issues but told me that the solution is only with the Renault India. Had there been no issues/problems, what was the purpose of video clip ????? Not understandable. I was expecting a supportive approach at least from the sales agency, but during my said conference call, I have observed that the representative of Padam Renault, Ludhiana was also playing a big game with me because he was conveying me something difference story, which is not at all good at the part of a person who is on Senior Post of GM, Services. He was not found to be firm at any point of discussion, which is a very bad luck for the progress of a car manufacturing company as well as the sales agency. It seems that he wants to keep LADOO in his both hands. My observation is ... BHAINS KE AAGEY BEEN BJANE KA KOI FAIDA NHI but I would like to have your comments on the above. ISSUES / PROBLEMS ... I PURCHASED RENAULT DUSTER RXZ 110PS AMT (D) ON 20TH MAY, 2016. SO FAR, I HAVE SENT 37 REMINDERS TO RENAULT, CHENNAI WITH COPIES TO ALL THEIR CONCERNED PERSONS, HIGHLIGHTING THE BELOW ISSUES BUT NO SOLUTION HAS BEEN PROVIDED. THE ISSUES ARE .... 1. Features on display and music system take about 25 seconds to start after switching on the ignition, whereas it should start instantly. Only RENAULT logo displayed on the navigation screen. 2. Fan gets ON only after the vehicle is started and that too after long waiting. We expect quick start of the fan like other vehicles during summer and humidity especially 3. While putting the reverse gear, camera signal on the screen appears after about 5-6 seconds whereas the vehicle immediately gets move ON even without wasting a second, which is a major drawback and can cause accident & damage to the vehicle. This feature is useless in the vehicle. It looks as if the same is not company fitted. 4. While putting the forward gear from reverse gear, it takes about 10-12 seconds to get the camera signal disappear from the screen. This feature is useless in the vehicle. It looks as if the same is not company fitted. 5. Blue Tooth? a) Voice clarity is very poor. c) Mobile connectivity on bluetooth is also very poor. Sometimes, it is missing the connection. b) While dialing and receiving calls, only mobile / contact numbers are displayed on the navigation screen (I mean to say that the name of calling person, stored in the mobile, does not appear on the screen), which is a major drawback because if I want to neglect any unimportant call during driving, I cannot do so. 6. GPS System? GPS system keeps on whipping for a long time after exit, which is very disturbing during driving. ALL THE ABOVE MENTIONED FEATURES ARE CONNECTED TO NAVIGATION SYSTEM WHICH IS VERY VERY SLOW AND OF POOR QUALITY AND NEED TO BE REPLACED OR UPGRADED. It seems that RENAULT has somewhere lacked on proper R&D on the features provided in the vehicle before launching. IT SHOULD BE TREATED AS A VERY SERIOUS MATTER.I look forward to an reply on the above. VERY POOR AFTER SALES SERVICE BY RENAULT. IT'S TOO BAD. KEEPING IN VIEW THE ABOVE MENTIONED PROBLEMS BEING FACED BY ME, I URGE THE NEW BUYERS TO PLEASE CROSS-CHECK TIME AND AGAIN BEFORE DECIDING TO BUY THIS VEHICLE HAVING VERY POOR AND LOW-GRADE PROCESSING SYSTEM.
ರೆನಾಲ್ಟ್ ಡಸ್ಟರ್ 2016-2019 ಬಳಕೆದಾರರ ವಿಮರ್ಶೆಗಳು
ಆಧಾರಿತ
294 ಬಳಕೆದಾರರ ವಿಮರ್ಶೆಗಳು
ಎಲ್ಲಾ (294)
Mileage (76)
Performance (41)
Looks (99)
Comfort (109)
Engine (58)
Interior (56)
Power (40)
More ...
ಇತ್ತೀಚಿನ
ಸಹಾಯಕವಾಗಿದೆಯೆ
VERIFIED
CRITICAL
Good Drive and smooth. If you go on a long drive you feel a better experience on Renault duster 85ps RXS.

Quite satisfied with Renault Duster AMT, the most economic SUV in the Indian market. Better performance than Creta. Looking better than Terrano.

Car is quite good, everything that I expected of it, but the service needs to improve a lot, Renault should look into that.

Very nice car for a long drive...I love it's driving and comfortable sitting and road grip...Thank you, Renault.

Excellent in class.. with stability and 4 wheel drive.. the negative are the advanced features like the small touch screen, 2 airbags only. Still very good car for City d...ಮತ್ತಷ್ಟು ಓದು

I never faced and the problem also the driving experience is fantastic in Renault Duster, much comfortable and has good mileage around 17 to 18 km/hr, the best of the Ren...ಮತ್ತಷ್ಟು ಓದು

Excellent for driving and safety. Lacks premium inner. Decent mileage and low cost of maintenance. Driving duster since 2014 and clocked 100000 km.

I had a dream of purchasing Renault duster as my first car, and it has come true by the help of low-interest scheme of Renault finance.

ಎಲ್ಲಾ ಡಸ್ಟರ್ 2016-2019 ವಿರ್ಮಶೆಗಳು ವೀಕ್ಷಿಸಿ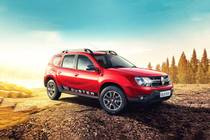 Rs.8.00 ಲಕ್ಷ - 13.89 ಲಕ್ಷ*
ಈ ಕಾರಿನ ಮಾದರಿ ಅವಧಿ ಮುಗಿದಿದೆ
ಬಳಕೆದಾರರು ಕೂಡ ವೀಕ್ಷಿಸಿದ್ದಾರೆ
Write your Comment on ರೆನಾಲ್ಟ್ ಡಸ್ಟರ್ 2016-2019
ಟ್ರೆಂಡಿಂಗ್ ರೆನಾಲ್ಟ್ ಕಾರುಗಳು
×
We need your ನಗರ to customize your experience