ಸ್ಕೋಡಾ Rapid: Skoda's ಪ್ರತ್ಯುತ್ತರ to VW ವೆಂಟೊ
Skoda Rapid: Skoda's reply to VW Vento
Look and Style Currently, I am an owner of Skoda Fabia from past six months. Now I am looking to buy another car for my wife. Since, I have a hatchback, so I am in mood to go for a sedan. After driving Skoda Fabia I became a huge fan of Skoda cars due to its mind blowing exteriors and high standard comfortable interiors. After research I found that Skoda is going to launch a new sedan Skoda Rapid in the market and the exterior design of all new Skoda Rapid is based on Volkswagen Vento. Comfort Being an experienced person of Skoda cars, I believe that Skoda cars are best in class to provide world class comfort and luxury to the customers. Based on my experience with Skoda Fabia, I believe this new sedan will offer the same sort of space like Volkswagen Vento. Pickup One of my friends has Volkswagen Vento that accelerates well to 100 Kmph in few seconds. Since the car shares same concept of Volkswagen Vento I believe it also sports similar pick up. Mileage From various websites I found that this new Skoda Rapid will introduce a new Mission L concept to the market which might help Skoda to deliver decent mileage. Best Features After experiencing, both Skoda Fabia and Volkswagen Vento, I am very much interested to know what more features Skoda will add in its new sedan. Since I feel both the cars are upto the mark with their elegant looks and comfortable interiors. The suspension and ground clearance of these cars are outstanding. I think Skoda Rapid will continue to flow with the tide. Needs to improve Too early to comment on the areas of improvement. Overall Experience Overall after my research and experienced with Skoda cars I am waiting enthusiastically for the launch of this sedan. Although the car is fully based on Volkswagen Vento, I prefer to go with Skoda Rapid as it is expected that Skoda will price this sedan lower than Vento. Since I will receive the same experience, might be better but at lower price, then why should I go with expensive one.
ಸ್ಕೋಡಾ ರಾಪೈಡ್ ಬಳಕೆದಾರರ ವಿಮರ್ಶೆಗಳು
ಆಧಾರಿತ
296 ಬಳಕೆದಾರರ ವಿಮರ್ಶೆಗಳು
ಎಲ್ಲಾ (296)
Mileage (94)
Performance (64)
Looks (85)
Comfort (97)
Engine (74)
Interior (50)
Power (53)
More ...
ಇತ್ತೀಚಿನ
ಸಹಾಯಕವಾಗಿದೆಯೆ
VERIFIED
CRITICAL
Skoda Rapid remains identical to the previous model in terms of design and dimensions but has been styled to make it look a bit sportier. The Monte Carlo edition particul...ಮತ್ತಷ್ಟು ಓದು

It is a good experience with Skoda Rapid. Just I like this Skoda Rapid feature. It is also good looking. So I am happy with this car.

Very nice driving experience, or smooth driving. Low maintenance cost, or very good diesel engine and mileage.

Excellent and robust car. Gives good mileage on the highway. I bought it in mid-2021 and drove around 60km, This gives a comfortable ride and good mileage of around 22kmp...ಮತ್ತಷ್ಟು ಓದು

At this price, it's the first choice. Skoda provides all high-level quality in this car. Like safety, power, etc. Nobody beat you with other cars, like Hyundai Verna, Hon...ಮತ್ತಷ್ಟು ಓದು

Classy and Punchy. No vehicle in this segment can match the performance. It's a bit high maintenance as the spares are costly.

I have a 2016 diesel model. After 5 years of running, also it works like new and mileage is better than they say. On the highway, this car can give up to 25-26kmpl a...ಮತ್ತಷ್ಟು ಓದು

Super satisfied fun to drive with the safety of a tank, superb fuel efficiency and awesome styling.

ಎಲ್ಲಾ ರಾಪೈಡ್ ವಿರ್ಮಶೆಗಳು ವೀಕ್ಷಿಸಿ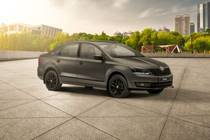 Rs.6.99 ಲಕ್ಷ - 13.49 ಲಕ್ಷ*
ಈ ಕಾರಿನ ಮಾದರಿ ಅವಧಿ ಮುಗಿದಿದೆ
ಬಳಕೆದಾರರು ಕೂಡ ವೀಕ್ಷಿಸಿದ್ದಾರೆ
Write your Comment on ಸ್ಕೋಡಾ ರಾಪೈಡ್
7 ಕಾಮೆಂಟ್ಗಳು
1
s
s k bagchi
Nov 14, 2016 8:29:46 PM
Can somebody tell me what could be indicative mileage of skoda rapid petrol after a few years? Will it be below 10 km per litre in the city? Also considering popularity of honda city is considerabely high in comparison to skoda rapid. Does new Ambition has similar exterior look with style ? Wold be of help if someone responds. Thanks
Read More...
ಪ್ರತ್ಯುತ್ತರ
Write a Reply
1
D
dj
Nov 14, 2013 12:41:37 PM
lol. You guys do realize that VW owns the Skoda brand right?
Read More...
ಪ್ರತ್ಯುತ್ತರ
Write a Reply
1
J
jayanta
Jun 10, 2012 2:46:56 PM
I need opinion of Users of Rapid / Vento to decide which is a better one -- Looks , interior facilities , seating comfort and service .
Read More...
ಪ್ರತ್ಯುತ್ತರ
Write a Reply
2
A
aaron reddy
Jan 21, 2016 1:45:50 PM
If you're looking for petrol go for Volkswagen vento TSI If you're looking for diesel go for Skoda rapid AT
Read More...
ಪ್ರತ್ಯುತ್ತರ
Write a Reply
ಟ್ರೆಂಡಿಂಗ್ ಸ್ಕೋಡಾ ಕಾರುಗಳು
×
We need your ನಗರ to customize your experience