ಆಡಿ ಕ್ಯೂ7 ಎ ಪೂರ್ಣಗೊಳಿಸಿ Package
Audi Q7 A Complete Package
Hi everybody, here is my first review on my biggest and most expensive car of my life, the Audi Q7. Before buying this beast, I already heard what this car is up to. I also heard a lot of positive reviews around Volvo's XC90, no doubt the car is excellent in terms of luxury and safety, but the dealership and service network is poor in India and did not want to take risk. So we decided to wait for a few months for launch of the facelifted Audi Q7. After the launch, me and my dad went to test drive the Audi Q7 at the Audi showroom. We both were so impressed by its looks and performance that without wasting a minute or giving it a second thought, we booked the car. All the formalities done, papers cleared and we came back home quite gratified. Sales person at the showroom was quite a decent guy, he helped us a lot regarding all the formalities, a big thanks to the sales person from my side. Audi Q7 is one of the premium cars and feels quite agile to drive while on the inside it offers lots of techs and goodies to get that sense of premium ness and luxury. The car offers lot of space with comfortable seats. Regarding the performance, there is no comparison at all. The car is designed to offer exceptional performance and Q7 does its job very well. Audi Q7 is massive in terms of size and its truly big. It's a pure pleasure to drive the mammoth car on the open roads and the engine is just perfect. Its strong road presence makes me proud of my decision. Everywhere I go it just catches the attention of the passer by. Audi Q7 marks as the first SUV in the Audi's portfolio and when it was first launched and after 10 years of lifespan, Audi Q7 still has that impact on market. The SUV did receive various updates and continues to impress its buyers. Audi A7 is powered by 3.0L V6 diesel mill that can generate the power output of 249PS and yields the maximum torque of 600Nm. The engine comes mated to eight-speed automatic gearbox and gets Audi?s Quattro AWD system. Audi Q7 delivers the claimed mileage of 14.75kmpl. Feature list includes panoramic sunroof, 360-degree surround-view camera, electronically controlled air suspension and Bose 3D sound system among many others. The car manages the harsh terrains quite well with hi-tech Quattro system and is off-course the capable off roader. So, in my opinion Audi Q7 is the perfect car for the elite customers who are fond of driving a luxury SUV in the city and occasional off-roading.
ಆಡಿ ಕ್ಯೂ7 2006-2020 ಬಳಕೆದಾರರ ವಿಮರ್ಶೆಗಳು
ಆಧಾರಿತ
29 ಬಳಕೆದಾರರ ವಿಮರ್ಶೆಗಳು
ಎಲ್ಲಾ (29)
Mileage (7)
Performance (7)
Looks (13)
Comfort (16)
Engine (5)
Interior (6)
Power (9)
More ...
ಇತ್ತೀಚಿನ
ಸಹಾಯಕವಾಗಿದೆಯೆ
CRITICAL
Its awesome interior and performance. It is the best SUV in India and its a good experience for me. I love this car.

Audi Q7 is the most powerful most luxurious safest SUV ever in and 2nd fastest SUV in India. You will always love to drive it. You will never get tired in long drive...ಮತ್ತಷ್ಟು ಓದು

It's a great SUV car with great driving experience. Safety Features are very good,It has a good & comfortable interior.

This car is great. Has a lot of great features including the Audi virtual cockpit which is just out of this world. The 4.2 engine has plenty of acceleration for its size....ಮತ್ತಷ್ಟು ಓದು

Firstly I love Audi, and this Audi Q7 is so powerful and I loved it's design. It is a awesome car from my opinion.

What's there to be priced at Rs 1cr. Ride quality is smooth and spacious. NOTHING ELSE. Steering isn't felt some much. Songs on multi infotainment system lag a few time. ...ಮತ್ತಷ್ಟು ಓದು

Audi Q7 is a spectacular SUV. Its interior is very spacious. I love its front look and the design.

ಎಲ್ಲಾ ಕ್ಯೂ7 2006-2020 ವಿರ್ಮಶೆಗಳು ವೀಕ್ಷಿಸಿ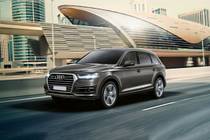 Rs.55.00 ಲಕ್ಷ - 87.70 ಲಕ್ಷ*
ಈ ಕಾರಿನ ಮಾದರಿ ಅವಧಿ ಮುಗಿದಿದೆ
ಬಳಕೆದಾರರು ಕೂಡ ವೀಕ್ಷಿಸಿದ್ದಾರೆ
Write your Comment ನಲ್ಲಿ ಆಡಿ ಕ್ಯೂ7 2006-2020
ಟ್ರೆಂಡಿಂಗ್ ಆಡಿ ಕಾರುಗಳು
ಆಡಿ ಎ4 2023

Rs.35.00 ಲಕ್ಷಅಂದಾಜು ದಾರ

ನಿರೀಕ್ಷಿತ ಲಾಂಚ್‌: ಜನವರಿ 02, 2023
×
We need your ನಗರ to customize your experience