ಆಡಿ ಆರ್‌8 - Breathtaking ಕಾರ್ಯಕ್ಷಮತೆ
Audi R8 - Breathtaking Performance
This is the car which I call as the rarest of the rarest car which scores meritoriously on both style and performance. A first glance at the car and the hypnotizing elements are evident with the hawk-like stance and unique spark which no other car expresses. The exteriors have veered off the conventional body design and boast of a predator like elements with sharp headlights and large front grille that efficiently drapes down the bottom. The plus version of Audi R8 V10 is marked by the use of carbon fiber across the body with ceramic brakes and bucket seats. Unlike the German cousin Huracan, a large glass engine cover has been fixed as a standard fitment. The car proudly houses the 5.2 litres naturally aspirated V10 engine which produces thundering 602 bhp and 560Nm of torque. In conjunction with the 7-speed S-Tronic transmission, it roars to reach the 100kmph in just 3.2 seconds and has the potential to attain the top speed of 330kmph. The cabin inside is completely driver-oriented, but one should not expect roomier cabin in this type of vehicle. In India, the V10 Plus is the only variant for purchase, this makes the buyer hassle free from hankering after variety of options. The monster is available at Rs. 2.47 crores, at this price, it is one of the most sensible supercars to be in.
Write your Comment on ಆಡಿ ಆರ್‌8
ಆಡಿ ಆರ್‌8 ಬಳಕೆದಾರರ ವಿಮರ್ಶೆಗಳು
ಆಧಾರಿತ
16 ಬಳಕೆದಾರರ ವಿಮರ್ಶೆಗಳು
All (11)
Performance (3)
Looks (3)
Comfort (1)
Engine (3)
Interior (1)
Power (1)
Price (1)
More ...
This is the car which I call as the rarest of the rarest car which scores meritoriously on both style and performance. A first glance at the car and the hypnotizing eleme...ಮತ್ತಷ್ಟು ಓದು

Audi R8 is a car which we can say is the king of cars. Like a king, it performs a superbly and delivers an amazing experience. If anyone drives it once, he/she won't be l...ಮತ್ತಷ್ಟು ಓದು

One of my favourite dream cars. I have experienced the red Audi R8. Its engine roar is like winning the World War. Its alloy wheel design is like a beauty of seven wonder...ಮತ್ತಷ್ಟು ಓದು

Awesome car to drive. A perfect combination of luxury and racing...The car is a next-gen beast machine...

AUDI IS ALL about precision. This is true of how its cars are designed, how they are engineered, how they are put together and how they drive. Think about it. There is no...ಮತ್ತಷ್ಟು ಓದು

The best feature with nice control. Comfortable zone with a clean drive. Power brake with a good sensor. Audi R8 V10.

ಎಲ್ಲಾ ಆರ್‌8 ವಿರ್ಮಶೆಗಳು ವೀಕ್ಷಿಸಿ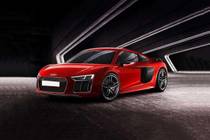 Rs. 2.72 ಕ್ರ*
ಈ ಕಾರಿನ ಮಾದರಿ ಅವಧಿ ಮುಗಿದಿದೆ