Awesome And Recommanded To All
Awesome And Recommanded To All
I bought the Chevrolet Cruze 1 year back. I was a little bit confused with the budget but my parents/relatives insist me for this car and I am damn happy now with the performance of this car. You will really get shocked when you see the pick-up of this car and interiors like you sit in a cockpit. Also, it's a rumour that Cruze's maintenance is very high but believe me guys, It's not. When we talk about the exterior of this car, It gives you a spotlight when you go somewhere. I would also recommend to all for LTZ variant as there is no major difference between variants and LTZ is the top model. As far as concern, car service cost, it's around 6-7k per service on 10k km or 6 months (Which ever comes first) so I don't think that If you are able to buy this fantastic car then it's not a big deal. My final conclusion is that if you are thinking about comfort, look & speed, you must go for it. Go for it guys. 100% recommended.
Write your Comment on ಚೆವ್ರೊಲೆಟ್ ಕ್ರೂಜ್
1
R
rahul kalee
Sep 1, 2020 10:00:19 PM
Which model is more powerful 2012 2.0 or 2014 2.0 model is powerful
ಪ್ರತ್ಯುತ್ತರ
1
P
prasad c
Jun 19, 2020 12:31:24 PM
I bought the Chevrolet Cruze 2018 last generation model. I am very happy and satisfaction with this car.When we travel to long area we can easily overtake other premium cars also have good comfort.
ಪ್ರತ್ಯುತ್ತರ
1
A
amol
Aug 13, 2019 8:58:24 PM
What kind of engine oil u use if ur getting ur car service within 6-7k
ಪ್ರತ್ಯುತ್ತರ
ಚೆವ್ರೊಲೆಟ್ ಕ್ರೂಜ್ ಬಳಕೆದಾರರ ವಿಮರ್ಶೆಗಳು
ಆಧಾರಿತ
82 ಬಳಕೆದಾರರ ವಿಮರ್ಶೆಗಳು
ಎಲ್ಲಾ (82)
Mileage (38)
Performance (14)
Looks (45)
Comfort (40)
Engine (29)
Interior (19)
Power (25)
More ...
ಇತ್ತೀಚಿನ
ಸಹಾಯಕವಾಗಿದೆಯೆ
CRITICAL
I bought the Chevrolet Cruze 1 year back. I was a little bit confused with the budget but my parents/relatives insist me for this car and I am damn happy now with the per...ಮತ್ತಷ್ಟು ಓದು

Chevrolet's Cruze is technically updated, the best sedan in India under 17 lakh of range. The design given to this car especially from side is awesome, and it gives a lux...ಮತ್ತಷ್ಟು ಓದು

Chevrolet Cruze is the best car, though I have a diesel variant but power is massive. And there are no complaints with its look its just amazing I love this car very much...ಮತ್ತಷ್ಟು ಓದು

I own the Cruze 2012 model. Power is now up to a substantial 164bhp with the torque swelling to a meaty 38.7kgm. The primary focus of the engine tweak has been to improve...ಮತ್ತಷ್ಟು ಓದು

The Cruze is a seriously smooth car, from its slippery shape to the way its doors shut. In large part, Cruz's smoothness is derived from its impeccably compliant suspensi...ಮತ್ತಷ್ಟು ಓದು

I purchased Cruze in Oct 2011. What they project and what is actual has much difference. I am a smooth driver which drives maximum time in local. I found smooth runn...ಮತ್ತಷ್ಟು ಓದು

Car with Class and Power, Cruze is looking stunning with its performance and look. Car is spacious and comfort is really good. Can say it is the best car in the class (My...ಮತ್ತಷ್ಟು ಓದು

I love Chevrolet car I always look into that in all site of second-hand cars. my first car is Aveo in the year of 2006, which was giving me not less than 18 km per ltr an...ಮತ್ತಷ್ಟು ಓದು

ಎಲ್ಲಾ ಕ್ರೂಜ್ ವಿರ್ಮಶೆಗಳು ವೀಕ್ಷಿಸಿ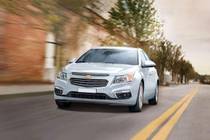 Rs. 13.95 ಲಕ್ಷ - 17.45 ಲಕ್ಷ*
ಈ ಕಾರಿನ ಮಾದರಿ ಅವಧಿ ಮುಗಿದಿದೆ
ಬಳಕೆದಾರರು ಕೂಡ ವೀಕ್ಷಿಸಿದ್ದಾರೆ
×
We need your ನಗರ to customize your experience