ಸೂಪರ್‌ Caaaaar
Superb Caaaaar
Excellent pickup: Look and Style is Awesome. This is my fourth review recently completed my Vizag trip. Excellent Comfort: In through out Vizag trip we never felt uncomfortable, I hope Chevy cars are more comfortable than others.The only problem with chevy is bad customer service(I have faced). Mileage: No words to say in heavy Hyderabad city trafic am getting around 16 to 18 kmpl with avg AC. Recently, I went to Vizag in my car with my wife and 2 bags, at an average speed of 110-120kmph. I got the mileage around 19+ kmpl (from Secunderabad to Vizag via Vijayawada. Started at 6 AM from Secunderabad reached Vizag at 8 30 PM). In Vizag city and surrounding traffic conditions I got around 18+ kmpl with 6 people(driven around 600 km-Simhachalam,Arasavelli,Sri Koormam, Bheemili and some other local places). While return to Hyderabad I have startred at 3 30pm from Vizag reached Rajahmundry at 7:30PM. Night stay at RJY. Again started in the morning at 10 AM from RJY and reached Hyderabad at 8 30 PM via Vijayawada. maintained speed limit between 70-80kmph (with simple and smooth pickup, no harsh braking, maintaing speed limits, maintaining gear ratio, with less AC, slightly opened window while AC swiched off, etc), some times 90-100kmph (very rarely), 25 km drive in RJY (from 7 45pm to 8 30 pm) local city traffic, 45 mts drive in Vijayawada city traffic (from 2pm to 2 45pm) and 1h 30mts drive in Hyderabad traffic (from 7 00pm to 8 30pm) I got 25.87 KMPL. I hope it will give more mileage without AC and Highway to Highway driving without entering into city. Best Features: Performance and mileage anyways mileage depends on individual driving habits I learnt few techniques and am applying those. Overall Experience: Awesome. I will again update soon.Thanks.
ಚೆವ್ರೊಲೆಟ್ ಸೈಲ್ ಬಳಕೆದಾರರ ವಿಮರ್ಶೆಗಳು
ಆಧಾರಿತ
56 ಬಳಕೆದಾರರ ವಿಮರ್ಶೆಗಳು
ಎಲ್ಲಾ (56)
Mileage (42)
Performance (11)
Looks (46)
Comfort (44)
Engine (19)
Interior (17)
Power (15)
More ...
ಇತ್ತೀಚಿನ
ಸಹಾಯಕವಾಗಿದೆಯೆ
VERIFIED
CRITICAL
It is a unique comfort luxurious family car, road-gripping is very good, well balanced on motion, air conditioning is very good and its a totally safe and secured car.

I'm owing Sail LT model and Happy with Performace, Pickup & milage.The only thing that i am facing issue in Suspension / Ground clearance, Lower body touches Speed br...ಮತ್ತಷ್ಟು ಓದು

I have purchased sail sedan in december 2013. I am feeling happy about two months But after two months average is very week about 12-14 kms per liter. I am going to servi...ಮತ್ತಷ್ಟು ಓದು

Chevrolet sail is the best car though i have a diesel varient but power is massive. And there are no complaints with its look its just amazing I love this car very much a...ಮತ್ತಷ್ಟು ಓದು

Loved my Chevy Sail in first look named it as Maverick. Wonderful, spacious, perfect family car. Looks like younger brother of Muscular Chevy Cruze. I myself designed and...ಮತ್ತಷ್ಟು ಓದು

I am an infrastructure & earth moving, works contractor. my job demands lot of travel and mostly to stone quarries and work sites ,where you seldom find good roads. I...ಮತ್ತಷ್ಟು ಓದು

I have driven almost all cars of world, ranging from mustang, dodge charger, BMW, etc. But I found Chevrolet sail has unmatched pickup. It makes you stick to the back of ...ಮತ್ತಷ್ಟು ಓದು

ಎಲ್ಲಾ ಸೈಲ್ ವಿರ್ಮಶೆಗಳು ವೀಕ್ಷಿಸಿ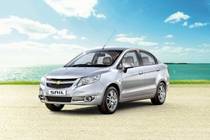 Rs.5.77 ಲಕ್ಷ - 8.44 ಲಕ್ಷ*
ಈ ಕಾರಿನ ಮಾದರಿ ಅವಧಿ ಮುಗಿದಿದೆ
ಬಳಕೆದಾರರು ಕೂಡ ವೀಕ್ಷಿಸಿದ್ದಾರೆ
Write your Comment on ಚೆವ್ರೊಲೆಟ್ ಸೈಲ್
2 ಕಾಮೆಂಟ್ಗಳು
1
S
s sundararajan
Apr 19, 2015 6:59:52 AM
Don't buy any product of Chevy...I bought chevy sail top end model with huge imagination..from day one it is a problem, heavy noise, gears not moving in 1st and second! Clutch, it require very heavy operation to move the Vechicle. Sundaram Motors kept the Vechicle for 15 days for checking fuel efficiency. they promised 18.8 km per liter in the prospectus, net, but it gives pathetic less than 7 Kms per litre. The dealer iSundaram Motors is all the more worst, arrogant, top management is not approachable for customer Grievance. I am filing legal criminal complaint against the top management of both companies, for replace of Vechicle under Wareanty, as my protracted correspondence for 9 months didn't yield nay results.thanks to car Delhi for airing my views.
Read More...
ಪ್ರತ್ಯುತ್ತರ
Write a Reply
1
k
krishna
Dec 10, 2014 11:24:50 AM
And one more concern is steering is very unstable at high speeds.Up to 120 -130 its fine after tat it vibrates a lot.
Read More...
ಪ್ರತ್ಯುತ್ತರ
Write a Reply
×
We need your ನಗರ to customize your experience