The Vehicle IS Absolutely Fine
The Vehicle Is Absolutely Fine
The authorised service centre in Gurgaon (Apex Motors) is a horrendous place to be stuck with! I love my TAVERA and am perfectly satisfied with all its performance parameters. It certainly isn't the 'hottest' thing on the road, but Tavera is a fine workhorse for family rides. However I can say with absolute conviction, that if I had known about the shoddy workmanship, questionable job-ethics, lack of accountability and total disregard to the concept of customer care; (not to mention their sheer 'customer-fleecing quotient') - shown consistently by the shop crew and managerial staff at the sole 'authorised GM service centre' in Gurgaon, I would never have decided to go in for the Tavera (howsoever much had I wanted to!). Dealing with the constant excuses and inefficient work-culture at Apex has been nothing short of a Nightmare for me!
Write your Comment on ಚೆವ್ರೊಲೆಟ್ ಟಾವೆರಾ
1
P
prakash
Jun 27, 2018 3:48:22 PM
I like this car tavera
ಪ್ರತ್ಯುತ್ತರ
1
N
n.s.shanmugasundaram
Jan 16, 2013 9:28:41 PM
i am very much attracted by this vehicle and travelled bit in it and felt comfortable, But like all other cars , I am afraid of, after sale service . The dealer is very courteous and cordial till he takes the cheque and after that they are totally different people. M.V.Tax metioned is more than actual amount. Servie Stations are perfect examples of 420s. So I am hesitant to buy this.
ಪ್ರತ್ಯುತ್ತರ
1
V
v.mitra
Mar 29, 2012 12:05:21 PM
I too agree. I have an Optra and just hate to go to Apex for maintenance.
ಪ್ರತ್ಯುತ್ತರ
ಚೆವ್ರೊಲೆಟ್ ಟಾವೆರಾ ಬಳಕೆದಾರರ ವಿಮರ್ಶೆಗಳು
ಆಧಾರಿತ
4 ಬಳಕೆದಾರರ ವಿಮರ್ಶೆಗಳು
ಎಲ್ಲಾ (4)
Mileage (2)
Performance (1)
Looks (1)
Comfort (3)
Engine (1)
Seat (1)
Experience (2)
More ...
Nice experience, nice comfort, very nice car but not nice sound quality per user

Though it doesn't cope up with the present generation car models it gives you enough comfort to drive and travel and makes your journey a remarkable memory. The engine ru...ಮತ್ತಷ್ಟು ಓದು

Look and Style simple and best Comfort very comfortable in both city and highways Pickup massive pickup Mileage good compare to other muv in india Best Features comfort i...ಮತ್ತಷ್ಟು ಓದು

The authorised service centre in Gurgaon (Apex Motors) is a horrendous place to be stuck with! I love my TAVERA and am perfectly satisfied with all its performance parame...ಮತ್ತಷ್ಟು ಓದು

ಎಲ್ಲಾ ಟಾವೆರಾ ವಿರ್ಮಶೆಗಳು ವೀಕ್ಷಿಸಿ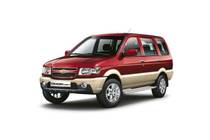 Rs. 8.54 ಲಕ್ಷ - 11.58 ಲಕ್ಷ*
ಈ ಕಾರಿನ ಮಾದರಿ ಅವಧಿ ಮುಗಿದಿದೆ
ಬಳಕೆದಾರರು ಕೂಡ ವೀಕ್ಷಿಸಿದ್ದಾರೆ