Really a nice car!!
Really a nice car!!
Look and Style I will give 9 out of 10 for look and style. They have maintained a "Premium" look for a small budget car. Comfort Seating is good. A lot of leg space for front and back seat. Head area is not height adjustable. But still it doesn't feel bad. They provided it with good boot space too. Pickup 1200cc engine, its really amazing. Definately, good pickup. Mileage I only just bought it. But as from my friend it is between 17-18km/l in Cities with A/C. Ony Petrol variant is available. I will update mine after my first service. Hope for the best. :D Best Features Not many features included. But the "Mobile Holder" in the default stereo system is definitely a nice feature. But the default Stereo system is just a box with an AUX port, a USB charging port, ON/OFF button and a Volume control. Nothing else. Front door speakers only. Lots of accessories are available to improve security and styling. You can make this a sportish car with an additional 80K :D Needs to improve The dashboard can be a little more stylish. They really need to include some more accessories as default. Since power steering and A/C is not there in base model D, D1 and I think only T model has power steering. Body looks like to be light weight. Overall Experience I brought GO with an amount of Rs. 4.65 on-road in April 2015. I think it's a good option in this price range with premium design and mileage and 1200cc.
ಡಟ್ಸನ್ ಗೋ ಬಳಕೆದಾರರ ವಿಮರ್ಶೆಗಳು
ಆಧಾರಿತ
250 ಬಳಕೆದಾರರ ವಿಮರ್ಶೆಗಳು
ಎಲ್ಲಾ (249)
Mileage (86)
Performance (36)
Looks (56)
Comfort (69)
Engine (62)
Interior (20)
Power (41)
More ...
ಇತ್ತೀಚಿನ
ಸಹಾಯಕವಾಗಿದೆಯೆ
VERIFIED
CRITICAL
Excellent performance. Wonderful experience. I have faced never any problem. Zero maintenance car. Average mileage 15kmpl. Go for it.

Cabin size is decent, driving is zippy in the city but too much cabin noise on bad roads.

After 25000 km of Datsun GO. I feel very happy to share my reviews over here. No more problems, and issues with the exterior and interior. Complete satisfaction...ಮತ್ತಷ್ಟು ಓದು

Great entry-level hatchback. Driving the T version since 2016, never experienced any trouble while driving. Engine performance is excellent in the city and also good in h...ಮತ್ತಷ್ಟು ಓದು

It's an excellent car with great engine, lots of space as good or better than sedan. Mileage is better than any other 1.2 cc car. Pick up is superb.

Completed 7 years. 50,000km driven. Good power, great mileage, it's the T variant. It's very easy at 90-100 but the way many drive, don't recommend going that f...ಮತ್ತಷ್ಟು ಓದು

Very nice car it's just the body of the car that is extremely soft and gets dent easily so if you get into an accident good luck not a safe car at all even with airbags.

I have a 2016 Datsun Go and it runs like a bomb. I use the car daily for work and travel a lot of mileage. The car is more than Satisfactory. The only problem I have is t...ಮತ್ತಷ್ಟು ಓದು

ಎಲ್ಲಾ ಗೋ ವಿರ್ಮಶೆಗಳು ವೀಕ್ಷಿಸಿ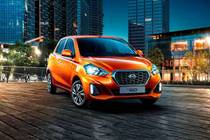 Rs.3.26 ಲಕ್ಷ - 6.51 ಲಕ್ಷ*
ಈ ಕಾರಿನ ಮಾದರಿ ಅವಧಿ ಮುಗಿದಿದೆ
Write your Comment on ಡಟ್ಸನ್ ಗೋ
9 ಕಾಮೆಂಟ್ಗಳು
1
N
naveennandwani
Nov 21, 2016 9:37:37 PM
i want a car commerchial 4ola
Read More...
ಪ್ರತ್ಯುತ್ತರ
Write a Reply
1
v
vivek
Jul 2, 2015 2:40:43 PM
please call me ...
Read More...
ಪ್ರತ್ಯುತ್ತರ
Write a Reply
1
v
vivek
Jul 2, 2015 2:40:17 PM
call back required.
Read More...
ಪ್ರತ್ಯುತ್ತರ
Write a Reply
×
We need your ನಗರ to customize your experience