Complete Dopey.
Complete Dopey.
Does that look like a supercar by any means. I mean it's just nasty, looks like an ugly fish, if u can't build something beautiful, build normal sheets why trying to leap too long, the market here prospers on stuffs like Wagnor and Swift why build such an ugly stuff and call it a supercar, putting a shame to nation again, this car stands nowhere and just building into a shape of Lambo anyhow doesn't mean it has any aggressive aero, can anyone give the functions of front vent or rear diffuser or side skirts, no just tell me how many horses does the engine produce, torque or any stuff like 0-60mph time quarter-mile time. A supercar is defined on these terms and I think a ford focus will beat this car in every of these, let alone the European exotics. Man, grow up, bring some serious stuff, you can't hide the truth in the name of patriotism. This car stands nowhere in the international arena. And again, I could have come up with a better design than this, way too better.
Write your Comment on ಡಿಸಿ ಅವಂತಿ
ಡಿಸಿ ಅವಂತಿ ಬಳಕೆದಾರರ ವಿಮರ್ಶೆಗಳು
ಆಧಾರಿತ
33 ಬಳಕೆದಾರರ ವಿಮರ್ಶೆಗಳು
All (33)
Mileage (2)
Performance (2)
Looks (16)
Comfort (3)
Engine (5)
Interior (8)
Power (4)
More ...
ಇತ್ತೀಚಿನ
ಸಹಾಯಕವಾಗಿದೆಯೆ
VERIFIED
CRITICAL
Very nice car. Most stylish and most powerful car. This car design is very nice. This is my dream car.

India's no.1 stylish and sports car. Comparison of other sports cars gives the best mileage. Genuine and looking awesome.

Cool car than any BMW car... Makes rocking impression in public. All safety equipment is installed. The body design is awesome (rear and front look). Seats are very soft ...ಮತ್ತಷ್ಟು ಓದು

Exterior shows sporty and supercar looks. Interiors have to be more OEM type rather than modification. Car worth for the cost. Other sports cars start at 90 lakhs. This c...ಮತ್ತಷ್ಟು ಓದು

It is the best car I like this car it is very comfortable it stile is comfortable it looks very beautiful.

It's my dream car I wanted to buy a sports car at low cost... So I prefer to buy a dc Avanti... It's a nice car and it's a bomb car.

Its a shitty car with sports exterior... cheap interior no airbags not even automatic not even having a perfect sports display no electronic adjustable seats.

The DC Avanti is like a dream car. Best car and affordable price. I love this car.

ಎಲ್ಲಾ ಅವಂತಿ ವಿರ್ಮಶೆಗಳು ವೀಕ್ಷಿಸಿ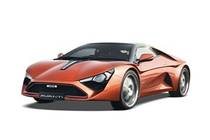 Rs. 48.0 ಲಕ್ಷ - 60.0 ಲಕ್ಷ*
ಈ ಕಾರಿನ ಮಾದರಿ ಅವಧಿ ಮುಗಿದಿದೆ
ಬಳಕೆದಾರರು ಕೂಡ ವೀಕ್ಷಿಸಿದ್ದಾರೆ