Test Drive Review ಅದರಲ್ಲಿ avventura
Test Drive Review Of Avventura
Look and Style- Full marks on look and style. The car really does look awesome. Comfort- Quiet comfortable Pickup- Not that great. Could have been better Mileage- N/A Best Features- The pricing is very competitive. Much below the Ecosport against which it competes. Also, they are giving alloy wheels in the basic model as well. That's a good one. Needs to improve- To open the boot one first needs to open the spare wheel mounted on the back and then open the boot. That's a bit tedious. Overall Experience- I test drove the Avventura and the Ecosport. And honestly, I found the Ecosport much better than Avventura in terms of build quality, driving experience, pick up and interiors. If you can push your budget by a lakh then please go for the Ecosport.
Write your Comment ನಲ್ಲಿ ಫಿಯಟ್ avventura
1
p
prasanta
Mar 12, 2016 10:48:55 PM
I drove ecosport owned by one of my friends and found ecosport faster than my avventura but above 120 km/h speed the steering became over responsive. the steering of my avventura dynamic (d) remanis steady even at 140+.
ಪ್ರತ್ಯುತ್ತರ
1
r
rajat
May 22, 2015 9:03:09 AM
actually you might have driven the test vehicle of avventura, or very less driven, initially the pickup is a bit sluggish, and once it reaches 3000 KM mark ,engine performance improves drastically, i experienced the same, and its giving me decent mileage of 16 kmpl in local and 22 on long runs thats more that satisfactory by this powerful machiene. its pickup is way better than dzire,swift and amaze but yes ecosport is good vehicle but its 2 lakh costly, and it competes with polo and etios and its far better than these hatches. for 8 lakh rs its the best buy and if you can strech to 10 lakh than go for ecosport. but for sure avventura will not let you down and wont burn hole in pocket
ಪ್ರತ್ಯುತ್ತರ
1
J
jayant
Mar 27, 2015 9:55:19 PM
Fiat product is no.1 each and everytime i like fiat model.
ಪ್ರತ್ಯುತ್ತರ
2
R
ravindra dhurve
Apr 19, 2015 9:26:22 PM
Yes Mr.Jayent you are right..Iam also fond of Fiat.
ಪ್ರತ್ಯುತ್ತರ
ಫಿಯಟ್ avventura ಬಳಕೆದಾರರ ವಿಮರ್ಶೆಗಳು
ಆಧಾರಿತ
7 ಬಳಕೆದಾರರ ವಿಮರ್ಶೆಗಳು
ಎಲ್ಲಾ (7)
Mileage (4)
Performance (1)
Looks (6)
Comfort (5)
Engine (4)
Interior (4)
Power (3)
More ...
ಇತ್ತೀಚಿನ
ಸಹಾಯಕವಾಗಿದೆಯೆ
CRITICAL
Compact SUVs are all rage these days. Fiat also decided to foray in the segment with its compact SUV Avventura a few years back. Though, by looks and purpose, it's more l...ಮತ್ತಷ್ಟು ಓದು

Good to see it and I want to know the price of the car...Fiat Avventura is great innovation by Fiat...

This is my first car which I love. When I saw this car this car I was astonished by its looks. The swept back headlamps, the skit plate, sparkling orange colour and the t...ಮತ್ತಷ್ಟು ಓದು

Look and Style: Undoubtedly the best looking car in the segment in terms of exteriors and interiors, rear wheel adds an SUV look while big alloys give the attitude and st...ಮತ್ತಷ್ಟು ಓದು

Look -This is what makes you to at least go and have a look at the car. The catchy wheel and the roof, mountings. Comfort- Yes, in fact, good. They have increa...ಮತ್ತಷ್ಟು ಓದು

Look and Style: Fiat has just put a new cover on the Punto Evo and named it as Avventura, the CUV as they call looks good only in the picture but is a head turner in real...ಮತ್ತಷ್ಟು ಓದು

Look and Style- Full marks on look and style. The car really does look awesome. Comfort- Quiet comfortable Pickup- Not that great. Could have been better Mileage- N/A Bes...ಮತ್ತಷ್ಟು ಓದು

ಎಲ್ಲಾ avventura ವಿರ್ಮಶೆಗಳು ವೀಕ್ಷಿಸಿ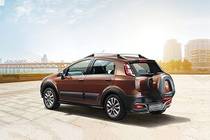 Rs. 6.80 ಲಕ್ಷ - 8.84 ಲಕ್ಷ*
ಈ ಕಾರಿನ ಮಾದರಿ ಅವಧಿ ಮುಗಿದಿದೆ
ಬಳಕೆದಾರರು ಕೂಡ ವೀಕ್ಷಿಸಿದ್ದಾರೆ
×
We need your ನಗರ to customize your experience