ಅತ್ಯುತ್ತಮ Petrol Engine of India under 12 lakhs
Best Petrol Engine of India under 12 lakhs
Look and Style : It's contemporary design is really for those who really like smoth lines and soothing feel. Comfort: Most comfortable ride under 12 lakhs car in India. Pickup: 114 PS and a shooting F1 pick up after 1500 rpm makes you feel you bought a racing car. Mileage: 12kmpl in the city and 15kmpl on the highways Best Features: Engine first of all and disc brakes on all wheels and the biggest tyres which we get only in Audi, Merc or BMW no brand except FIAT. Needs to improve: Just a revesing camra that's it. Overall Experience: I think I have an AUDI as well in my house but I feel to drive this car more in the city becuase of it's dynamics and easy to use feeling. The main thing is this T-Jet motor is imported and made in Italy as well as it's seats every nut and thread used in this car is MADE IN ITALY and that's why you can feel it as you touch the accelerator. What a car!!!! Best sports car for poor people like me.
Write your Comment on ಫಿಯಟ್ ಲೈನ್
ಫಿಯಟ್ ಲೈನ್ ಬಳಕೆದಾರರ ವಿಮರ್ಶೆಗಳು
ಆಧಾರಿತ
92 ಬಳಕೆದಾರರ ವಿಮರ್ಶೆಗಳು
ಎಲ್ಲಾ (92)
Mileage (46)
Performance (19)
Looks (52)
Comfort (50)
Engine (37)
Interior (28)
Power (23)
More ...
ಇತ್ತೀಚಿನ
ಸಹಾಯಕವಾಗಿದೆಯೆ
VERIFIED
CRITICAL
I was given with this beauty by my father when I was in the final year of my College, Back in 2010, I found its styling and it's electrical equipment, like the stereo, th...ಮತ್ತಷ್ಟು ಓದು

Linea is not a car it's virtually a tank on road it is so impressive as a sedan. The mileage is very good and it gives positive vibes it looks cool when we park it also h...ಮತ್ತಷ್ಟು ಓದು

I have a 10-year-old 2009 Emotion Pk Petrol. A brilliant car that never lets me down. She has a luxurious and quiet cabin. I drove a BMW while in the US and the comfort o...ಮತ್ತಷ್ಟು ಓದು

My Linea is excellent and doing a great job even after 7 years. I still get 20+ mileage and the engine is superb after using 1.3 lakh km It has great safety features and ...ಮತ್ತಷ್ಟು ಓದು

I bought the Fiat Linea in 2012 and the performance to date is very good. No rattling sound at 100 Km speed. No vibrations due to excess speed on highways. The engine is ...ಮತ್ತಷ್ಟು ಓದು

I got lenia multijet 1.3 emotion diesel and it's very nice on average. And it is very comfort too. Big space and No.1 in pick up. 

It is nice, strong, beautiful and rouble free car. It is very good for family travel. Good model and designe of the car.

ಎಲ್ಲಾ ಲೈನ್ ವಿರ್ಮಶೆಗಳು ವೀಕ್ಷಿಸಿ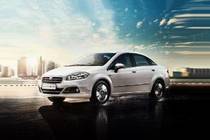 Rs. 7.22 ಲಕ್ಷ - 10.76 ಲಕ್ಷ*
ಈ ಕಾರಿನ ಮಾದರಿ ಅವಧಿ ಮುಗಿದಿದೆ
ಬಳಕೆದಾರರು ಕೂಡ ವೀಕ್ಷಿಸಿದ್ದಾರೆ