Excellent sportive ಕಾರು which IS actually VFM
Excellent sportive car which is actually VFM
I bought a Fiat Linea TJet Emotion in the month of Oct, 2014. I have driven the car for almost 6K km and so I can provide a detailed review of the car. Exterior The car really looks good from the side profile. The front is not as good as the previous version but still OK. Interior (Features, Space & Comfort) This is where this car really shines. I owned an i20 diesel before this and the ride quality was quite pathetic. I could feel every bump on the board but at the same time the handling was so bad that I had to slow down many times on highways. But Linea remains planted on corners at high speed. The interiors feel airy and very comfortable. There are some minor ergonomic issues but none really bad. The rear seat is also very comfortable for long journeys. Engine Performance, Fuel Economy and Gearbox The engine as expected is superb. The note is very sporty and the response is instant. The turbo works smoothly and there is very mininal lag. It is defifnitely the best petrol engine below 15L. The gear box is a bit rubbery and it someties feel difficult to engage. But after running in about 2K km the gear shift has become smooth. No more bad slotting. The fuel economy City : Bumper to bumper : (9 to 10 kmpl ) [Bangalore] City : Slow moving : [10 to 11 kmpl] Highway : High speed (> 130 kmph) [12 to 13 kmpl] Highway : Moderate sped (about 90 to 100 kmph) [14 to 16 kmpl] Ride Quality & Handling Do I need to say anything here. It is just brilliant. I don't stop for potholes anymore (Bangalore has plenty of them). The car just rides over them with just a thud, where my i20 would rattle and create loud noises as it my suspension would break. The Linea just glides over them. Handling is very predictable and accurate. Nothing can beat Linea here. I always wonder how this is possible (Good handling and very good comfort). Looks like Fiat has really tuned the anti-roll bars and the suspension components. Final Words A value for money car. At around 10.5 lakhs on-road for the top end, this is an excellent buy. This for for people who love driving and appreciate road manners. For every other guy who is looking to buy a car which everyone else buys, then a Hyundai or Maruthi is best. Fiat is for those who know the mechanics of the car. FYI : I had test drove all the sedans, the City, Verna, Vento, Sunny etc.. The Vento comes close to the Linea for handling (I did not drive the Fiesta) The City and Verna is for a regular family man who would never go beyond 100Kmph. (Alok Nath's car) Beyond that it would start to be bouncy on a highway with curves. Areas of improvement 1. The stock music system is pathetic. My 2000Rs speaker at home sounds better. This can however be fixed by changing the speakers alone (For about 6K) 2. There are some ergonomic issues like placement of power window buttons etc. I needed bit longer hands. 3. The exterior styling could have been un-done. The old Linea with just the new interiors should have been perfect. 4. The MID is not very exciting. The fonts are from the 1980s and looks very basic although it is very informative. eg. it shows exactly which door is open, or which bulb has fused, which sensor sent an error, etc.
Write your Comment on ಫಿಯಟ್ ಲೈನ್
1
n
naresh
Mar 30, 2016 1:21:11 PM
Hello i am from tirupati myself i like fiat a lot. I have been hearing fiat has rep for after sale services.Lil bad service is fine by me,is it really dat bad or jus shitty suzuki lovers talking?
ಪ್ರತ್ಯುತ್ತರ
1
s
srinivas
Apr 6, 2015 11:28:21 PM
looks good , need to test drive the car
ಪ್ರತ್ಯುತ್ತರ
ಫಿಯಟ್ ಲೈನ್ ಬಳಕೆದಾರರ ವಿಮರ್ಶೆಗಳು
ಆಧಾರಿತ
92 ಬಳಕೆದಾರರ ವಿಮರ್ಶೆಗಳು
ಎಲ್ಲಾ (92)
Mileage (46)
Performance (19)
Looks (52)
Comfort (50)
Engine (37)
Interior (28)
Power (23)
More ...
ಇತ್ತೀಚಿನ
ಸಹಾಯಕವಾಗಿದೆಯೆ
VERIFIED
CRITICAL
I was given with this beauty by my father when I was in the final year of my College, Back in 2010, I found its styling and it's electrical equipment, like the stereo, th...ಮತ್ತಷ್ಟು ಓದು

Linea is not a car it's virtually a tank on road it is so impressive as a sedan. The mileage is very good and it gives positive vibes it looks cool when we park it also h...ಮತ್ತಷ್ಟು ಓದು

I have a 10-year-old 2009 Emotion Pk Petrol. A brilliant car that never lets me down. She has a luxurious and quiet cabin. I drove a BMW while in the US and the comfort o...ಮತ್ತಷ್ಟು ಓದು

My Linea is excellent and doing a great job even after 7 years. I still get 20+ mileage and the engine is superb after using 1.3 lakh km It has great safety features and ...ಮತ್ತಷ್ಟು ಓದು

I bought the Fiat Linea in 2012 and the performance to date is very good. No rattling sound at 100 Km speed. No vibrations due to excess speed on highways. The engine is ...ಮತ್ತಷ್ಟು ಓದು

I got lenia multijet 1.3 emotion diesel and it's very nice on average. And it is very comfort too. Big space and No.1 in pick up. 

It is nice, strong, beautiful and rouble free car. It is very good for family travel. Good model and designe of the car.

ಎಲ್ಲಾ ಲೈನ್ ವಿರ್ಮಶೆಗಳು ವೀಕ್ಷಿಸಿ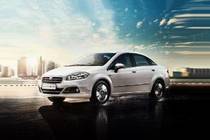 Rs. 7.22 ಲಕ್ಷ - 10.76 ಲಕ್ಷ*
ಈ ಕಾರಿನ ಮಾದರಿ ಅವಧಿ ಮುಗಿದಿದೆ
ಬಳಕೆದಾರರು ಕೂಡ ವೀಕ್ಷಿಸಿದ್ದಾರೆ