ಫಿಯಟ್ ಲೈನ್ ಡೀಸಲ್
Fiat Linea Diesel
This is my review on the Fiat Linea 2014 (Advanced Multijet Diesel). I have driven the car 45000 km till now. This car is not for middle-class people and also not for racers (speed drivers). Cons: Pick up of the car is very poor compared to cars in its class. You really have to push the accelerator to move quickly. Mileage is also not good in bumper to bumper traffic you can hardly get 11.3 kmpl. Service charge is high not so economical. Spares are also very costly (eg. bumper reflector light costs Rs 1150. Here is the important point the resale value. You won't get 40% of the car price if you sell it after two years. I have bought my car for Rs 10.5 Lakh and after two years with 45000 km Fiat itself have quoted 3.5 lakh for an exchange which is very pathetic. Steering is not good inside city as it is very tight. Pros: Very good looking has all good features. Excellent braking and drivability. You will have a lot grip in the corners and its a very fun to drive car. You cannot get this driving pleasure in any other car in this segment.
Write your Comment on ಫಿಯಟ್ ಲೈನ್
1
J
jai prakash
Nov 23, 2016 12:12:27 PM
maintence review
ಪ್ರತ್ಯುತ್ತರ
ಫಿಯಟ್ ಲೈನ್ ಬಳಕೆದಾರರ ವಿಮರ್ಶೆಗಳು
ಆಧಾರಿತ
92 ಬಳಕೆದಾರರ ವಿಮರ್ಶೆಗಳು
ಎಲ್ಲಾ (92)
Mileage (46)
Performance (19)
Looks (52)
Comfort (50)
Engine (37)
Interior (28)
Power (23)
More ...
ಇತ್ತೀಚಿನ
ಸಹಾಯಕವಾಗಿದೆಯೆ
VERIFIED
CRITICAL
I was given with this beauty by my father when I was in the final year of my College, Back in 2010, I found its styling and it's electrical equipment, like the stereo, th...ಮತ್ತಷ್ಟು ಓದು

Linea is not a car it's virtually a tank on road it is so impressive as a sedan. The mileage is very good and it gives positive vibes it looks cool when we park it also h...ಮತ್ತಷ್ಟು ಓದು

I have a 10-year-old 2009 Emotion Pk Petrol. A brilliant car that never lets me down. She has a luxurious and quiet cabin. I drove a BMW while in the US and the comfort o...ಮತ್ತಷ್ಟು ಓದು

My Linea is excellent and doing a great job even after 7 years. I still get 20+ mileage and the engine is superb after using 1.3 lakh km It has great safety features and ...ಮತ್ತಷ್ಟು ಓದು

I bought the Fiat Linea in 2012 and the performance to date is very good. No rattling sound at 100 Km speed. No vibrations due to excess speed on highways. The engine is ...ಮತ್ತಷ್ಟು ಓದು

I got lenia multijet 1.3 emotion diesel and it's very nice on average. And it is very comfort too. Big space and No.1 in pick up. 

It is nice, strong, beautiful and rouble free car. It is very good for family travel. Good model and designe of the car.

ಎಲ್ಲಾ ಲೈನ್ ವಿರ್ಮಶೆಗಳು ವೀಕ್ಷಿಸಿ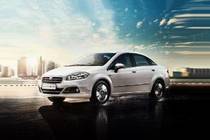 Rs. 7.22 ಲಕ್ಷ - 10.76 ಲಕ್ಷ*
ಈ ಕಾರಿನ ಮಾದರಿ ಅವಧಿ ಮುಗಿದಿದೆ
ಬಳಕೆದಾರರು ಕೂಡ ವೀಕ್ಷಿಸಿದ್ದಾರೆ