My Italian beauty
My Italian beauty
Hello every one today i wants to share my fabulous experience with you guys today i wants to introduce with you my Italian beauty which is Fiat Fabbrica Italian Automobile Torino and the model is Linea i purchased Linea Emotion Multijet 1.3ltr diesel car in a same segment my friends suggested other brand cars but one i took the test drive of Fiat Linea i felt the car comfort, handling, cabin space, Ground clearance and the important thing built Quality is better than other Manufactures this is all about the test drive but once i drive my Italian beauty in Himalayas and uttrakhand hills roads than i felt my Italian beauty performance is mind blowing i driven the car continuously more than 400km without any tiredness i felt fresh and passenger compartment is also fully comfortable in space, siting and the important rear Ac vent on of my friend height is above 6fit and he was sit very comfortable in back & driver seats peoples always said car maintenance is high and other things but i wants to say to those peoples parts prices are little high as compare to conman brand in India but Italian beauty parts and services are reliable than others brand parts life is much longer and same goes for service linea required service after 15k kms witch is outstanding so i wants to suggest you guys if you wants to purchase a pure Sedan than you must take a test drive for Italian Beauty Fiat Linea then you can decide which one you wants to purchase..... Thank you every one.
Write your Comment on ಫಿಯಟ್ ಲೈನ್
1
v
vinodh
Aug 31, 2017 8:33:29 PM
hi i want to buy linea multi jet diesel . while test drive the vehicle, i felt 4things wrong . i want to clarify that doubt . 1)its very hard to reach 110 to 120 km speed 2) vibration felt while the speed above 100 ( including steering and driver seat) 3)some what hard steering (compare to skoda rapid am using ) 4) the space between clutch and dead pedal is narrow otherwise everything i felt good . please clarify the doubt .
ಪ್ರತ್ಯುತ್ತರ
ಫಿಯಟ್ ಲೈನ್ ಬಳಕೆದಾರರ ವಿಮರ್ಶೆಗಳು
ಆಧಾರಿತ
92 ಬಳಕೆದಾರರ ವಿಮರ್ಶೆಗಳು
ಎಲ್ಲಾ (92)
Mileage (46)
Performance (19)
Looks (52)
Comfort (50)
Engine (37)
Interior (28)
Power (23)
More ...
ಇತ್ತೀಚಿನ
ಸಹಾಯಕವಾಗಿದೆಯೆ
VERIFIED
CRITICAL
I was given with this beauty by my father when I was in the final year of my College, Back in 2010, I found its styling and it's electrical equipment, like the stereo, th...ಮತ್ತಷ್ಟು ಓದು

Linea is not a car it's virtually a tank on road it is so impressive as a sedan. The mileage is very good and it gives positive vibes it looks cool when we park it also h...ಮತ್ತಷ್ಟು ಓದು

I have a 10-year-old 2009 Emotion Pk Petrol. A brilliant car that never lets me down. She has a luxurious and quiet cabin. I drove a BMW while in the US and the comfort o...ಮತ್ತಷ್ಟು ಓದು

My Linea is excellent and doing a great job even after 7 years. I still get 20+ mileage and the engine is superb after using 1.3 lakh km It has great safety features and ...ಮತ್ತಷ್ಟು ಓದು

I bought the Fiat Linea in 2012 and the performance to date is very good. No rattling sound at 100 Km speed. No vibrations due to excess speed on highways. The engine is ...ಮತ್ತಷ್ಟು ಓದು

I got lenia multijet 1.3 emotion diesel and it's very nice on average. And it is very comfort too. Big space and No.1 in pick up. 

It is nice, strong, beautiful and rouble free car. It is very good for family travel. Good model and designe of the car.

ಎಲ್ಲಾ ಲೈನ್ ವಿರ್ಮಶೆಗಳು ವೀಕ್ಷಿಸಿ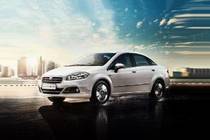 Rs. 7.22 ಲಕ್ಷ - 10.76 ಲಕ್ಷ*
ಈ ಕಾರಿನ ಮಾದರಿ ಅವಧಿ ಮುಗಿದಿದೆ
ಬಳಕೆದಾರರು ಕೂಡ ವೀಕ್ಷಿಸಿದ್ದಾರೆ