Tough love
Tough love
Let me begin with all the things that I hate about this car.1. Very looooong, which is difficult for U-turns and parking.2. Slow speed ride quality is average, due to the stiff set up3. Below average plastics, creates rattling as the car ages4. Turbo lag, which might annoy during traffic conditions, where low end power helps!5. Poor NVH in-spite of brilliant sound deadening materials 6. The Engine 1.3 MJD has lived it's life already, the competitors provide the next generation engines which are drastically refined and smooth compared to this.7. Ergonomics- Seriously I hate to share my ride with any one, only for this reason. It takes at least 30 minutes to sort the optimal seating position.8. Space - As lengthy it is, the less space it offers. The interior space is nothing phenomenal to write about. Just average.9. Stock ICE is very poor, and switching to an aftermarket HU is a tiresome job.10. Electricals: There will be frequent niggles in this departmentComing to the Pro's1. The Car is just Brilliant to drive on a proper tarmac2. The Stability at high speeds are just mind blowing, sure you can keep up with Cars of higher segments3. Mid end and top end is good, it revs neatly to the redline.4. Steering response: The only car which communicates and listens to you, I mean seriously. Very engaging drive as a result.5. Ride quality at high speed is excellent6. High ground clearance helps to tackle the our road conditions with ease7. Enormous Boot space, you can fit 3 people in there JK :P8. Handling is the best, sharp cuts, lane changes and cornering are fun!9. Build quality: Matches to Cars which are segment above10. Fiat's Service: They take the utmost care of your car, reason is they are not crowded as Maruti's or Hyundai's. There are only minimal number of Intakes for service per day, hence you can get all the issues sorted out. Spares has never been an issue till now. All the spares are readily available in my city.Note: This is a Car for people who listen to their Heart. Many criticized me for my choice, but not one day or moment I regretted my decision. If you wanna commute, look else where. If you wanna "Drive", you made the right choice.
Write your Comment on ಫಿಯಟ್ ಲೈನ್
1
v
venurajagopal
Apr 19, 2017 2:18:54 PM
good review. i want to buy this. It seems the power is increased to 123bhp now according to company website.
ಪ್ರತ್ಯುತ್ತರ
ಫಿಯಟ್ ಲೈನ್ ಬಳಕೆದಾರರ ವಿಮರ್ಶೆಗಳು
ಆಧಾರಿತ
92 ಬಳಕೆದಾರರ ವಿಮರ್ಶೆಗಳು
ಎಲ್ಲಾ (92)
Mileage (46)
Performance (19)
Looks (52)
Comfort (50)
Engine (37)
Interior (28)
Power (23)
More ...
ಇತ್ತೀಚಿನ
ಸಹಾಯಕವಾಗಿದೆಯೆ
VERIFIED
CRITICAL
I was given with this beauty by my father when I was in the final year of my College, Back in 2010, I found its styling and it's electrical equipment, like the stereo, th...ಮತ್ತಷ್ಟು ಓದು

Linea is not a car it's virtually a tank on road it is so impressive as a sedan. The mileage is very good and it gives positive vibes it looks cool when we park it also h...ಮತ್ತಷ್ಟು ಓದು

I have a 10-year-old 2009 Emotion Pk Petrol. A brilliant car that never lets me down. She has a luxurious and quiet cabin. I drove a BMW while in the US and the comfort o...ಮತ್ತಷ್ಟು ಓದು

My Linea is excellent and doing a great job even after 7 years. I still get 20+ mileage and the engine is superb after using 1.3 lakh km It has great safety features and ...ಮತ್ತಷ್ಟು ಓದು

I bought the Fiat Linea in 2012 and the performance to date is very good. No rattling sound at 100 Km speed. No vibrations due to excess speed on highways. The engine is ...ಮತ್ತಷ್ಟು ಓದು

I got lenia multijet 1.3 emotion diesel and it's very nice on average. And it is very comfort too. Big space and No.1 in pick up. 

It is nice, strong, beautiful and rouble free car. It is very good for family travel. Good model and designe of the car.

ಎಲ್ಲಾ ಲೈನ್ ವಿರ್ಮಶೆಗಳು ವೀಕ್ಷಿಸಿ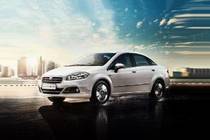 Rs. 7.22 ಲಕ್ಷ - 10.76 ಲಕ್ಷ*
ಈ ಕಾರಿನ ಮಾದರಿ ಅವಧಿ ಮುಗಿದಿದೆ
ಬಳಕೆದಾರರು ಕೂಡ ವೀಕ್ಷಿಸಿದ್ದಾರೆ