If you wish to own a
If you wish to own a
Well, like our own Indian men, I was in the phase of changing my car, visited 3/4 showrooms, first went to my then home showroom Hyundai, (Initially I had Hyundai Eon, it is also a good car on the 4 lakh price bracket) and checked out I20, amazed by the style and feature loaded car and come to an conclusion of buying it and took all the brochures to discuss with my family. Then, on the way back home, just out of interest I went to VW showroom to check out the Polo, man what a comfortable cabin and I refused to came out of the car by asking the sales executive to describe feature by having him in the cockpit itself, after a long 1 Hr, by seeing my dilemma about which one to decide, he suggests me, since u have ridden a Korean make, it's time for u try out a European car, so if not Polo, u can also check Punto, then immediately went to Fiat showroom, what a reception I had, no one is ready to narrate me about Punto as everyone is so busy about capturing people for their new profitable Compass business, u have to believe that, they don't have a hardcopy brochure for Punto and there was no test drive car even, all they had was a single piece of Xerox copy of Punto price list. What I could get was only just a sit in a Punto urban cross for about 2 mins and been given a send-off. Fast forwarding so many things including seeing reviews and videos about Punto and all the Medicare treatment of showroom guys, I got my black beast in the name of Punto EVO. Yes, that's the magnetic power of the car to buy it. I have not even test driven that car before, first time I drove a Punto it's my Punto I took it from the showroom under the dull light of 7 o clock evening, the way it stands, wow it's so majestic, it invites me, comes and enjoy all-condition roads with me. The study weight, the ease of nullifying all the pits and bumps, the turning radius, the rigidness on the curves, the hydraulic steering on 150 km/h speeds, couch-like seats, rock bank like music system, the king like road view, what not asleep wife in the left of the cockpit (what else u could ask more). After all these, I realized the sayings of my grandpa when I was so young when I didn't even an idea of what is a car about. "A man who driven Fiat once will not even touch a Rolls Royce also" 100% true words. So forget other showrooms on the way to Fiat showroom and surely you will forget other cars in the market of 10 lakhs budget and u will wear a pride in our year when you see others stare at ur Punto and u will say from eye to them it's Punto, Fiat Punto.
ಫಿಯಟ್ ಪಂಟೋ ಬಳಕೆದಾರರ ವಿಮರ್ಶೆಗಳು
ಆಧಾರಿತ
57 ಬಳಕೆದಾರರ ವಿಮರ್ಶೆಗಳು
ಎಲ್ಲಾ (57)
Mileage (27)
Performance (10)
Looks (15)
Comfort (22)
Engine (20)
Interior (10)
Power (10)
More ...
ಇತ್ತೀಚಿನ
ಸಹಾಯಕವಾಗಿದೆಯೆ
CRITICAL
This is the best ever Car, I also own swift but it is not as good as Punto, It is reliable with awesome driving pleasure, the mileage is awesome.

Best hatchback car totally Satisfied.Low maintenance cost. Comfortable for a long and short trip.All features

Excellent road handling. Good fuel average. Elegant look. Zero maintenance cost and superb comfort with the powerful engine.

The initial pickup of the car is great. The mileage is around 18kmpl, and on highways, it is around 20kmpl.

The drive of the car is very fun-loving but the only minus point is on glass holder.

Best car a premium hatch. 45k driven so far with a pleasant ride always. Always in love with this one.

I use the Punto EVO which is a limited edition. It is the best in that segment. The way it pulls and the handling is just mind-boggling. Though the steering is a bit...ಮತ್ತಷ್ಟು ಓದು

Bought this beauty in 2017 and after 2 years of usage, it still feels like new (Petrol). Though a lot of new cars have come into the market in these two years I still get...ಮತ್ತಷ್ಟು ಓದು

ಎಲ್ಲಾ ಪಂಟೋ ವಿರ್ಮಶೆಗಳು ವೀಕ್ಷಿಸಿ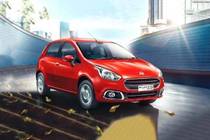 Rs.4.92 ಲಕ್ಷ - 7.48 ಲಕ್ಷ*
ಈ ಕಾರಿನ ಮಾದರಿ ಅವಧಿ ಮುಗಿದಿದೆ
ಬಳಕೆದಾರರು ಕೂಡ ವೀಕ್ಷಿಸಿದ್ದಾರೆ
Write your Comment on ಫಿಯಟ್ ಪಂಟೋ ಇವೊ
×
We need your ನಗರ to customize your experience