Force One: Most Fuel Efficient SUV
Force One: Most Fuel Efficient SUV
I had a Honda City and was planning to upgrade my car and this time I wanted to go for an SUV. My budget was around 12 lakh and in this price range, I found the Force one the best choice. I bought Force One recently and fell in love with its subtle and cool exteriors on the first glance. The car not only looks good but it is equally good at driveability as well, its 2.2-litre engine is very powerful and revs up easily. The ground clearance and rear wheel drive make it a real SUV. It comes loaded with superb features like progressive cruise control, independent air conditioning for occupants on all three rows of seats, leather interiors, parking sensor, brake pad wear indicator. The most impressive thing about the car is its mileage, the company claims a mileage of 17.0 kmpl but I am getting a decent mileage about 13kmpl. It is a bit low than claimed mileage but still, 13.0 kmpl is very good for an SUV.However, there are some features are missing like ABS, airbag etc which makes it a little unsafe compare to other cars. I recently read about its 4x4 version; however, it was not available when I bought it. To end up, I will say it is a worth buy for sure if you are thinking to buy it then go for it.
Write your Comment on ಬಲ ವನ್
1
G
gopal rao
Dec 7, 2012 11:00:42 PM
Force One is the most customer friendly product, company has set a customer service dept. to solve customer grievances and is headed by Mr. Naresh Rattan you can reach him on 8605008115 and email- nrattan@forcemotors.com contact immediately for any help. (if your SUV needs replacement then it has to be certified by the engineer, in few cases it has been done)
ಪ್ರತ್ಯುತ್ತರ
1
d
dcp
Dec 4, 2012 8:31:42 PM
nice
ಪ್ರತ್ಯುತ್ತರ
ಬಲ ವನ್ ಬಳಕೆದಾರರ ವಿಮರ್ಶೆಗಳು
ಆಧಾರಿತ
40 ಬಳಕೆದಾರರ ವಿಮರ್ಶೆಗಳು
ಎಲ್ಲಾ (40)
Mileage (26)
Performance (5)
Looks (34)
Comfort (33)
Engine (18)
Interior (14)
Power (9)
More ...
ಇತ್ತೀಚಿನ
ಸಹಾಯಕವಾಗಿದೆಯೆ
CRITICAL
Force One SUV was launched 7 years back with the notion to give a new and unique offering in the space. The maker of Traveller and Trax utility vehicle took a whole new a...ಮತ್ತಷ್ಟು ಓದು

Force is well know renewed brand in india with it's most successful model in olden days are the matador and still popular model like tempo traveller the brand it self is ...ಮತ್ತಷ್ಟು ಓದು

Look and Style - Very impressive. Looks pretty much like Fortuner and XUV 500. Comfort - Very comfortable seats, good enough for long journeys. It is equipped with the fe...ಮತ್ತಷ್ಟು ಓದು

It looks very nice and attractive, looks like a Fortuner. It is really very comfortable, offers suitable seating comfort and sweet music system with decent sound quality....ಮತ್ತಷ್ಟು ಓದು

It looks very nice and attractive, looks like Fortuner. It is really very comfortable for suitable seating and sweet music system with decend sound quality. Many thanks t...ಮತ್ತಷ್ಟು ಓದು

Don't ever buy this car...I have never seen any car lie this...407 or lorry is better than this...No break in this car...the time of sales they will say this is the besto...ಮತ್ತಷ್ಟು ಓದು

The most trusted utility vehicle maker has recently launched a sports utility vehicle with high performing engine. I have been waiting for this SUV since long time, becau...ಮತ್ತಷ್ಟು ಓದು

Exterior Exterior is decent looking and that?s a personal choice. Interior (Features, Space & Comfort) Only good part is space as it beats everything else here, but r...ಮತ್ತಷ್ಟು ಓದು

ಎಲ್ಲಾ ವನ್ ವಿರ್ಮಶೆಗಳು ವೀಕ್ಷಿಸಿ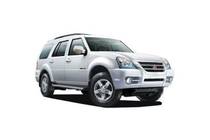 Rs.9.59 ಲಕ್ಷ - 16.33 ಲಕ್ಷ*
ಈ ಕಾರಿನ ಮಾದರಿ ಅವಧಿ ಮುಗಿದಿದೆ
×
We need your ನಗರ to customize your experience