VW Vento: Unmatched Safety and Performance
VW Vento: Unmatched Safety and Performance
It's been a while now that VW had introduced Vento in India. Vento has seen many updates since its launch. I'm writing this review after driving this car for more than 16200 KM on various terrain and traffic conditions. I hope the one who is looking for or zeroing for the new car would get some real insight from this review. 1. Buying experience: I would further divide this one into two parts (a) Pre-booking experience and (b) post booking experience. While I was looking for sedans and flipping through the Honda, Hyundai, Ford...suddenly VW Vento grabbed my attention when I got to see this beauty closely for the 1st time. The dealership in Surat ) was good as far as describing the car and encouraging for a test drive. I also got a feeling of trustworthiness while interacting with them regarding the vehicle and their policies. So full marks on pre-booking experience to VW dealership. However, the post-booking experience was equally bad as they forced me to take insurance from their own dealership and argued illogically for petty issues, so i would give Average rating there. 2. Looks and features: Vento gives a feeling of classiness. As far as the exterior is concerned VW could have done much better to match up with the likes of Verna, City or Ciaz. Vento is missing on many features as compared to these well-established cars e.g. Projected headlamps (2017 model), DRL, Splitting tail lamp, keyless entry, Start/stop button, Navigation, sunroof, etc. However, it offers some of the very unique features which others are not yet introduced e.g. DSG gearbox, Tilt & Telescopic steering wheel, excellent built quality, etc. 3. Riding experience: This is the most amazing part of Vento. Driving Vento with DSG gearbox is a thrill. The gearshifts are absolutely smooth that I would fail to know how it aptly changes the gear when needed to. The built quality is such that it feels like I'm seating in a bulletproof bunker. The interiors are so much classy and posh. There is no nonsense thing inside the cabin of the Vento. I can adjust the seat both horizontally and vertically, adjust the steering wheel for rack and reach. The steering seemed slightly on a heavier side for slow speeds but it is awesomely amazing to grip it on the highways and on high speeds. The most annoying part for me (For others it could be a plus point) is the engine sound when the car is idling or on relatively slower speeds. The control of the higher speed is very confidence inspiring. Also, the suspensions of the Vento are perfectly designed for the Indian road conditions and one can glide over the potholes and the rumble strips without any problems. 4. Servicing and Maintenance: When I was looking for the best cars, I used to hear from various people that the VW has a high maintenance cost as the parts are imported from Germany. Also, there are limited service stations across India unlike Maruti or Hyundai for that matter. However, after my detailed inquiry, I found that all the parts are now being manufactured in their Chakan plant and I got to see the price list of parts and they are more or less at par with the other brands. Also in VW car, the frequency of service is yearly unlike other brands which call for the service every six months. 5. Pros and Cons: Pros 1. Superior built quality 2. Posh interiors 3. Safety features 4. DSG gearbox 5. Riding quality 6. Stability and control 7. Comfortable seats 8. Fuel efficiency with Automatic transmission 9. Road presence 10. Service Cons: 1. Slightly dated exterior 2. Fewer features offed compare to rivals 3. Engine noise when idling (Diesel variant) 4. Low ground clearance for Indian conditions 5. Cost 6. The resale value I hope I could give some practical details of VW Vento in my review which may help the buyer while flipping through the options.
ವೋಕ್ಸ್ವ್ಯಾಗನ್ ವೆಂಟೊ 2015-2019 ಬಳಕೆದಾರರ ವಿಮರ್ಶೆಗಳು
ಆಧಾರಿತ
198 ಬಳಕೆದಾರರ ವಿಮರ್ಶೆಗಳು
ಎಲ್ಲಾ (198)
Mileage (54)
Performance (36)
Looks (60)
Comfort (66)
Engine (50)
Interior (33)
Power (40)
More ...
ಇತ್ತೀಚಿನ
ಸಹಾಯಕವಾಗಿದೆಯೆ
VERIFIED
CRITICAL
I am using Volkswagen Vento TDI for the last 6 years and I am super happy with my choice of buying the car, wonderful experience so far. The car has great interior a...ಮತ್ತಷ್ಟು ಓದು

Powerful petrol engine. The safest car I have ever seen in this segment. In love with this car, just a small issue is costly spares that's it. Else I love this car.

Volkswagen Vento has elegance and style personified by German engineers, for superior built quality and safety with unique headlights in its own class.

The car really looks nice and it is very stable on highway driving and comes with good features also the safety features are great. I love driving this car&nbsp...ಮತ್ತಷ್ಟು ಓದು

Volkswagen Vento is a nice car. Comfortable and luxurious. I am happy to own this car as it makes the drive enjoyable and smooth.

Excellent performance even after one lac kilometers of running and low maintenance cost. Unbelievable mileage giving 17kms minimum and twenty-one km maximum. still, I fee...ಮತ್ತಷ್ಟು ಓದು

Volkswagen Vento is really a nice car, the pickup of the car is great and you will get a good mileage of 19+ kmpl.

ಎಲ್ಲಾ ವೆಂಟೊ 2015-2019 ವಿರ್ಮಶೆಗಳು ವೀಕ್ಷಿಸಿ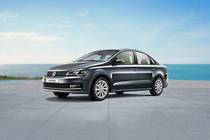 Rs.8.64 ಲಕ್ಷ - 14.34 ಲಕ್ಷ*
ಈ ಕಾರಿನ ಮಾದರಿ ಅವಧಿ ಮುಗಿದಿದೆ
ಬಳಕೆದಾರರು ಕೂಡ ವೀಕ್ಷಿಸಿದ್ದಾರೆ
Write your Comment on ವೋಕ್ಸ್ವ್ಯಾಗನ್ ವೆಂಟೊ 2015-2019
ಟ್ರೆಂಡಿಂಗ್ ವೋಕ್ಸ್ವ್ಯಾಗನ್ ಕಾರುಗಳು
×
We need your ನಗರ to customize your experience