ಮಹೀಂದ್ರ ಮರಾಜ್ಜೊ ಬಳಕೆದಾರರ ವಿಮರ್ಶೆಗಳು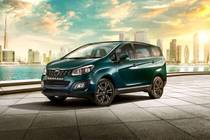 Rs. 9.99 - 14.76 ಲಕ್ಷ*
*ಹಳೆಯ ಶೋರೂಮ್ ಬೆಲೆ in
ನವ ದೆಹಲಿ
ಮಹೀಂದ್ರ ಮರಾಜ್ಜೊ mileage ಬಳಕೆದಾರ ವಿಮರ್ಶೆಗಳು
All (278)
Mileage (50)
Performance (32)
Looks (78)
Comfort (112)
Engine (49)
Interior (36)
Power (32)
ಹೆಚ್ಚು ...
ಇತ್ತೀಚಿನ
ಸಹಾಯಕವಾಗಿದೆಯೆ
VERIFIED
Overall performance of Mahindra Marrazzo car is so good, Mileage 17.2 km/l, Pickup is great, Comfort level is highly recommended. I just love this car at this price. you don't forget to buy this car. you are searching for the 8 seater car with low price and better look.  ಮತ್ತಷ್ಟು ಓದು

Value for money and best looks comfortable. It has a good feature and spacious. It gives good mileage and it is a multi-purpose vehicle. It is best in class and silent.

Good and performance are very good and its mileage is awesome. Good in price and comfortable for a family car

Best in the segment at this price but interior plastic quality can be improved. Mileage reduces to 12 kmpl after 10000kms.

Really awesome car. Packed with safety, comfort and luxury. The mileage is also better than other cars in this segment. Car is packed with aeroplane AC style.

Excellent interior space with a silent cabin. Loved driving on long rides, absolutely smooth, smoother than melted butter. The AC has quick cooling after the engine starts. Excellent handling and seamless drive using Cruise control (M8 Only). It has a very aggressive front look with a good road presence. Best value for money. With fully loaded and ...ಮತ್ತಷ್ಟು ಓದು

The car is very comfortable and also delivers good mileage.

No.1 car in its segment. Best in its class features with smooth drive and best mileage. It's a value for money product.

Excellent Car. Undoubtedly best in this range. Excellent Mileage - 18.5 in highways with full AC superior comfort - Best in class suspension. Drive quality - smoother than butter.  ಮತ್ತಷ್ಟು ಓದು

Best in class space... you have enough space in all three rows for your long drives... Best in class mileage.... in daily traffic hustle of Gurgaon to Delhi..i am getting around 14km/L, while on the highway you can get up to 16 - 17, depending upon your driving style. This car is a full package with an absolute price range. The only con which I hav...ಮತ್ತಷ್ಟು ಓದು

Have been using the SHARK for last 6 months...excellent vehicle to take your family out and to relax on a lovely date..makes the whole driving cosy, silent, and smooth.. Be it a family get together or relaxing weekend friends chat it'll all come alive I a Marazzo Ultimate, seductive, and cool driving is what you may call it... Boot space is excelle...ಮತ್ತಷ್ಟು ಓದು

Mahindra Marazzo is an unforgettable paradisal experience while riding this Marrazo M6. After my experiment with many cars beginning from Ambassador Classic finally, I have found the best one for myself and my family. The apple car play is fun. The fuel and mileage updates are so useful. It is like a friend, another companion journeying with me, fo...ಮತ್ತಷ್ಟು ಓದು

We call our Most dreamed and loved car Mahindra Marrazzo as "Marina". She is ..Stylish, Tall, Comfortable to all seats, Comfortable in driving, Good Control, and Runs on the road like a Shark in Sea while driving. Lots of happy things to write..about Marrazzo...It's really a Value for Money Car. Also, Good Mileage as claimed..17km /liter. Thanks to...ಮತ್ತಷ್ಟು ಓದು

Comfortable easy to drive good in looking lots of space comfort seats are great and the mileage is good for long-distance traveled.

This car is very smooth and comfortable and it gives me great mileage. Overall had a great experience with this car.

I had brought Mahindra Marazzo,  the car is having very smooth steering and gears, pick up after rpm touching 1750 is superb. The car is a good family car at an affordable price, driving comfort is superb, pick up is excellent, all internal features and interiors are good. AC is superb. The boot space is very less, the back shape of the car is not ...ಮತ್ತಷ್ಟು ಓದು

Nice looking, spacious, comfortable, smooth driving, good mileage, and nice cooling. The navigation feature is Nice.

This is a nice looking car. It is a very comfortable car. The interior is good. The mileage is impressive. 

Mahindra Marazzo is a spacious and powerful car. This car didnt create any noise. I drove it to 400kms and the ride was non tired. Car gives best mileage. AC and AC vent ar good. ಮತ್ತಷ್ಟು ಓದು

My car is cherry red in color, very spacious and easily accommodates 8 people, it is smooth we have been using it for more than 5 months nothing has problematic has happened yet. Very good looking and nice car. Gives good mileage and has a very nice finish coating. I will recommend it for everyone with a large family, easy to drive too. ಮತ್ತಷ್ಟು ಓದು

An amazing car I ever got a nice pickup and very silent in the road but the mileage drops but it is worthy for the money.

Amazing Car with the comfort and if we talk about the mileage it's just awesome. 7 inch Screen display is good and I wish that we get an apple update in the next update of this car. ಮತ್ತಷ್ಟು ಓದು

I bought Marazzo m2 last week. It is really silent and while driving on the highway to my surprise I got more than 20 km/l of mileage. I did not feel any stress after 300 km continuous ride. Good one. ಮತ್ತಷ್ಟು ಓದು

Good performance of Mahindra Marazzo, new car mileage of Marazzo is poor and the Marazzo's road performance is good, air conditions and cooling is superb and interior features and design are stylish and the hopper hand brake is good. Marazzo is a high class vehicle. ಮತ್ತಷ್ಟು ಓದು

Mahindra Marazzo is a good car, its suspensions are really great when we touch 100 KMPH it goes as smooth as a shark and silent as a shark. It is also giving good mileage in the city which is 12 KMPL and on the highway, it is giving 15-16 KMPL.  ಮತ್ತಷ್ಟು ಓದು

This is a great vehicle in its segment. The power, pickup, mileage, and space is great.

My car is cherry red in Colour, very spacious and easily 8 people can sit, it is smooth we have been using it for more than 5 months nothing has problematic has happened yet. Very good looking and nice car. It gives good mileage and has a very nice finish coating. I will recommend it for everyone with a large family, easy to drive too. ಮತ್ತಷ್ಟು ಓದು

I bought this car in Nov 2018. I am really happy to be part of the Mahindra family, a good choice for the family-oriented vehicle. Smooth and clean. Good mileage as of now, I've driven 10000 km and getting 16.3km/l. ಮತ್ತಷ್ಟು ಓದು

Marazzo is a beautifully crafted car keeping in mind the quality of ride for the passengers. The ride quality is too good and as far as the cabin noise is considered it's far better than petrol cars. Having a diesel engine under its hood and having a quiet cabin is a perfect match of the refined engine and good insulation On the mileage front witho...ಮತ್ತಷ್ಟು ಓದು

Are you Confused?
Ask anything & get answer ರಲ್ಲಿ {0}
ಮರಾಜ್ಜೊ ಪರ್ಯಾಯಗಳು ನಲ್ಲಿ ಬಳಕೆದಾರ ವಿಮರ್ಶೆಗಳು
*ನವ ದೆಹಲಿ ರಲ್ಲಿ ಎಕ್ಸ್ ಶೋ ರೂಂ ಬೆಲೆ
ಬಳಕೆದಾರರನ್ನು ಸಹ ವೀಕ್ಷಿಸಲಾಗಿದೆ
ಟ್ರೆಂಡಿಂಗ್ ಮಹೀಂದ್ರ ಕಾರುಗಳು
ಪಾಪ್ಯುಲರ್ car insurance companies