Bentleys handsome and affordable GT car
Bentleys handsome and affordable GT car
They came seemingly out of nowhere. Nearly 2800 feet above sea level and hours from the nearest city of consequence, a group of approximately four-dozen camera-wielding tourists of random nationalities spun on their heels and began to snap pictures of, well, us. The fact that we arrived at this Norwegian mountaintop overlook in a fleet of candy-hued 2016 Bentley Continental GT coupes may have contributed to their elation. Although we in the press are known for our handsome profiles and chiseled physiques, its hard to compete with the international language of horsepower, not to mention flawless paintwork and Bentleys stately Big B logo.   While the attention was not entirely unexpected, that the tourists so hastily turned their backs on a glorious display of Mother Natures finest glacial carvings for a photo op with a car speaks volumes. Nobody was jockeying for prime photo real estate around the Ford Kuga parked next to us.   For the first portion of the drive, we selected a Continental GT Speed cloaked in a dark hue known as Spectre. Whether Bentley chose the name as an official reference to Ian Fleming supervillain Ernst Stavro Blofeld is up for debate, but it certainly plays the part well. What we can confirm, however, is that the torque swell from the 626-hp twin-turbo 6.0-liter W-12 remains as alluring as ever, all 607 lb-ft of torque on duty at 2000 rpm. Permanent all-wheel drive performs discreetly in the background, doling out torque as needed (normally split 40/60 front/rear, variable from 15/85 to 65/35 as conditions dictate). The resultant acceleration belies the GT Speeds 5100-pound curb weight, with 60 mph arriving in a claimed 4.0 seconds. Additional factory performance figures have 100 mph passing in a claimed 9.0 seconds and a top speed of 206 mph. From the long, linear travel of the accelerator (we like!) and the soft-ish brake pedal (don?t like so much), to the speed-sensitive electric power steering (like well enough) and damped but precise movement of the shift paddles (sure, why not?), the controls move as if they are mounted with bushings made of equal parts folding cash, Beluga caviar, and human tissue extracted from Barry Whites larynx.   We Dont Like: Like nearly all very luxurious British automobiles (save, perhaps, McLarens), architectures and the models they spawn remain in the lineup long after age wouldve spelled death in more-competitive, mainstream segments. Its a syndrome that sometimes results in engaging accidental throwbacks like the refreshingly analog Aston Martin Vantage GT, but the Bentley winds up feeling a bit short of a charmingly quirky relic. Instead, it feels slightly out of phase with itself.   Drive a Continental GT V8 S back-to-back with, say, a current Audi RS7, and the advances of the modern era are apparent. At this point, it appears Bentleys platform may be at the outer edge of its life span.   As Bentley begins to tease its plans for the next generation Continental GT expected to arrive in 2018, with murmurings it will share the same underpinnings as the new Porsche Panamera, buyers currently have a vast choice of brilliant long-distance luxury cruisers at their disposal, something we have proven during our long-term test of the 4.0-litre V8 Continental GT.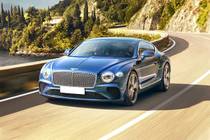 Rs. 3.29 - 3.91 ಸಿಆರ್*
*ಹಳೆಯ ಶೋರೂಮ್ ಬೆಲೆ in
ನವ ದೆಹಲಿ
Rs.
3,29,47,201
*
ಎಮಿ:

Rs.

7,19,241
bluetooth wireless connectivity
bi-xenon headlights
4.0l twinturbo-charged ವಿ8 engine
Rs.

3,57,64,927

*ಎಮಿ:

Rs.

7,80,706

Pay 28,17,726 more to get

naim audio system
6.0l twin turbo-charged ಡಬ್ಲ್ಯು12 eng
navigation ಮತ್ತು connectivity

Rs.

3,64,21,029

*ಎಮಿ:

Rs.

7,95,022

removable/convertible top
bi-xenon headlights
adaptive ಕ್ರುಯಸ್ ಕಂಟ್ರೋಲ್

Rs.

3,91,46,420

*ಎಮಿ:

Rs.

8,54,481

Pay 27,25,391 more to get

6.0l twin turbo-charged ಡಬ್ಲ್ಯು12 eng
bi-xenon headlamps with led
removable/convertible top
ಟ್ರೆಂಡಿಂಗ್ ಬೆಂಟ್ಲೆ ಕಾರುಗಳು