Surely it will provide you shear driving pleasure
Surely it will provide you shear driving pleasure
The Bmw 530d m sport version has a 3.0 litre engine which is pretty high for a sedan and produce 560Nm of torque, so in terms of power it is best than the rest. Taking about fuel economy though they boast of 14 km/l of milegae but you can get an average around 8-10km/l. The brake power regeneration technology works great and as soon as you lift ypur foot from accelarator pedal or brakes are applied the kinetic energy profuced is feeded to battery. The steering is epectronically powered and works great around corners. You can have a full turn only using your single hand. The eight speed 'steptronic' transmission doesn't let you know change of gear even if you speed up. The true feeling of power and shear pleasure of driving comes when you switch to sports mode- all the cabin lights change and make you feel like driving on a race track. The accelarator pedal becomes much more responsive the stereing becomes hard and responsive and talking about the power, it goes to a whole new level. Switching to sports mode would bring a charm on face. The comfort mode works pretty well during bumpy and city rides but would lower fuel economy same as in sports mode. Driving on eco mode in cities is te best for increasing fuel economy. More about comfort and convienence- The unique heads up display would help in track of road and speed. The infotainment system is equipped with 16 Harman Kardon surround system producing sound at its best quality. The idrive touch controller is pretty hard to handle and understand intailly but would come up with practise. The 25.9 cm high resolution display would provide all the information you need with the help of bmw apps. For convienence the park distance control works amazing and wouldn't let you have a scratch on your car. For the rear seat members the comapny has provided 23.3 cm monitors so that they can even enjoy the ride. Safety features include- Abs, cbc, side impact protection, curtain airbags, DSC are pretty all the things you need for a safe ride.
ಬಿಎಂಡವೋ 5 series 2017-2021 ಬಳಕೆದಾರರ ವಿಮರ್ಶೆಗಳು
ಆಧಾರಿತ
73 ಬಳಕೆದಾರರ ವಿಮರ್ಶೆಗಳು
ಎಲ್ಲಾ (52)
Mileage (8)
Performance (22)
Looks (17)
Comfort (20)
Engine (17)
Interior (9)
Power (12)
More ...
ಇತ್ತೀಚಿನ
ಸಹಾಯಕವಾಗಿದೆಯೆ
CRITICAL
I have been using the BMW 5 Series for the last 1 years and now I have its BS6 version. It's an amazing car with a strong build quality and a lot of advanced features. Du...ಮತ್ತಷ್ಟು ಓದು

BMW 5 Series Car comes in an amazing look. This car looks very superb from outside as well inside also. This car comes with a powerful engine and performs superbly. this ...ಮತ್ತಷ್ಟು ಓದು

I am using the BMW 5 Series and I am satisfied with its performance and recommend it to others also. This car comes with a powerful engine and an 8-speed gearbox. It has ...ಮತ್ತಷ್ಟು ಓದು

5 Series comes with many features, powerful looks, and amazing performance, and with all these qualities it comes at a price that is not much high. I love this car so muc...ಮತ್ತಷ್ಟು ಓದು

I am using the BMW 5 Series and I love this car. It looks amazing and it comes with a powerful engine for powerful performance. It has many features like 8-speed automati...ಮತ್ತಷ್ಟು ಓದು

I am using BMW 5 Series for all-Terrains and it performs so well. This car has different driving modes and it never disappointed me with its performance. It comes with An...ಮತ್ತಷ್ಟು ಓದು

Great vehicle, great looking millage is decent to depend on your driving modes and looks are great and power is like amazing its like sports car and comfort is great and ...ಮತ್ತಷ್ಟು ಓದು

Technology is best with safety. My first imported car BMW 520d. I had options to go for Audi A6 and Merc E class, but I choose the BMW because of its way a...ಮತ್ತಷ್ಟು ಓದು

ಎಲ್ಲಾ 5 series 2017-2021 ವಿರ್ಮಶೆಗಳು ವೀಕ್ಷಿಸಿ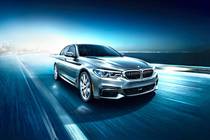 Rs.52.00 - 69.10 ಲಕ್ಷ*
ಈ ಕಾರಿನ ಮಾದರಿ ಅವಧಿ ಮುಗಿದಿದೆ
ಬಳಕೆದಾರರು ಕೂಡ ವೀಕ್ಷಿಸಿದ್ದಾರೆ
Write your Comment on ಬಿಎಂಡವೋ 5 series 2017-2021
2 ಕಾಮೆಂಟ್ಗಳು
1
R
roshan
Dec 28, 2018 10:58:31 PM
Audi Q7 and 530d are the best value for 3 litre engines..value for money and pleasure unlimited
Read More...
ಪ್ರತ್ಯುತ್ತರ
Write a Reply
1
B
bala
Jul 21, 2017 6:33:18 AM
I would like to buy 5 series luxury line please give me best offer
Read More...
ಪ್ರತ್ಯುತ್ತರ
Write a Reply
ಟ್ರೆಂಡಿಂಗ್ ಬಿಎಂಡವೋ ಕಾರುಗಳು
ಬಿಎಂಡವೋ ix1

Rs.60.00 ಲಕ್ಷಅಂದಾಜು ದಾರ

ನಿರೀಕ್ಷಿತ ಲಾಂಚ್‌: sep 15, 2023

ಬಿಎಂಡವೋ ಎಂ3

Rs.65.00 ಲಕ್ಷಅಂದಾಜು ದಾರ

ನಿರೀಕ್ಷಿತ ಲಾಂಚ್‌: sep 26, 2023

ಬಿಎಂಡವೋ ಎಕ್ಸ6

Rs.1.39 - 1.49 ಸಿಆರ್ಅಂದಾಜು ದಾರ

ನಿರೀಕ್ಷಿತ ಲಾಂಚ್‌: ಅಕ್ಟೋಬರ್ 10, 2023
×
We need your ನಗರ to customize your experience