ಐಷಾರಾಮಿ Comes With Class
Luxury Comes With Class
The 7 Series is BMW's flagship car and is only available as a sedan or extended-length limousine. It traditionally introduces technologies and exterior design themes before they trickle down to smaller sedans in BMW's lineup. The first generation 7 Series was powered by straight-6 petrol engines, and following generations have been powered by straight-6, V8 and V12 engines with both natural aspiration and turbocharging. Since 1995, diesel engines have been included in the 7 Series range. All versions of the 7 Series use a new eight-speed automatic transmission. Borrowing technology from sister company Rolls-Royce, the eight-speed employs a new GPS system that can detect the terrain ahead and adjust the gearbox accordingly. Exterior This new BMW 7 Series sports an evolutionary design and retains the same overall shape as the outgoing model. The change is the laser headlights, larger signature kidney grille and new bumpers. There is also a large dome on the hood which adds to the muscle image as well as increased pedestrian safety. The side profile shows us flared wheel arches and rear heavy roof line. There is a strong shoulder line while the entire window section gets a chrome outline. At the rear, we can see the familiar wrap around tail lamps, thick bumper and chrome line running through the centre of the rear section. Interior Like the exterior, the cabin of this new 7 Series is an evolutionary design and retains the same layout as the outgoing model. The cabin has been trimmed out in a combination of black and beige with wood inserts in the doors and dashboard. Photos also reveal that the car can be trimmed out in other materials but the black bits and wood inserts remain common throughout. In addition to the standard luxury features already available with this car, it also gets a new touchscreen infotainment system with gesture control. The instrument cluster is a fully digital unit but has a smaller screen than the I-Drive. Also included in the deal is a full-fledged rear entertainment package with screens that double up as tablets and can be used to control the various functions of the car. Taking a cue out of its closest rival?s book, the new 7 Series is being offered with a rear executive package which includes a fold out table, additional cup holders and the above-mentioned tablets. Engine and gearbox The 7 Series in India is expected to be offered in the 730Ld and 740Ld states of tune. Both are powered by a 3.0-litre straight-six diesel mills that produce 258bhp and 300bhp respectively. It will be offered in RWD format and mated to an eight-speed AT. Further, we believe that the company will offer a single petrol variant in the form of the 7 Series 750Li which is powered by a 4.4-litre twin turbo V8 that produces 407bhp. We also believe that the top-of-the-line 760Li will be brought to India next year once it has made its European debut. Price and competition It competes with the Jaguar XJ L, Mercedes-Benz S-Class and the Audi A8 L.
ಬಿಎಂಡವೋ 7 ಸರಣಿ 2015-2019 ಬಳಕೆದಾರರ ವಿಮರ್ಶೆಗಳು
ಆಧಾರಿತ
10 ಬಳಕೆದಾರರ ವಿಮರ್ಶೆಗಳು
ಎಲ್ಲಾ (10)
Performance (1)
Looks (3)
Comfort (4)
Engine (3)
Interior (4)
Power (2)
Price (2)
More ...
I love design and comfortability. When I see this model of BMW I was astonished. It's an amazing car which I see in my life.

Awesome family car. Love to have it. Fantastic comfort zone. What to say more,words are not enough to describe. Speechless.

BMW 7 Series is a perfect sedan. Luxurious look, exterior and interior are awesome.

Majestic look. Luxury interior great dynamic driver-oriented car.

BMW 7 Series is a very good sporty and luxurious car but its very hard to park especially in town areas.

BMW 7 Series is a wonderful car and there is no other car like this. Overall a superb car. My special thanks to online portals for my satisfaction.

BMW 7 Series is a super luxurious and comfortable car and first and foremost it's my dream car.

ಎಲ್ಲಾ 7 series 2015-2019 ವಿರ್ಮಶೆಗಳು ವೀಕ್ಷಿಸಿ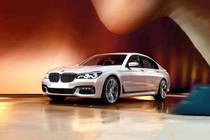 Rs.1.20 Cr - 2.45 ಕ್ರ*
ಈ ಕಾರಿನ ಮಾದರಿ ಅವಧಿ ಮುಗಿದಿದೆ
ಬಳಕೆದಾರರು ಕೂಡ ವೀಕ್ಷಿಸಿದ್ದಾರೆ
Write your Comment ನಲ್ಲಿ ಬಿಎಂಡವೋ 7 ಸರಣಿ 2015-2019
1 ಕಾಮೆಂಟ್
1
s
shahzeb khan
Jan 27, 2017 12:08:23 PM
Incredible sedan phenomnal performance
Read More...
ಪ್ರತ್ಯುತ್ತರ
Write a Reply
ಟ್ರೆಂಡಿಂಗ್ ಬಿಎಂಡವೋ ಕಾರುಗಳು
×
We need your ನಗರ to customize your experience