ಬೀಟ್ ಡೀಸಲ್
Beat Diesel
I owned Beat diesel car from more than 1.5 Yrs of now. My daily running is 100 km. My experience with the car is good. I fond of its look and smooth running at a speed of 80-90 km/hr on which I usually run my car. Mileage is good on the local road it gives 20.2 something. Maintenance cost is also affordable around three and half thousand. The comfort of a drive is excellent. In its class, it is the best car in my opinion. The interiors of the car live up to their exterior as the same funk appeal has been carried inside as well. The Beat has a futuristic-looking dashboard with black color dominating all around and inserts of silver polished plastics at the right places. The Grand i10 has a more grown up black and beige dashboard which is more subtle and easy to use.The instrument cluster on the Beat is small and compact but carries all the information in that package. However, it does take a time to get used to it.The front seats on the Beat are slightly bigger.
Write your Comment on ಚೆವ್ರೊಲೆಟ್ ಬೀಟ್
ಚೆವ್ರೊಲೆಟ್ ಬೀಟ್ ಬಳಕೆದಾರರ ವಿಮರ್ಶೆಗಳು
ಆಧಾರಿತ
243 ಬಳಕೆದಾರರ ವಿಮರ್ಶೆಗಳು
ಎಲ್ಲಾ (243)
Mileage (145)
Performance (45)
Looks (175)
Comfort (142)
Engine (77)
Interior (69)
Power (64)
More ...
ಇತ್ತೀಚಿನ
ಸಹಾಯಕವಾಗಿದೆಯೆ
VERIFIED
CRITICAL
Within a short budget I choose this car. It gave me wonderful mileage. Not very comfortable at the rear seat but with 60:40 split option even in the lower models it gave ...ಮತ್ತಷ್ಟು ಓದು

I have BEAT Diesel car and it crossed almost 75000 KM running , But now I have started facing lot of problem 1] Engine is consuming oil , I have to replace it every 5000 ...ಮತ್ತಷ್ಟು ಓದು

I have purchased Chevrolet beat Diesel model LT in Feb 2013, the car is really nice and compact still four persons can easily travel in this car rear seats are also havin...ಮತ್ತಷ್ಟು ಓದು

Our family has always been inclined towards buying Maruti. But I had to buy a diesel car with low budget. Decided to go for Beat LS diesel model. I must say am really imp...ಮತ್ತಷ್ಟು ಓದು

I am using Chevrolet beat from past 4 years and was getting it serviced from Bosch service center. Don't know why I got my last service done from Chevrolet dealer on 31st...ಮತ್ತಷ್ಟು ಓದು

I bought beat base model before 2 year in 2016 sep (4.80) with front power window steering very smooth good space, can sit 5 people easily mileage 20 in city with A.c and...ಮತ್ತಷ್ಟು ಓದು

Purchased in 2010 July, the car has been excellent mate in terms of a single-handed drive. Its been a true companion on highway driving, in 42 degrees temp of Gujarat, wh...ಮತ್ತಷ್ಟು ಓದು

Its the 4th year - perfect hatchback for Indian traffic. Amazing size, powerful engine, best suits for a small family with terrific mileage as promised by the company ( v...ಮತ್ತಷ್ಟು ಓದು

ಎಲ್ಲಾ ಬೀಟ್ ವಿರ್ಮಶೆಗಳು ವೀಕ್ಷಿಸಿ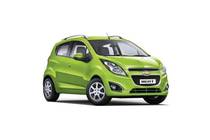 Rs. 4.32 ಲಕ್ಷ - 6.57 ಲಕ್ಷ*
ಈ ಕಾರಿನ ಮಾದರಿ ಅವಧಿ ಮುಗಿದಿದೆ
ಬಳಕೆದಾರರು ಕೂಡ ವೀಕ್ಷಿಸಿದ್ದಾರೆ