Hands On HeartBEAT<3
Hands On HeartBEAT<3
Popularly known as SPARK in the western countries, the sexy compact Chevy beat has become one of the most prominent hatchback cars on Indian roads.The diesel variant was launched on 25 July 2011, and I bought the car in next year and I'm contented with the performance and the active response.While talking about comfort and convenience, as the top end model is loaded with all the features like Auto AC, Rear Defogger, Power Windows, Adjustable Steering Column and including the Entertainment package of music player and a set of speakers. Even though being a small hatchback, the car provides ample headroom & legroom for tall persons, As I'm 6'ft Tall I never felt congestion in headroom but a little discomfort in legroom both front and rear seats. Being an expedited driver, I've always driven cars in high acceleration, but what Chevy beat has provided me with I'm stunned.The smoothest ever E-power Steering, quick acceleration, easy gear shifts and strong braking gives immense pleasure to the driver and passengers. The 1.0 L, 936 cc diesel engine enables the car to reach 100 km/h in 16 seconds and a top speed of 143 km/h which gives an adventurous spirit to rider plus a whooping mileage of 24 kmpl, so that one should never worry about fuel refilling. The best thing about Beat is the Aerodynamic Design which is so suitable for metro cities so as to reach their destinations earlier than before, overtaking other vehicles was never this easy before as the Beat's engine is better equipped for ambling at moderate speeds than full-throttle acceleration. Comparing it with other hatchback segment cars, Beat is quite sporty cum city inspired looking car with low running cost and can be bought at cost effective prices starting from Rs 5.12 lakh*.Colors provided by company are more vibrant than others and the accessories included are sophisticated in their own So,If you're planning to buy an entry level hatchback car, Chevy Beat is perfect for you under this budget, while you're getting a sexy beast for adventurous trips you're getting this active city looked sober car with great performance and specs looking standout from the other vehicles.
ಚೆವ್ರೊಲೆಟ್ ಬೀಟ್ ಬಳಕೆದಾರರ ವಿಮರ್ಶೆಗಳು
ಆಧಾರಿತ
243 ಬಳಕೆದಾರರ ವಿಮರ್ಶೆಗಳು
ಎಲ್ಲಾ (243)
Mileage (145)
Performance (45)
Looks (175)
Comfort (142)
Engine (77)
Interior (69)
Power (64)
More ...
ಇತ್ತೀಚಿನ
ಸಹಾಯಕವಾಗಿದೆಯೆ
VERIFIED
CRITICAL
I bought beat base model before 2 year in 2016 sep (4.80) with front power window steering very smooth good space, can sit 5 people easily mileage 20 in city with A.c and...ಮತ್ತಷ್ಟು ಓದು

Within a short budget I choose this car. It gave me wonderful mileage. Not very comfortable at the rear seat but with 60:40 split option even in the lower models it gave ...ಮತ್ತಷ್ಟು ಓದು

Purchased in 2010 July, the car has been excellent mate in terms of a single-handed drive. Its been a true companion on highway driving, in 42 degrees temp of Gujarat, wh...ಮತ್ತಷ್ಟು ಓದು

I have BEAT Diesel car and it crossed almost 75000 KM running , But now I have started facing lot of problem 1] Engine is consuming oil , I have to replace it every 5000 ...ಮತ್ತಷ್ಟು ಓದು

I am using Chevrolet beat from past 4 years and was getting it serviced from Bosch service center. Don't know why I got my last service done from Chevrolet dealer on 31st...ಮತ್ತಷ್ಟು ಓದು

I have purchased Chevrolet beat Diesel model LT in Feb 2013, the car is really nice and compact still four persons can easily travel in this car rear seats are also havin...ಮತ್ತಷ್ಟು ಓದು

Our family has always been inclined towards buying Maruti. But I had to buy a diesel car with low budget. Decided to go for Beat LS diesel model. I must say am really imp...ಮತ್ತಷ್ಟು ಓದು

Its the 4th year - perfect hatchback for Indian traffic. Amazing size, powerful engine, best suits for a small family with terrific mileage as promised by the company ( v...ಮತ್ತಷ್ಟು ಓದು

ಎಲ್ಲಾ ಬೀಟ್ ವಿರ್ಮಶೆಗಳು ವೀಕ್ಷಿಸಿ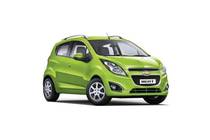 Rs.4.32 ಲಕ್ಷ - 6.57 ಲಕ್ಷ*
ಈ ಕಾರಿನ ಮಾದರಿ ಅವಧಿ ಮುಗಿದಿದೆ
ಬಳಕೆದಾರರು ಕೂಡ ವೀಕ್ಷಿಸಿದ್ದಾರೆ
Write your Comment on ಚೆವ್ರೊಲೆಟ್ ಬೀಟ್
×
We need your ನಗರ to customize your experience