Mixed Bag
Mixed Bag
I own a 2011 Chevrolet Cruze AT. This car has been a mixed bag. Here is why- Pros - Amazing pickup, the car designed for performance, comfortable (it's a sports car, shouldn't be more comfortable), great looks, multiple features, decent interiors. Cons - Very expensive maintenance, pathetic service from the companies (Kropex and Trident, Bangalore), low on mileage. Every service has cost me a minimum of Rs 20,000/- or more. The highest I have paid is 29750/- for a regular service. In about 4 years have spent more than 1,10,000/- maintaining this car. Coupled with this the service centres do a pathetic job in servicing the car and charge you for unwanted parts. Also, the spares are too expensive. To deal with this, I have started servicing my car myself. I have invested about 10,000/- on some tools and now I complete my service with higher quality parts at about 10,000/-. But the best part is that the car runs so smooth and is such a joy to drive. I have driven many models of BMWs and Mercs. None of them performed with such grace. So if you are a bit of a grease monkey and willing to work yourself on the car, it's the best buy. Else, I would suggest you pick something else.
Write your Comment on ಚೆವ್ರೊಲೆಟ್ ಕ್ರೂಜ್
ಚೆವ್ರೊಲೆಟ್ ಕ್ರೂಜ್ ಬಳಕೆದಾರರ ವಿಮರ್ಶೆಗಳು
ಆಧಾರಿತ
82 ಬಳಕೆದಾರರ ವಿಮರ್ಶೆಗಳು
ಎಲ್ಲಾ (82)
Mileage (38)
Performance (14)
Looks (45)
Comfort (40)
Engine (29)
Interior (19)
Power (25)
More ...
ಇತ್ತೀಚಿನ
ಸಹಾಯಕವಾಗಿದೆಯೆ
CRITICAL
I bought the Chevrolet Cruze 1 year back. I was a little bit confused with the budget but my parents/relatives insist me for this car and I am damn happy now with the per...ಮತ್ತಷ್ಟು ಓದು

Chevrolet's Cruze is technically updated, the best sedan in India under 17 lakh of range. The design given to this car especially from side is awesome, and it gives a lux...ಮತ್ತಷ್ಟು ಓದು

Chevrolet Cruze is the best car, though I have a diesel variant but power is massive. And there are no complaints with its look its just amazing I love this car very much...ಮತ್ತಷ್ಟು ಓದು

I own the Cruze 2012 model. Power is now up to a substantial 164bhp with the torque swelling to a meaty 38.7kgm. The primary focus of the engine tweak has been to improve...ಮತ್ತಷ್ಟು ಓದು

The Cruze is a seriously smooth car, from its slippery shape to the way its doors shut. In large part, Cruz's smoothness is derived from its impeccably compliant suspensi...ಮತ್ತಷ್ಟು ಓದು

I purchased Cruze in Oct 2011. What they project and what is actual has much difference. I am a smooth driver which drives maximum time in local. I found smooth runn...ಮತ್ತಷ್ಟು ಓದು

Car with Class and Power, Cruze is looking stunning with its performance and look. Car is spacious and comfort is really good. Can say it is the best car in the class (My...ಮತ್ತಷ್ಟು ಓದು

I love Chevrolet car I always look into that in all site of second-hand cars. my first car is Aveo in the year of 2006, which was giving me not less than 18 km per ltr an...ಮತ್ತಷ್ಟು ಓದು

ಎಲ್ಲಾ ಕ್ರೂಜ್ ವಿರ್ಮಶೆಗಳು ವೀಕ್ಷಿಸಿ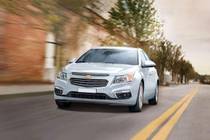 Rs. 13.95 ಲಕ್ಷ - 17.45 ಲಕ್ಷ*
ಈ ಕಾರಿನ ಮಾದರಿ ಅವಧಿ ಮುಗಿದಿದೆ
ಬಳಕೆದಾರರು ಕೂಡ ವೀಕ್ಷಿಸಿದ್ದಾರೆ
×
We need your ನಗರ to customize your experience