ಡಟ್ಸನ್ ಗೋ The Energetic ಹ್ಯಾಚ್ಬ್ಯಾಕ್ Unnecessarily Demonized
Datsun GO The Energetic Hatchback Unnecessarily Demonized
Sometimes I am surprised to see the typical Indian mentality. On one hand, they want cheap affordable cars and on the other, they want it to perform like the cars which are 3 times more expensive. Anyways, I too wanted an affordable hatchback and with the top end model around Rs. 4 lakhs. I always hated Maruti Alto for its tiny dimensions and Eon too was built on the same lines. The only option remaining in front of me was Datsun GO hatchback. If you see this from a bare-bones budget hatchback perspective, then you will never appreciate this car. We have to think beyond this to give justice to the vehicle. What makes this car unique among the crowd is its revvy petrol engine, quirky ergonomics and as well as perfect dimensions that make it stand shoulder to shoulder with cars in its segment. You may criticize its various cost-cutting aspects, but you can't ignore its zippy performance. I am driving since past two months and the car has never felt light on its feet and is unexpectedly a quick city runabout. The responsive engine makes it easy for the car to close gaps in the city traffic and the vigor is something comparable to cars like Wagon R. However, the gearbox could have been crispier and that would have added more to the fun-to-drive factor. On the other hand, the steering doesn't require much effort and the light clutch is easy to control in crawling traffic. Even the suspension setup manages well in the city like Delhi. Moreover, the car has always been light on pocket returning around 15kmpl mileage in mix driving conditions. Another advantage of owning this car is the sheer amount of space it offers. The carmaker has smartly managed the spacing especially at the front where an extra passenger can fit in with the help of connecting seats. Datsun GO stands among the most spacious cars in its price range with enough space for three passengers at the back. It offers 265 litres of boot space which is more than Maruti Celerio and Hyundai i10 hatchbacks. So, if you are ready to ignore some negatives, then this car is the best your money can buy especially if you are a first-time buyer and a moderate driver.
ಡಟ್ಸನ್ ಗೋ ಬಳಕೆದಾರರ ವಿಮರ್ಶೆಗಳು
ಆಧಾರಿತ
249 ಬಳಕೆದಾರರ ವಿಮರ್ಶೆಗಳು
ಎಲ್ಲಾ (249)
Mileage (86)
Performance (36)
Looks (56)
Comfort (69)
Engine (62)
Interior (20)
Power (41)
More ...
ಇತ್ತೀಚಿನ
ಸಹಾಯಕವಾಗಿದೆಯೆ
VERIFIED
CRITICAL
Excellent performance. Wonderful experience. I have faced never any problem. Zero maintenance car. Average mileage 15kmpl. Go for it.

Cabin size is decent, driving is zippy in the city but too much cabin noise on bad roads.

After 25000 km of Datsun GO. I feel very happy to share my reviews over here. No more problems, and issues with the exterior and interior. Complete satisfaction...ಮತ್ತಷ್ಟು ಓದು

Great entry-level hatchback. Driving the T version since 2016, never experienced any trouble while driving. Engine performance is excellent in the city and also good in h...ಮತ್ತಷ್ಟು ಓದು

It's an excellent car with great engine, lots of space as good or better than sedan. Mileage is better than any other 1.2 cc car. Pick up is superb.

Completed 7 years. 50,000km driven. Good power, great mileage, it's the T variant. It's very easy at 90-100 but the way many drive, don't recommend going that f...ಮತ್ತಷ್ಟು ಓದು

Very nice car it's just the body of the car that is extremely soft and gets dent easily so if you get into an accident good luck not a safe car at all even with airbags.

I have a 2016 Datsun Go and it runs like a bomb. I use the car daily for work and travel a lot of mileage. The car is more than Satisfactory. The only problem I have is t...ಮತ್ತಷ್ಟು ಓದು

ಎಲ್ಲಾ ಗೋ ವಿರ್ಮಶೆಗಳು ವೀಕ್ಷಿಸಿ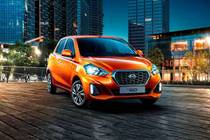 Rs.3.26 ಲಕ್ಷ - 6.51 ಲಕ್ಷ*
ಈ ಕಾರಿನ ಮಾದರಿ ಅವಧಿ ಮುಗಿದಿದೆ
Write your Comment on ಡಟ್ಸನ್ ಗೋ
1 ಕಾಮೆಂಟ್
1
K
kkkarthikeyan
Aug 31, 2018 9:57:31 AM
i feel so pity to own datsun go. i too own the datsun go t option . i feel the pinch on daily basis. i would have been satisfied i went for wagon r or alto or tiago or some other cars
Read More...
ಪ್ರತ್ಯುತ್ತರ
Write a Reply
×
We need your ನಗರ to customize your experience