ಡಿಸಿ ಅವಂತಿ Made ರಲ್ಲಿ {0}
DC Avanti Made In India Sportscar with a Genuine Appeal
This is one such car that can surprise any auto enthusiast about the potential of a small auto manufacturer. DC Avanti is the first mid-engined sports car made in India that can turn the heads of anyone on the streets. Of course, this is not a car that you see every day, so the appeal is understandable. Avanti is an Italian word for forward and that aptly suits to the car. The car certainly looks striking from every angle with the design seems to be inspired by Lamborghini Aventador. Just like Aventador, DC Avanti is also built out of super strong carbon fibre. The cabin is surprisingly roomy with huge seats having good lateral support. You will find a whole range of customization options right from leather to Alcantara seats with music requirement covered by USB, Bluetooth, and Aux-In. The Sportscar is powered by 2.0L turbocharged petrol engine that produces 248bhp and 340Nm of max torque. The engine is paired to 6-speed manual transmission, together taking this car from 0-100kmph in 7 seconds of time with the top speed of 250kmph. DC Avanti has all the right elements of a fun-to-drive Sportscar and in the market which is not familiar with these types of cars, at Rs. 45 lakhs, it still falls in the affordable range.
Write your Comment on ಡಿಸಿ ಅವಂತಿ
ಡಿಸಿ ಅವಂತಿ ಬಳಕೆದಾರರ ವಿಮರ್ಶೆಗಳು
ಆಧಾರಿತ
33 ಬಳಕೆದಾರರ ವಿಮರ್ಶೆಗಳು
All (33)
Mileage (2)
Performance (2)
Looks (16)
Comfort (3)
Engine (5)
Interior (8)
Power (4)
More ...
ಇತ್ತೀಚಿನ
ಸಹಾಯಕವಾಗಿದೆಯೆ
VERIFIED
CRITICAL
Very nice car. Most stylish and most powerful car. This car design is very nice. This is my dream car.

India's no.1 stylish and sports car. Comparison of other sports cars gives the best mileage. Genuine and looking awesome.

Cool car than any BMW car... Makes rocking impression in public. All safety equipment is installed. The body design is awesome (rear and front look). Seats are very soft ...ಮತ್ತಷ್ಟು ಓದು

Exterior shows sporty and supercar looks. Interiors have to be more OEM type rather than modification. Car worth for the cost. Other sports cars start at 90 lakhs. This c...ಮತ್ತಷ್ಟು ಓದು

It is the best car I like this car it is very comfortable it stile is comfortable it looks very beautiful.

It's my dream car I wanted to buy a sports car at low cost... So I prefer to buy a dc Avanti... It's a nice car and it's a bomb car.

Its a shitty car with sports exterior... cheap interior no airbags not even automatic not even having a perfect sports display no electronic adjustable seats.

The DC Avanti is like a dream car. Best car and affordable price. I love this car.

ಎಲ್ಲಾ ಅವಂತಿ ವಿರ್ಮಶೆಗಳು ವೀಕ್ಷಿಸಿ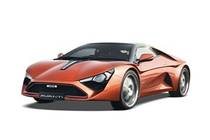 Rs. 48.0 ಲಕ್ಷ - 60.0 ಲಕ್ಷ*
ಈ ಕಾರಿನ ಮಾದರಿ ಅವಧಿ ಮುಗಿದಿದೆ
ಬಳಕೆದಾರರು ಕೂಡ ವೀಕ್ಷಿಸಿದ್ದಾರೆ