ಫೆರಾರಿ 488 GTB Gorgeous Looking & ನಂತರ Level ಕಾರ್ಯಕ್ಷಮತೆ
Ferrari 488 GTB Gorgeous Looking & Next Level Performance
Some cars are made to look gorgeous and run like hell. One such vehicle that comes from none other than the Italian brand Ferrari is the 488 GTB. The car encompasses all the essential attributes of a modern-day supercar including style, speed, power, and acceleration. Though the design is undoubtedly spellbound, one would rather surprise to know that in the age of carbon-fiber, the carmaker has used aluminum across the body. However, the muscular chassis arrangement is the best in the business. The cabin is constricted and hardly absorbs two adult passengers while the infotainment system is confusing unless you have worked on it seriously. Overall, the infotainment system is good but doesn't match the tech of similar cars such as Lamborghini Huracan. The main highlight of any Ferrari is the engine underneath and this powertrain is the one which has been bestowed with the International Engine of the Year 2017. So, one can very well get the idea about the caliber of the engine. The 3.9-litre V8 engine is capable of producing 661bhp and phenomenal torque of 760Nm, paired to 7-speed dual clutch automatic transmission. Press the accelerator and the 488 throttles forward to 100kmph mark in just 3 seconds of time with the top whack of 330kmph. The car has all the mind-altering performance numbers along with handling finesse of a mid-engined supercar, but at the price tag of over Rs. 4.45 crore (on road), it's the car made for only fat wallets.
Write your Comment on ಫೆರಾರಿ 488 ಜಿಟಿಬಿ
ಫೆರಾರಿ 488 ಬಳಕೆದಾರರ ವಿಮರ್ಶೆಗಳು
ಆಧಾರಿತ
4 ಬಳಕೆದಾರರ ವಿಮರ್ಶೆಗಳು
ಎಲ್ಲಾ (4)
Performance (3)
Looks (3)
Engine (3)
Power (3)
Price (2)
Powerful engine (2)
Speed (2)
More ...
Ferrari 488GTB a superb looking car.the best Ferrari splendid design superb performance nice exhaust sound sporty aerodynamics and a powerful engine. The car encompasses ...ಮತ್ತಷ್ಟು ಓದು

Some cars are made to look gorgeous and run like hell. One such vehicle that comes from none other than the Italian brand Ferrari is the 488 GTB. The car encompasses all ...ಮತ್ತಷ್ಟು ಓದು

The best Ferrari, Splendid design, superior performance, great exhaust sound, sporty aerodynamics and a powerful engine.

ಎಲ್ಲಾ 488 ವಿರ್ಮಶೆಗಳು ವೀಕ್ಷಿಸಿ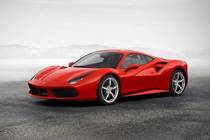 Rs. 3.88 Cr - 4.40 ಕ್ರ*
ಈ ಕಾರಿನ ಮಾದರಿ ಅವಧಿ ಮುಗಿದಿದೆ
ಬಳಕೆದಾರರು ಕೂಡ ವೀಕ್ಷಿಸಿದ್ದಾರೆ
ಟ್ರೆಂಡಿಂಗ್ ಫೆರಾರಿ ಕಾರುಗಳು