Old book With A New Cover
Old book With A New Cover
Look and Style: Fiat has just put a new cover on the Punto Evo and named it as Avventura, the CUV as they call looks good only in the picture but is a head turner in reality. The interiors of the car are much below Fiat standards (Cheap) the additional high terrain gauges are useless and look like those in a toy car, though the car is attractively priced it does not fit the off-roader image that Fiat is trying to create. Overall its a let down from Fiat. Comfort- Driver position is good but the rear seat is cramped. Pickup- Fiat is scared to go beyond its award-winning engine (which is in fact quite old now) this car definitely lacks power. Mileage: No comments Best Features: Nothing new just a Punto in a new cover Needs to improve: Everything Overall Experience: Someone at Fiat please wake up and realise that there is tough competition in the market and you need to come up with better products.
Write your Comment ನಲ್ಲಿ ಫಿಯಟ್ avventura
1
D
dr u c yadav
Jul 28, 2017 12:31:21 PM
I have Fiat avventura diesel car, everything is very good only mileage issue is with my car this is 14 to 16 .This is request to company to maintain it and solve personally my problem
ಪ್ರತ್ಯುತ್ತರ
1
p
prasanta
Mar 12, 2016 10:57:23 PM
buy any Asian company car at avventuras price range. then compare the vehicle with avventura. avventura is generation next vehicle. fiat, Volkswagen, Skoda. ford are good car makers for middle class people. love my avventura.
ಪ್ರತ್ಯುತ್ತರ
1
s
sam
Nov 25, 2015 11:58:42 PM
Fiat is a brand for true car lovers...others dnt knw the true value of it...they jst buy a simple car like maruti...
ಪ್ರತ್ಯುತ್ತರ
ಫಿಯಟ್ avventura ಬಳಕೆದಾರರ ವಿಮರ್ಶೆಗಳು
ಆಧಾರಿತ
7 ಬಳಕೆದಾರರ ವಿಮರ್ಶೆಗಳು
ಎಲ್ಲಾ (7)
Mileage (4)
Performance (1)
Looks (6)
Comfort (5)
Engine (4)
Interior (4)
Power (3)
More ...
ಇತ್ತೀಚಿನ
ಸಹಾಯಕವಾಗಿದೆಯೆ
CRITICAL
Compact SUVs are all rage these days. Fiat also decided to foray in the segment with its compact SUV Avventura a few years back. Though, by looks and purpose, it's more l...ಮತ್ತಷ್ಟು ಓದು

Good to see it and I want to know the price of the car...Fiat Avventura is great innovation by Fiat...

This is my first car which I love. When I saw this car this car I was astonished by its looks. The swept back headlamps, the skit plate, sparkling orange colour and the t...ಮತ್ತಷ್ಟು ಓದು

Look and Style: Undoubtedly the best looking car in the segment in terms of exteriors and interiors, rear wheel adds an SUV look while big alloys give the attitude and st...ಮತ್ತಷ್ಟು ಓದು

Look -This is what makes you to at least go and have a look at the car. The catchy wheel and the roof, mountings. Comfort- Yes, in fact, good. They have increa...ಮತ್ತಷ್ಟು ಓದು

Look and Style: Fiat has just put a new cover on the Punto Evo and named it as Avventura, the CUV as they call looks good only in the picture but is a head turner in real...ಮತ್ತಷ್ಟು ಓದು

Look and Style- Full marks on look and style. The car really does look awesome. Comfort- Quiet comfortable Pickup- Not that great. Could have been better Mileage- N/A Bes...ಮತ್ತಷ್ಟು ಓದು

ಎಲ್ಲಾ avventura ವಿರ್ಮಶೆಗಳು ವೀಕ್ಷಿಸಿ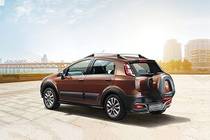 Rs. 6.80 ಲಕ್ಷ - 8.84 ಲಕ್ಷ*
ಈ ಕಾರಿನ ಮಾದರಿ ಅವಧಿ ಮುಗಿದಿದೆ
ಬಳಕೆದಾರರು ಕೂಡ ವೀಕ್ಷಿಸಿದ್ದಾರೆ
×
We need your ನಗರ to customize your experience