Reviewing ಬಲ One.. Its ಎ good ಕಾರು after all..
Reviewing Force One.. Its a good car after all..
Look and Style: Well.. this car actually looks a bit like the Ford Endoveaur.. But the looks says it all.. Good done on the Looks and the style.. a bit of the excecutive type.. It needs to be improved a bit.. Comfort: When we talk about a car we always want the pleasure of driving.. not by the looks and style.. Comfort level in this car is great in this car.. Pickup: Well the Pickup in this car is a bit slower than the other SUV's.. but still its a great for the long drives.. But for the fuzzy drivers it will be a matter of concern.. Mileage: Mileage of this is very much good.. I expected that the mileage will lie between 10.5-11.6 but it stays constant @ 15.8.. i feel that this would be one of the top mileage cars.. Very well move by the Force Motors even though its a debut in this segment.. Best Features: The best feature that i liked as a reviewer, is that the Mercedes-Benz engine is doing very good in the car.. more over the car is very much about average in the segment.. What i feel is that Mahindra XUV 500 and the Mahindra Scorpio are nothing in front of this car.. Needs to improve: All over this is the best car we can think in this price but many changes to be done in the features.. Adding a sunroof will increase beauty of car.. Overall Experience: Its a blissful exprience to drive this car as its a good car over all..
Write your Comment on ಬಲ ವನ್
1
U
udit pandya
Dec 27, 2011 7:35:16 PM
Currently its the start of the company in the sector.. If you feel that this car will get Air-Bags, i'm sorry but you are going wrong.. The company is using ABS class-2.6 which is imported from Germany.. I can feel the power in my legs and its like driving a thrill.. @10.5 lakhs, you will get the thrill for sure.. for safety, they have decided to launch the to launch a high-version model of the car and a new car by the start of march.. Its a go deal for you..
ಪ್ರತ್ಯುತ್ತರ
1
s
sairam
Dec 23, 2011 11:19:07 AM
what about breaking and safty features?
ಪ್ರತ್ಯುತ್ತರ
1
c
chanakya
Nov 29, 2011 11:59:00 AM
What about styling and quality of interiors??? Don't they look dated????
ಪ್ರತ್ಯುತ್ತರ
ಬಲ ವನ್ ಬಳಕೆದಾರರ ವಿಮರ್ಶೆಗಳು
ಆಧಾರಿತ
40 ಬಳಕೆದಾರರ ವಿಮರ್ಶೆಗಳು
ಎಲ್ಲಾ (40)
Mileage (26)
Performance (5)
Looks (34)
Comfort (33)
Engine (18)
Interior (14)
Power (9)
More ...
ಇತ್ತೀಚಿನ
ಸಹಾಯಕವಾಗಿದೆಯೆ
CRITICAL
Force One SUV was launched 7 years back with the notion to give a new and unique offering in the space. The maker of Traveller and Trax utility vehicle took a whole new a...ಮತ್ತಷ್ಟು ಓದು

Force is well know renewed brand in india with it's most successful model in olden days are the matador and still popular model like tempo traveller the brand it self is ...ಮತ್ತಷ್ಟು ಓದು

Look and Style - Very impressive. Looks pretty much like Fortuner and XUV 500. Comfort - Very comfortable seats, good enough for long journeys. It is equipped with the fe...ಮತ್ತಷ್ಟು ಓದು

It looks very nice and attractive, looks like a Fortuner. It is really very comfortable, offers suitable seating comfort and sweet music system with decent sound quality....ಮತ್ತಷ್ಟು ಓದು

It looks very nice and attractive, looks like Fortuner. It is really very comfortable for suitable seating and sweet music system with decend sound quality. Many thanks t...ಮತ್ತಷ್ಟು ಓದು

Don't ever buy this car...I have never seen any car lie this...407 or lorry is better than this...No break in this car...the time of sales they will say this is the besto...ಮತ್ತಷ್ಟು ಓದು

The most trusted utility vehicle maker has recently launched a sports utility vehicle with high performing engine. I have been waiting for this SUV since long time, becau...ಮತ್ತಷ್ಟು ಓದು

Exterior Exterior is decent looking and that?s a personal choice. Interior (Features, Space & Comfort) Only good part is space as it beats everything else here, but r...ಮತ್ತಷ್ಟು ಓದು

ಎಲ್ಲಾ ವನ್ ವಿರ್ಮಶೆಗಳು ವೀಕ್ಷಿಸಿ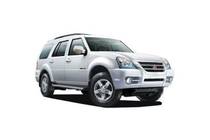 Rs.9.59 ಲಕ್ಷ - 16.33 ಲಕ್ಷ*
ಈ ಕಾರಿನ ಮಾದರಿ ಅವಧಿ ಮುಗಿದಿದೆ
×
We need your ನಗರ to customize your experience