ಹೋಂಡಾ ಅಮೇಜ್‌ i-DTEC excelled my expectations ನಲ್ಲಿ many counts
Honda Amaze i-DTEC excelled my expectations on many counts
Look and Style: Best designed car in the segment. The view from rear is better than the City. Comfort: Cushy, comfortable, pliant city ride Pickup: The virtually nonexistent turbo lag and well distributed torque do not require me to even touch the acceleration pedal in 1st, 2nd and 3rd gears. The car jolly well accelerates to 40 km/h once I put my foot off the clutch after changing gears. But yes, I have felt that the 1st gear ratio is too short and the car strains to reach even 15 kmph in that gear. Honda wants you to up shift early! Another thing I have noticed that if you want to push the acceleration pedal while the car is already auto-accelerating in 2nd and 3rd gears, the response is somewhat muted, as if there is a conflict going on between user intervention and ECU mandate! But that's only discernible to nit pickers! In 4th and 5th gears the car is simply brilliant with enough grunt to accelerate and overtake at any speed ranging from 60 kmph to 110 kmph. I have driven the car at speeds up to 110 kmph till now. The mileage will be good if you follow the eco light and maintain the tachometer reading at around 1500 rpm at any given gear. Mileage: The car has run 1570 km in the last 40 days; the first service has been done and it is giving me a mileage of 28 kmpl on highway and 17.5 kmpl in city traffic. Overall I am getting a mileage of 19.5 kmpl. Best Features: Looks, mileage, driving pleasure in 2-5 gears, acceleration in lower geras without much pedal push. Needs to improve: Dashboard, integrated head rests, music system Overall Experience: I am satisfied and more than happy that I chose Honda Amaze diesel S-MT.
ಹೋಂಡಾ ಅಮೇಜ್‌ 2016-2021 ಬಳಕೆದಾರರ ವಿಮರ್ಶೆಗಳು
ಆಧಾರಿತ
1018 ಬಳಕೆದಾರರ ವಿಮರ್ಶೆಗಳು
ಎಲ್ಲಾ (1017)
Mileage (326)
Performance (156)
Looks (294)
Comfort (344)
Engine (235)
Interior (176)
Power (157)
More ...
ಇತ್ತೀಚಿನ
ಸಹಾಯಕವಾಗಿದೆಯೆ
VERIFIED
CRITICAL
perfect buy. Mileage is an issue in CVT. Rest is a smooth driving, comfort is good. The look is awesome, performance is best

Very good car, compared to other cars at the same price. Style, mileage, comfort are all decent.

Honda Amaze the big move supports best in a class spacious cabin and legroom which is comfortable for a family of 4 -5. Boot space is best in the segment and very us...ಮತ್ತಷ್ಟು ಓದು

I want to share my views about the Honda Amaze VX CVT petrol, top model, purchased on Jan 2021. Pros- 1. Good looking cars in this segment, 2. The end of t...ಮತ್ತಷ್ಟು ಓದು

Please do not buy Honda Amaze - any words are less to criticize this fraud car - the average mileage is only 12 kmpl. The company says the city average is low. The m...ಮತ್ತಷ್ಟು ಓದು

I have purchased Honda Amaze 2021 petrol auto transmission. I am very much disappointed after the purchase, previously I have used Hyundai fluidic Verna. Minus points in ...ಮತ್ತಷ್ಟು ಓದು

Perfect sedan for city and highways mileage, better than teen box Dzire and ugly Aura. Easily touches 165kmph in petrol

Good sedan with premium exterior and interior look .refined petrol engine with mileage up to 22 in the highway with 5th gear..amazing

ಎಲ್ಲಾ ಅಮೇಜ್‌ 2016-2021 ವಿರ್ಮಶೆಗಳು ವೀಕ್ಷಿಸಿ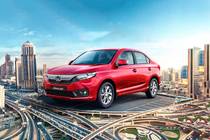 Rs.5.41 ಲಕ್ಷ - 11.11 ಲಕ್ಷ*
ಈ ಕಾರಿನ ಮಾದರಿ ಅವಧಿ ಮುಗಿದಿದೆ
ಬಳಕೆದಾರರು ಕೂಡ ವೀಕ್ಷಿಸಿದ್ದಾರೆ
Write your Comment on ಹೋಂಡಾ ಅಮೇಜ್‌ 2016-2021
1 ಕಾಮೆಂಟ್
1
D
d ghosh
Nov 9, 2013 11:26:28 AM
Do you not think that the car accelerating without even touching the accelerator could be a problem when moving in slow traffic or when you need to slow down Every time you have to use clutch and brake to control speed.
Read More...
ಪ್ರತ್ಯುತ್ತರ
Write a Reply
2
m
manvindar
Jun 29, 2014 3:40:10 PM
no...it is actually easy to drive in slow traffic....you don't need to touch accelerator pedal.....its so easy and fun
Read More...
ಪ್ರತ್ಯುತ್ತರ
Write a Reply
2
s
sanam
Apr 10, 2016 11:39:37 PM
I think its more benificial to use this as atleast it is reducing use of 1 more pedal :D
Read More...
ಪ್ರತ್ಯುತ್ತರ
Write a Reply
×
We need your ನಗರ to customize your experience