need front look change
need front look change
Look and Style need to improve. Front side is looking like Hyundai Accent. If it is changed to design like Honda City, then it really worth for price Comfort Hope to be good Pickup Need to comment after release Mileage Need to comment after release Best Features safety hope is always good for Honda Price Reasonable Design need to improve Overall Experience Like Honda cars, this is excellent from the description point of view except the fact of front design, which needs to be improved to reach the market
ಹೋಂಡಾ ಅಮೇಜ್‌ 2016-2021 ಬಳಕೆದಾರರ ವಿಮರ್ಶೆಗಳು
ಆಧಾರಿತ
1017 ಬಳಕೆದಾರರ ವಿಮರ್ಶೆಗಳು
ಎಲ್ಲಾ (1018)
Mileage (326)
Performance (156)
Looks (294)
Comfort (344)
Engine (235)
Interior (176)
Power (157)
More ...
ಇತ್ತೀಚಿನ
ಸಹಾಯಕವಾಗಿದೆಯೆ
VERIFIED
CRITICAL
perfect buy. Mileage is an issue in CVT. Rest is a smooth driving, comfort is good. The look is awesome, performance is best

Very good car, compared to other cars at the same price. Style, mileage, comfort are all decent.

Honda Amaze the big move supports best in a class spacious cabin and legroom which is comfortable for a family of 4 -5. Boot space is best in the segment and very us...ಮತ್ತಷ್ಟು ಓದು

I want to share my views about the Honda Amaze VX CVT petrol, top model, purchased on Jan 2021. Pros- 1. Good looking cars in this segment, 2. The end of t...ಮತ್ತಷ್ಟು ಓದು

Please do not buy Honda Amaze - any words are less to criticize this fraud car - the average mileage is only 12 kmpl. The company says the city average is low. The m...ಮತ್ತಷ್ಟು ಓದು

I have purchased Honda Amaze 2021 petrol auto transmission. I am very much disappointed after the purchase, previously I have used Hyundai fluidic Verna. Minus points in ...ಮತ್ತಷ್ಟು ಓದು

Perfect sedan for city and highways mileage, better than teen box Dzire and ugly Aura. Easily touches 165kmph in petrol

Good sedan with premium exterior and interior look .refined petrol engine with mileage up to 22 in the highway with 5th gear..amazing

ಎಲ್ಲಾ ಅಮೇಜ್‌ 2016-2021 ವಿರ್ಮಶೆಗಳು ವೀಕ್ಷಿಸಿ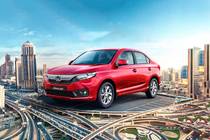 Rs.5.41 ಲಕ್ಷ - 11.11 ಲಕ್ಷ*
ಈ ಕಾರಿನ ಮಾದರಿ ಅವಧಿ ಮುಗಿದಿದೆ
ಬಳಕೆದಾರರು ಕೂಡ ವೀಕ್ಷಿಸಿದ್ದಾರೆ
Write your Comment on ಹೋಂಡಾ ಅಮೇಜ್‌ 2016-2021
13 ಕಾಮೆಂಟ್ಗಳು
1
s
satish
Aug 17, 2013 10:54:18 AM
Handling and pickup is good. Mileage is way lesser than they claim. the turbo release is much earlier than expected. the clutch has to be used so often as the vehicle keeps moving even at fourth gear with accelerating. As a result the clutch plates have started making noises with in 1000 kms of running. the service guys have no clue to repair the same.
Read More...
ಪ್ರತ್ಯುತ್ತರ
Write a Reply
1
r
ramesh
Apr 15, 2013 2:39:13 PM
Exterior is good but while coming to specifications its too bad at its part .....ground clearance-165, fuel tank capacity-35litrs its horrible,14 wheel size,noisy engine and interior also has to be improve....
Read More...
ಪ್ರತ್ಯುತ್ತರ
Write a Reply
1
S
sid
Apr 13, 2013 7:30:41 PM
I had test driven the Diesel variant of Amaze today and the first thought was that Honda Amaze is very close to Amazing. Stunning looks, good interiors which are mostly similar to Brio, Comfortable Seats, decent leg room at the back, however no enough shoulder room for three adults. About the drive, the first thing which strike my mind was the engine noise in the cabin which is little noisy and one could feel slight engine vibration near the pedals. However the power, ride and gear shift is truly where nothing can beat Honda. The ride quality was great and the car did well in the pot holes with 4 adults in the car. This car is going to be a competition to the present entry level sedans and for the future ones too. I had booked the S variant which would cost close to 8 Lakh immediately after the test drive and expecting it to be delivered during the month of July. It's too early to comment on the mileage which only time would tell. I hope this feedback was helpful....
Read More...
ಪ್ರತ್ಯುತ್ತರ
Write a Reply
×
We need your ನಗರ to customize your experience